article
Holiday Spending Trends: Updated
Stay on top of the latest e-commerce trends this holiday season with Grips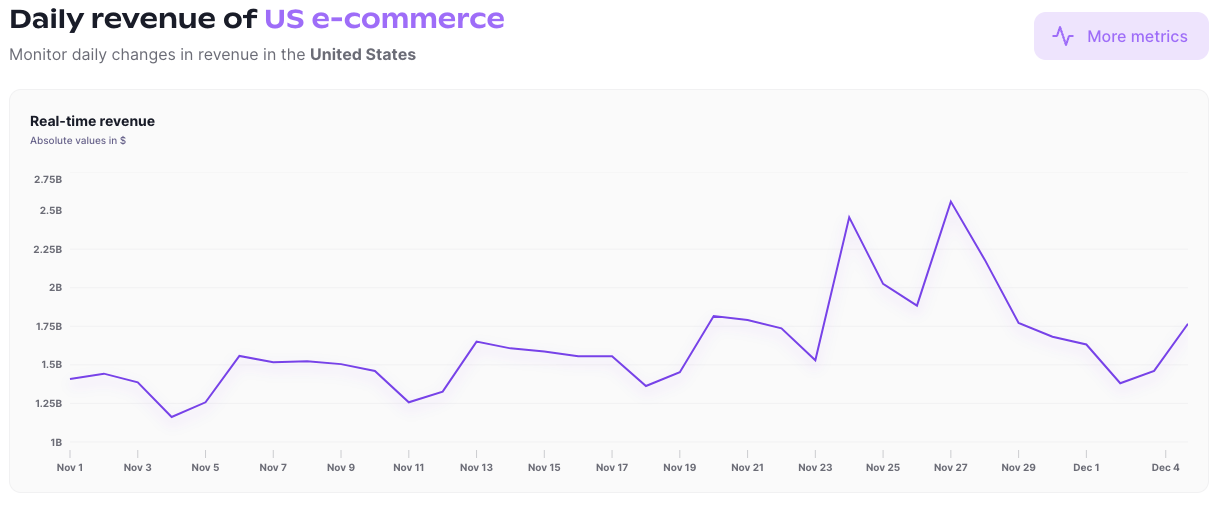 Introduction
This blog page serves as a live companion to the Grips Holiday Tracking Guide. Here's we'll dig into all of the daily and weekly e-commerce trends so you can stay on top of the season's hot retailers, category trends, channel performance and more during this make-or-break season.
Be sure to follow Grips on LinkedIn to be the first to know when we share something new!

Retailers line up at the gate
According to the Grips holiday guide, Americans spent an estimated $10 billion on e-commerce sites during the first week of November 2023, a health start to the month. But with many companies jump starting their Black Friday sales the virtual cash grab that is the holiday shopping season means retailers started jockeying for position earlier than usual this year creating some interesting upsets in the normal e-tail landscape.
Grips reports the top e-commerce sites during the first week of November ranked by revenue in the table below along with each site's respective ranking in November 2022. While Amazon.com and Walmart.com held on to their top berths, Target.com and Bestbuy.com stumbled out of the gate. Rising to take their place were Apple.com and Wayfair.com.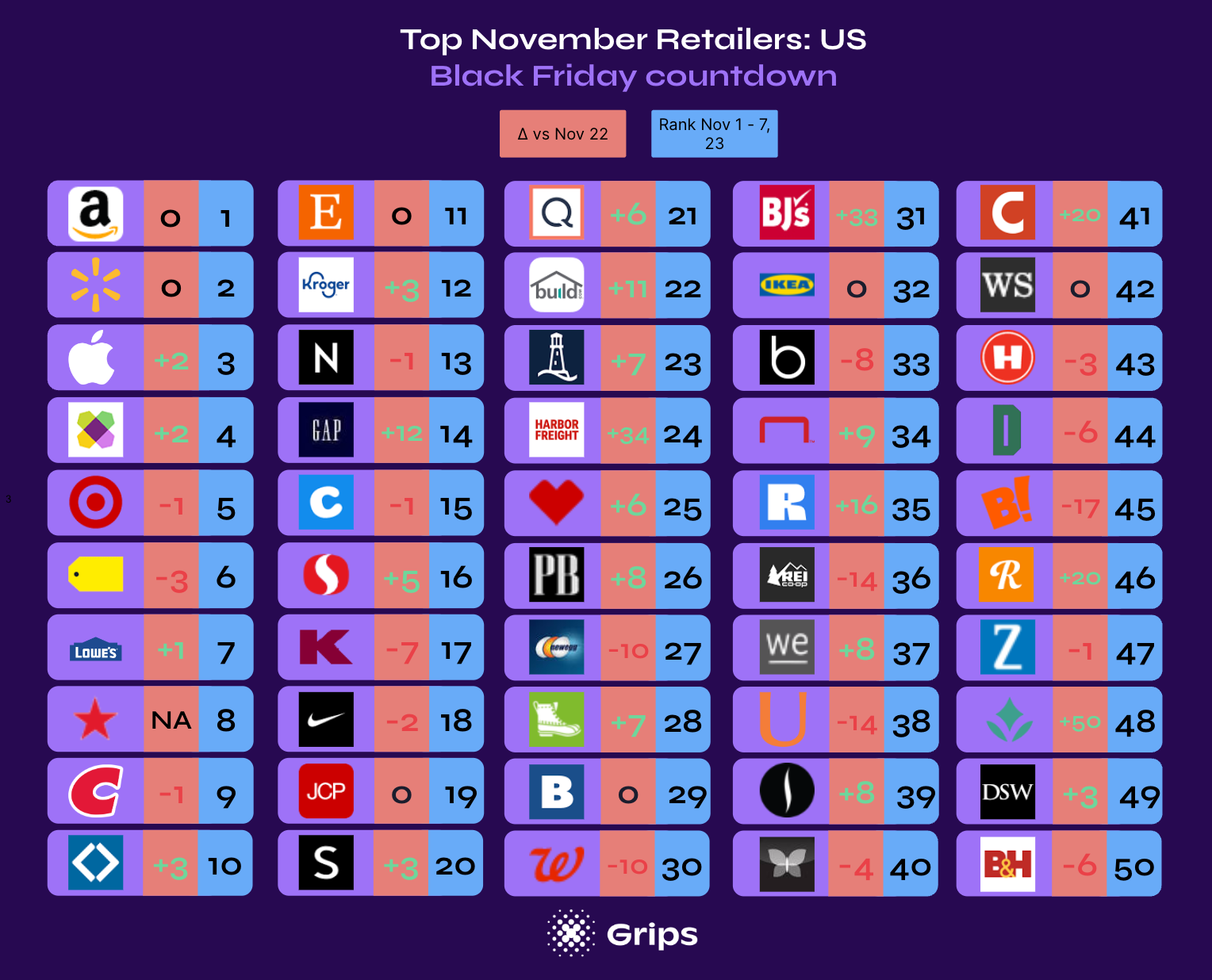 That said, rank order changes were relatively minor among the top 10 sites. But there was more significant movement outside of the leader list. For example, the biggest mover was BrilliantEarth.com which moved up an impressive 50 rank spots year-over-year coming in at number 48. HarborFreight.com and BJs.com also moved up more than 30 spots each while Crutchfield.com and Reverb.com moved up 20 spots placing both in the elite 50 at the start of the holiday season.
Sites that made the top 50 last November but were absent last week included: Anthropologie.com, Michaels.com and Bathandbodyworks.com.
Comparing the e-commerce revenues of leading sites during the first week of November to their total November in 2022 reveals some interesting insights. Notably, sites that have a higher share of revenue during the first week of the month are already on course to meet or exceed their 2022 performance. For instance, between November 1 and 7th, Grips estimates that Apple.com generated $315 million in revenue in the United States. That equates to 26% of what the site brought in during the entire month of November last year. Assuming that Cyber Week will account for more than a typical quarter or the company's revenue, the data suggests that Apple should easily exceed last year's performance.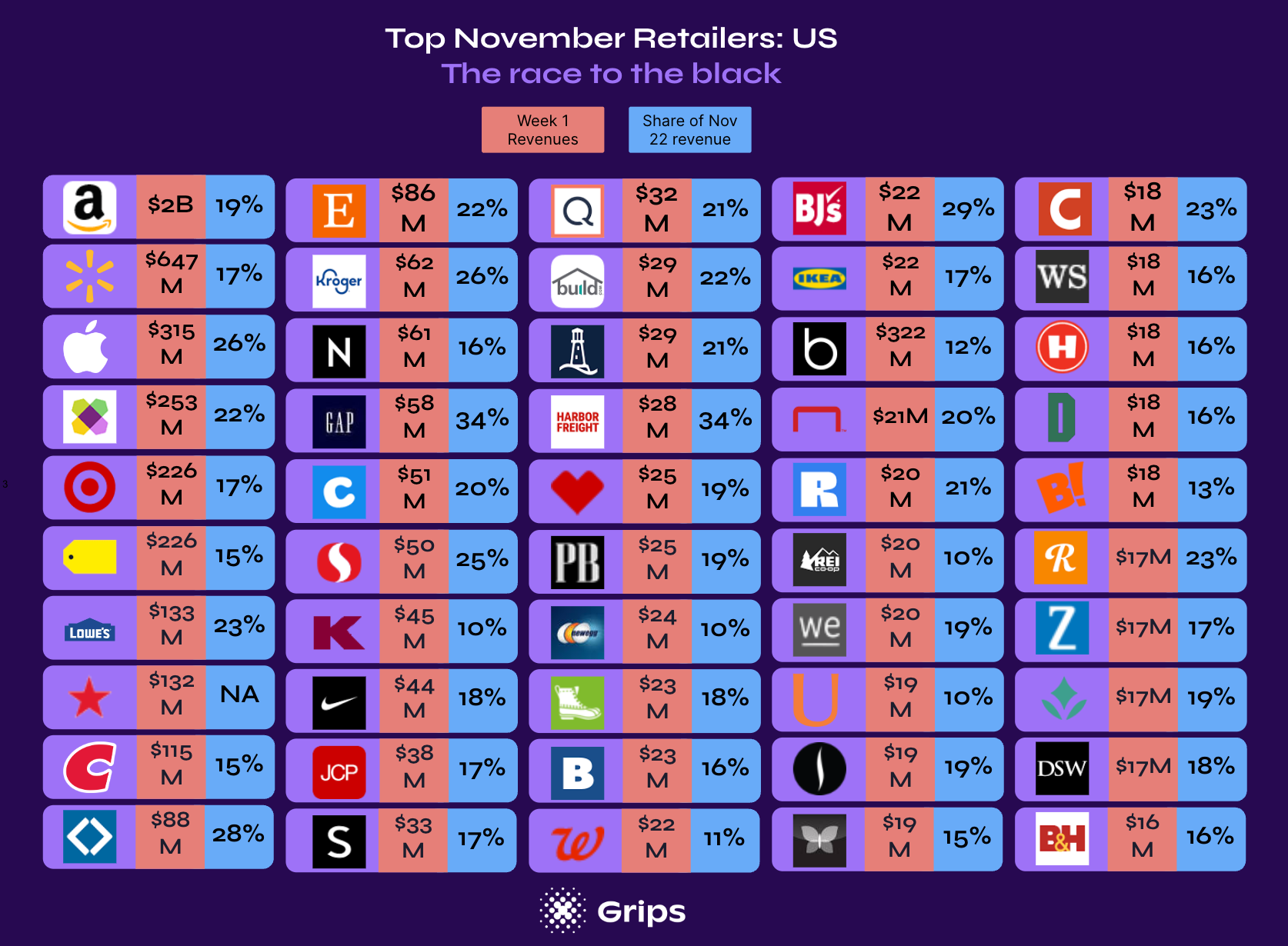 Other retailers in a similar position include: Gap.com and Harbor Freight, each of which has already brought in 34% of their November 22 e-commerce sales, BJs, Brilliant Earth and Kroger.com, all of which also generated more than a quarter of their 2022 November sales during the first week of November this year alone.
For other retailers, there are signs that the best is yet to come (or at least we hope). Kohls.com, for instance, generated an estimated $45 million in online sales between November 1 and 7th. But that's just 10% of their November '22 revenues. Assuming that their Cyber Week sales are strong, they might do just fine. But there's definitely more pressure on Kohl's relative to competitors that have already made more significant progress towards their monthly goals. Other sites whose teams may be popping Tums in the weeks to come include: Ulta.com, NewEgg.com, REI.com, Walgreens.com and Bloomingdales.com, all of which are less than an eight of the way to meeting their 2022 sales.
Update: Top US Retailers November 1 through 14
In the first two weeks of November, Americans had spent just over $20 billion on e-commerce. That equates to roughly 39% of November 2022 total revenues. Despite the fact that 47% of shopping days have passed this month, the biggest spending days yet to come, so overall 2023 is shaping up to be a solid year.
Some retailers are tracking well ahead of schedule. For instance, by November 14th, Grips estimates that Harbor Freight had already run up $57 million in e-commerce sales, equivalent to 68% of its November 2022 total. Gap.com, BJs.com, Apple.com, BrilliantEarth.com and SamsClub.com had also reached at least 55% of their respective November 2022 thresholds in during the first two weeks of the month.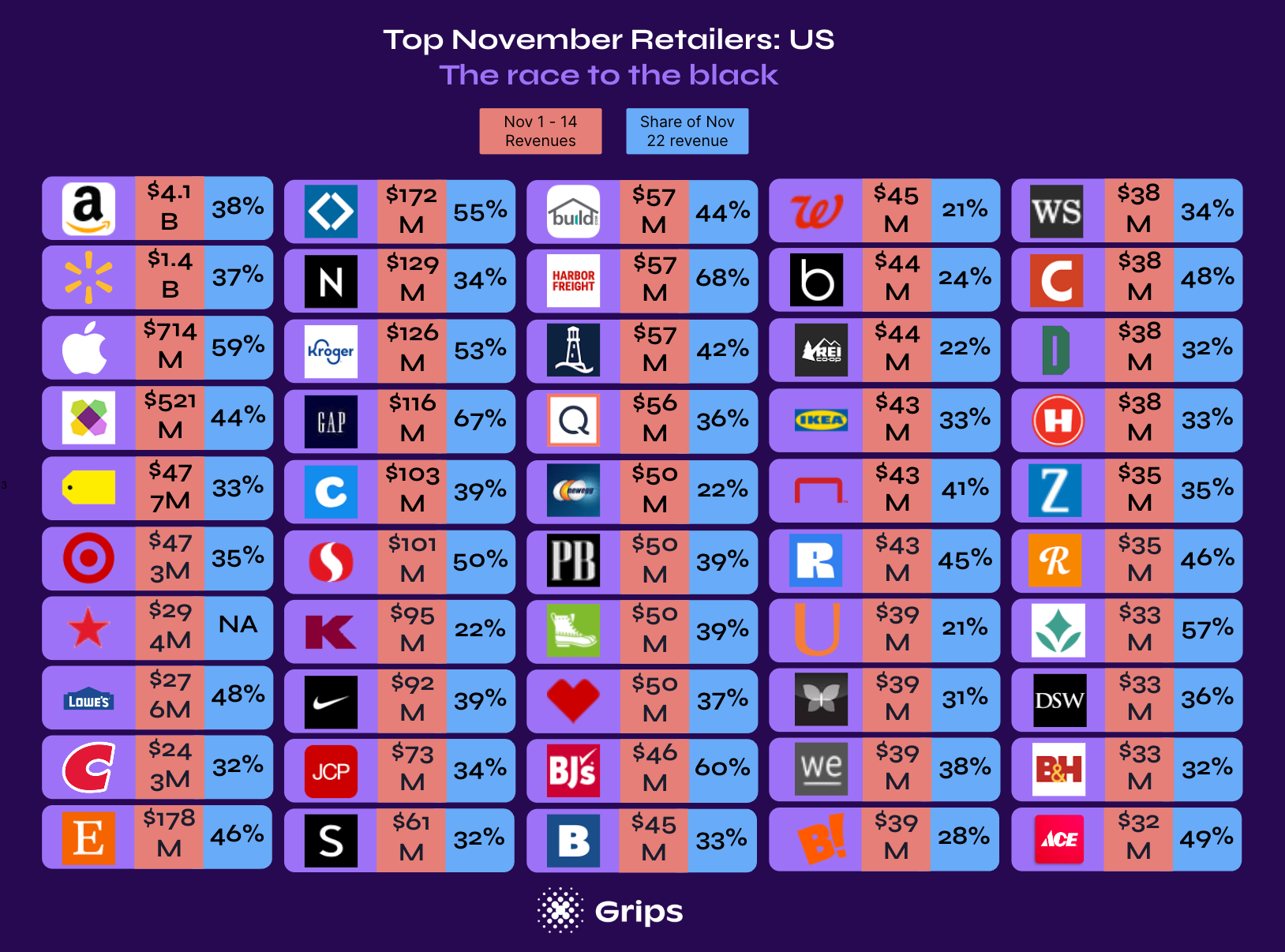 Without successful early holiday sales, other retailers will be under much more pressure to perform during Cyber Week. These include NeimanMarcus.com, BHPhotoVideo.com, DicksSportingGoods.com, Shein.com, Costco.com. Registering just under a third of their respective November 2022 sales thus far, Cyber Week will be a true make-or-break event.
Meanwhile, Ulta, Walgreens, REI, NewEgg and Kohl's may need something akin to a Christmas miracle to avoid a net drop in revenues this month. After two weeks, these site had sales totalling just 21% or 22% of their November 2022 totals.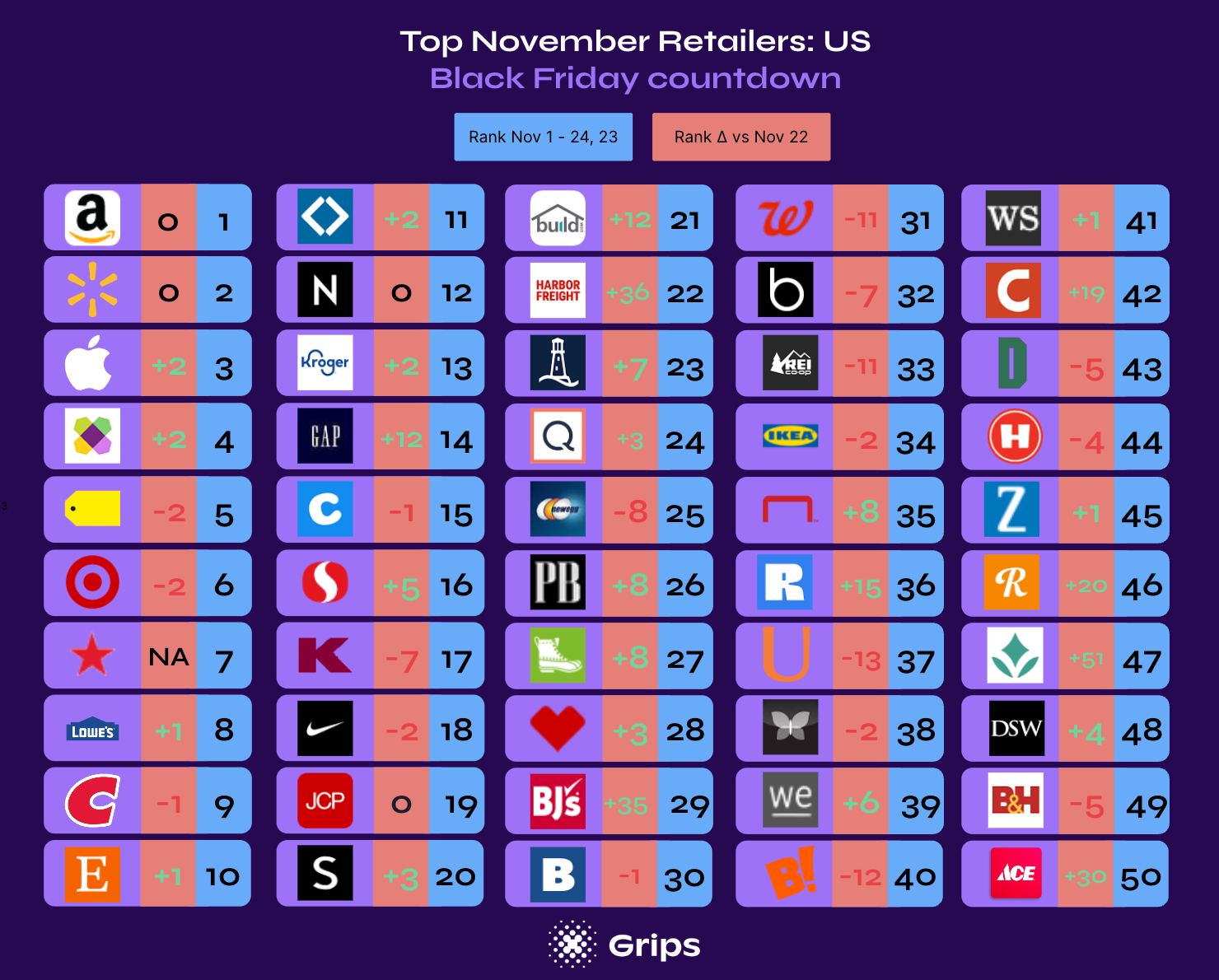 Update: Fast movers pre-Cyber Week
Monitoring the moves of industry leaders is among everyone's top priorities. But are you focusing so much effort chasing after Amazon and Walmart that you forgot to look out for emerging threats? These Apparel, Beauty and Home sites were among the fastest movers earlier this week with all increasing revenues by at least 50% week-over-week and some more than tripling sales.
We suspect that there are some retailers and DTC sites on this list that you haven't even heard of. With Grips Intelligence, you'll have visibility into the daily sales performance of thousands of e-commerce sites like these and you'll even be able to see their top-selling categories and brands.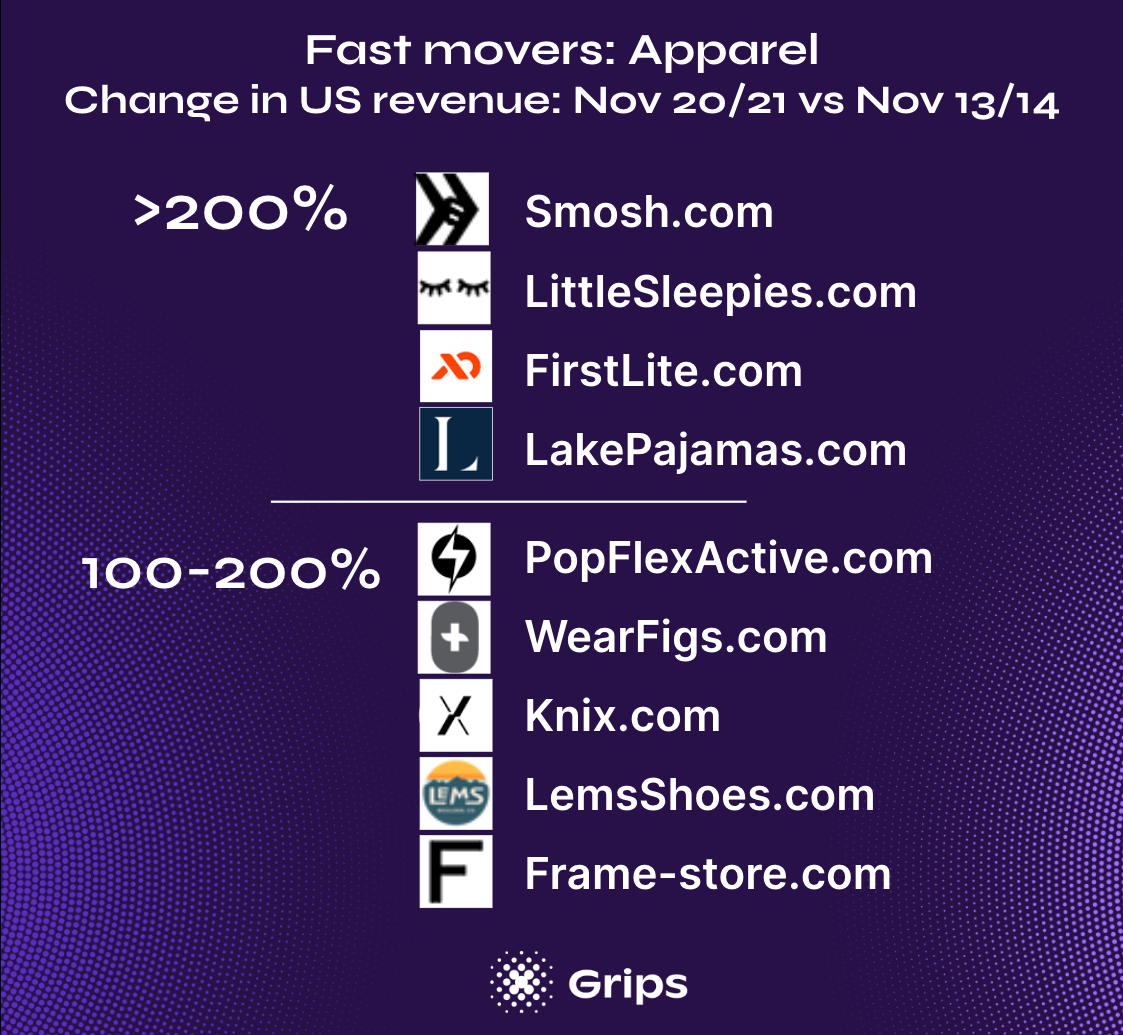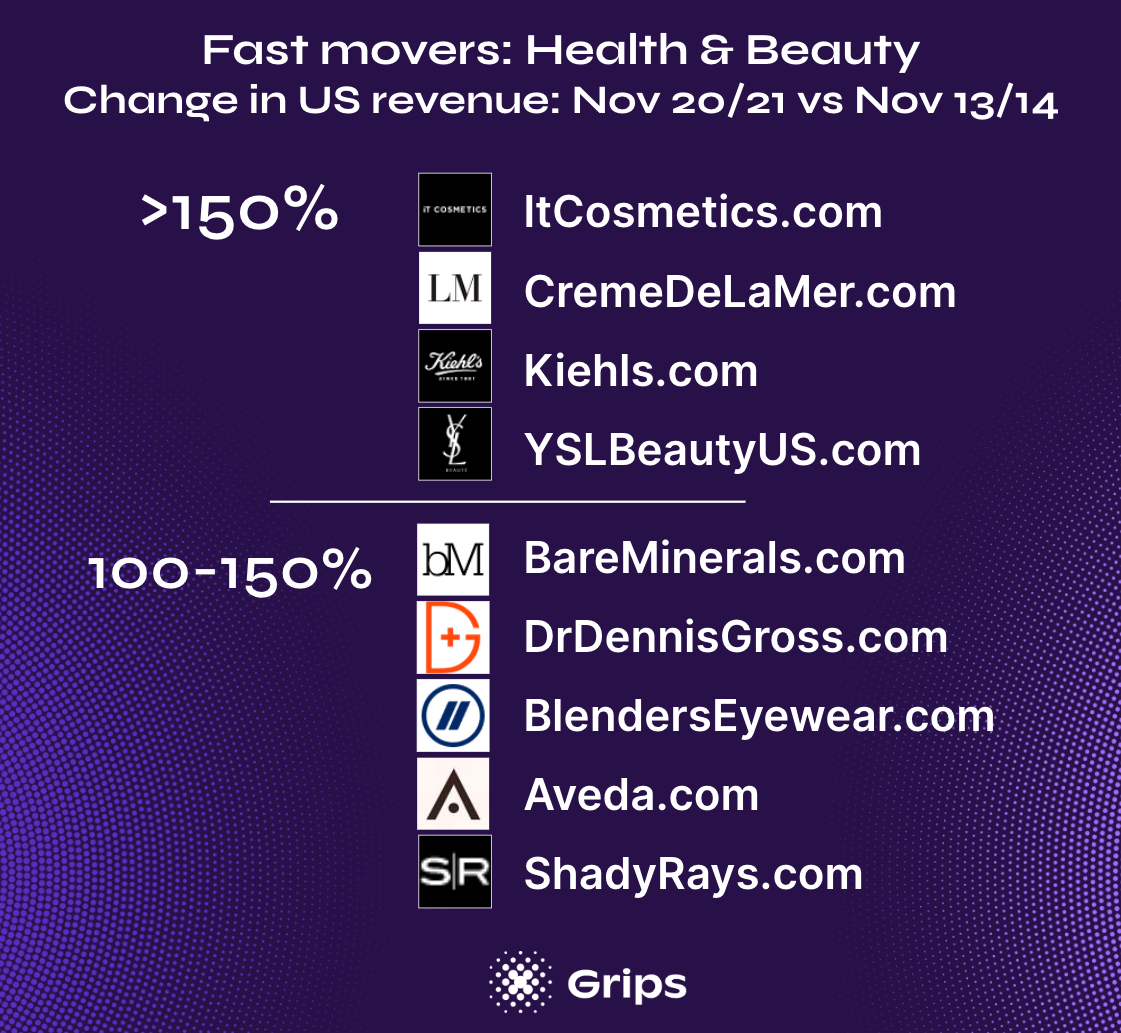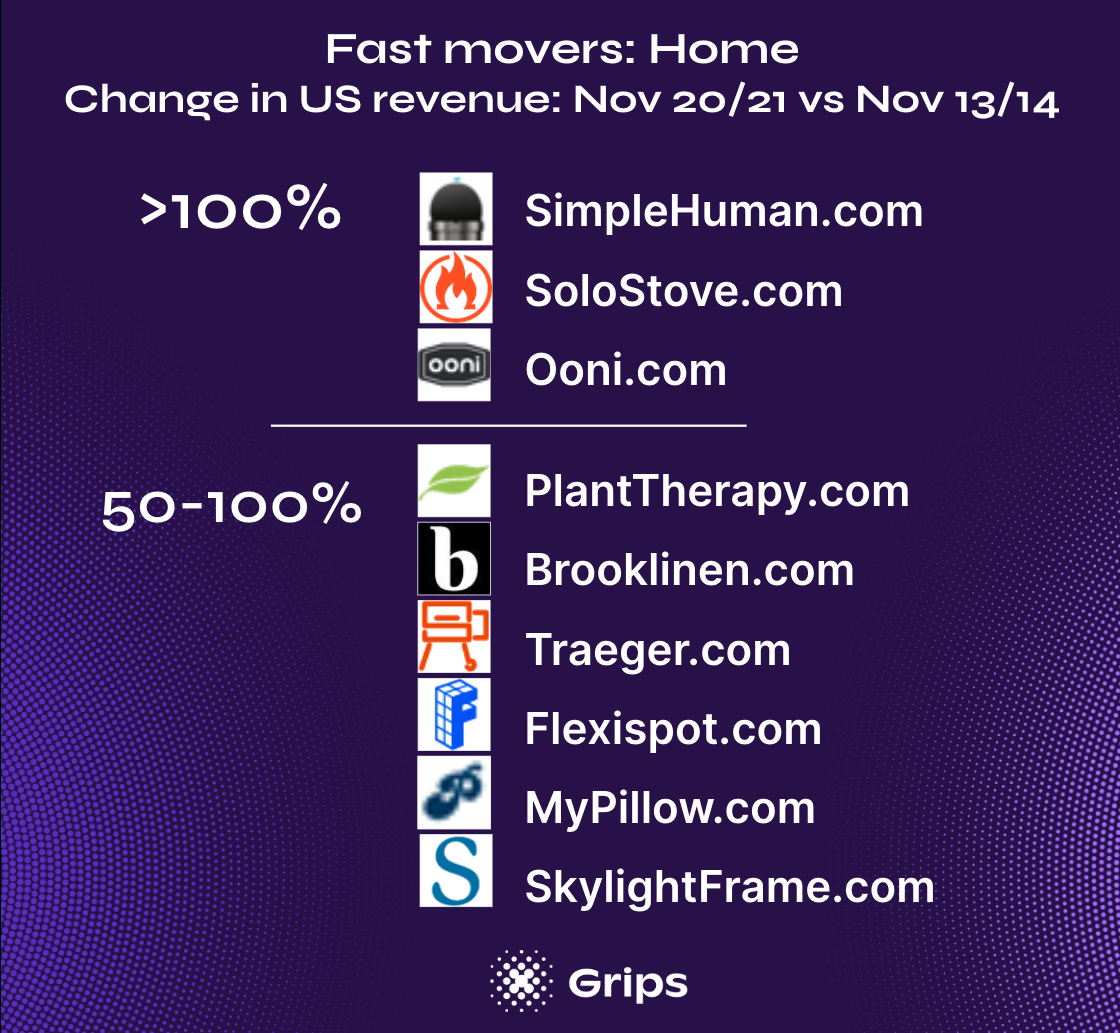 Here's a bonus look at how these revenue spikes look for select retailers' historical sales.
MyPillow.com
MyPillow.com has had its struggles driven by the association of founder Michael J. Lindell with the January 6th insurrection. In fact, revenues are down by almost 30% year-over-year. But holiday promotions have boosted sales in recent weeks with daily sales climbing to nearly $400,000 USD in the days before Black Friday.
Knix.com
If Knix.com isn't on your radar, it should be. As of October, US sales were up on the apparel site focusing on women's undergarments by 60% year-over-year. Their early Black Friday sales launch with 50% off everything has garnered lots of attention and daily revenues have climbed to over $600,000 this week.
That's still not quite as high as a peak back in September when the site ran their "BIGGEST SALE OF THE YEAR" with discounts of up to 60% off. Back then, sales peaked at just over $700,000 a day.

Update: Thanksgiving Day Spending and Top Sites US
Grips reveals that e-commerce sites in the United States nibbled up just $1.53 in consumer spending on Thanksgiving Day, a rather weak start to the Cyber Five, which spans from Thanksgiving to Cyber Monday.
With 2023 being remarkable for unprecedented early Black Friday sales, the lacklustre spending on Thanksgiving Day could be somewhat expected as consumers have already spent an impressive $33 billion online. But the fact that Thanksgiving ranked as only the 10th top spending day of the season puts a damper on expectations for the days ahead.
Top retailers and DTC sites were a compilation of the usual suspects, but Best Buy managed to oust Apple from third place where it had been most of the month and Macy's joined the top 5, its highest ranking of the season.
Madewell's jump into the top five Apparel sites was also notable as was Micro Center's debut as the fourth ranking Electronics retailer.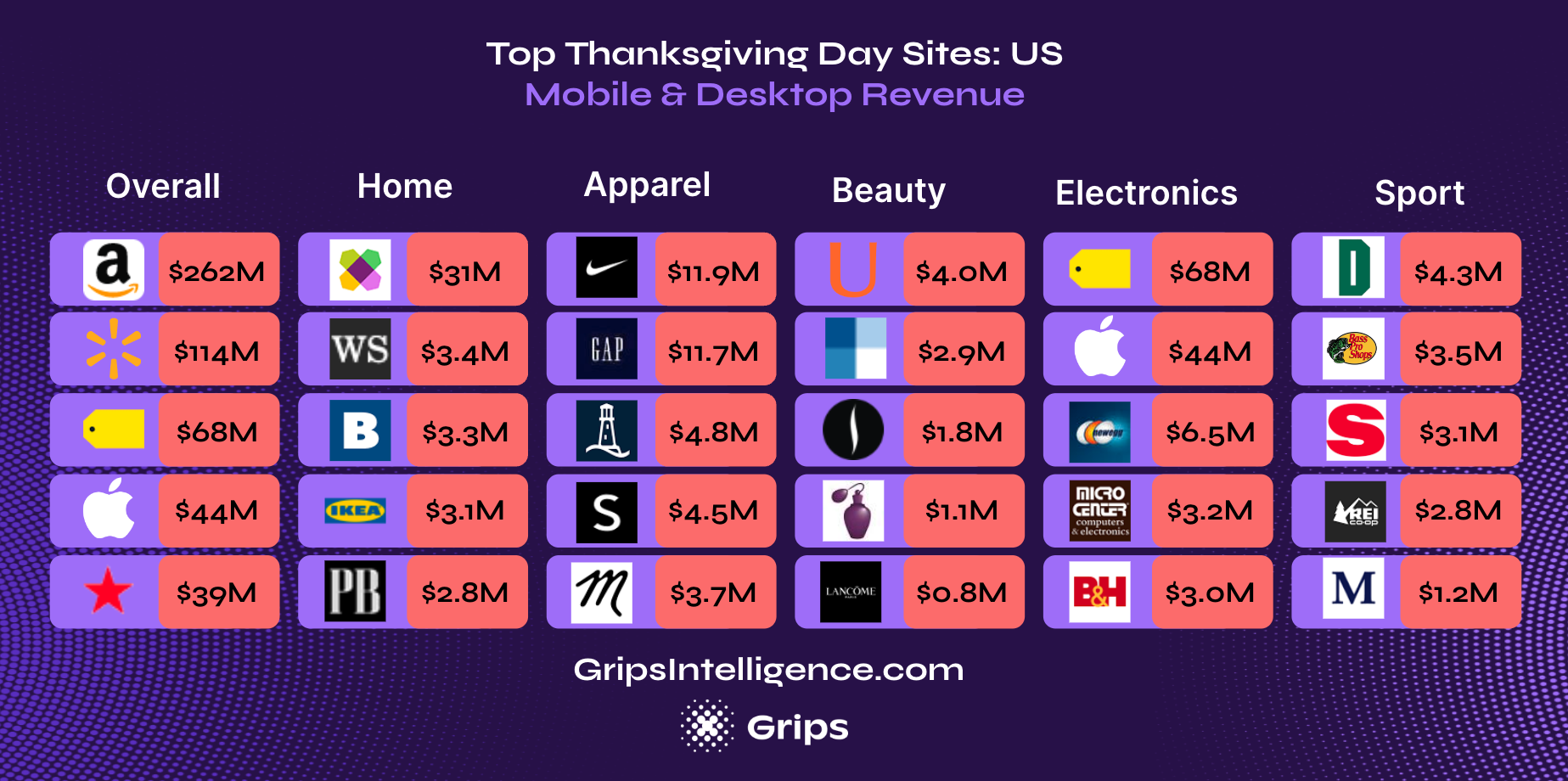 While overall spending was ho-hum, these fast movers were having the best day ever on Thanksgiving with sales up at least 50% week-over-week and some posting a 4X increase in revenues versus the Thursday prior.
In the Electronics category, fast movers favored kitchen and other home appliance and gadget brands like Thermoworks.com, KitchenAid.com and Dyson.com.
In the Sports category, there was a mix outdoor/hunting sites like AR500Armor.com and BassPro.com, as well as retailers ChampsSports and GlobalGolf.com.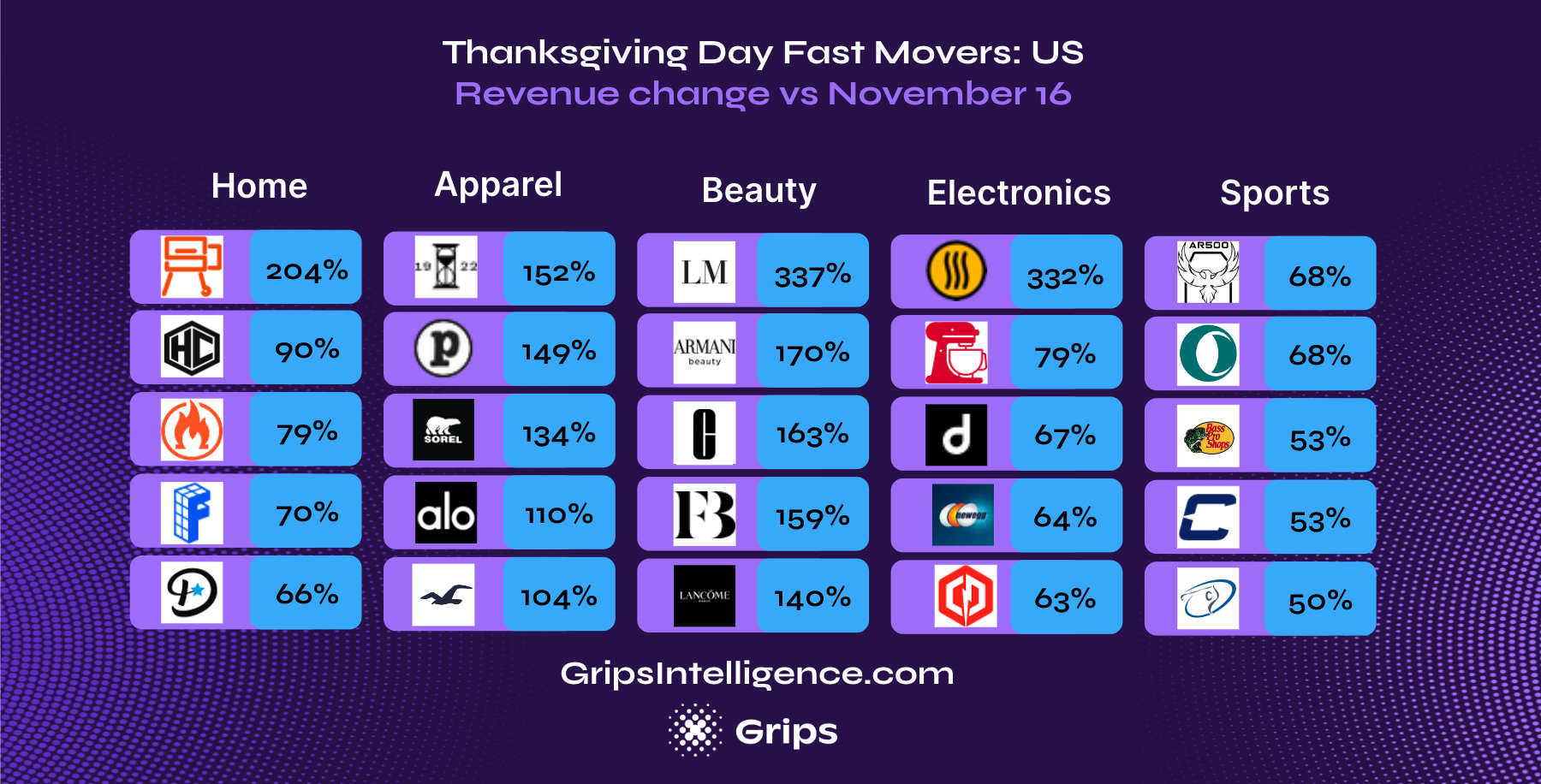 Update: Black Friday winners US
US retail and DTC sites rang up an estimated $2.46 billion in revenue on Black Friday bringing the November revenue total to just over $37 billion at the end of the biggest spending day of the year. The top five sites overall accounted for a third of all e-commerce spending with Amazon alone accounting for 15%.
Notable callouts among the top sites include:
Target.com made its way back into the top 5 on Black Friday after momentarily dropping out on Thanksgiving Day.
Shein.com dropped to sixth place in the Apparel category after consistently holding a top 5 berth. Shein's revenues increased just 40% week-over-week on Thanksgiving while most other top retailers saw revenues more than double.
BedBathandBeyond.com nearly tied with WestElm.com as the second top earning Home site on Black Friday despite a total change in ownership in the last year.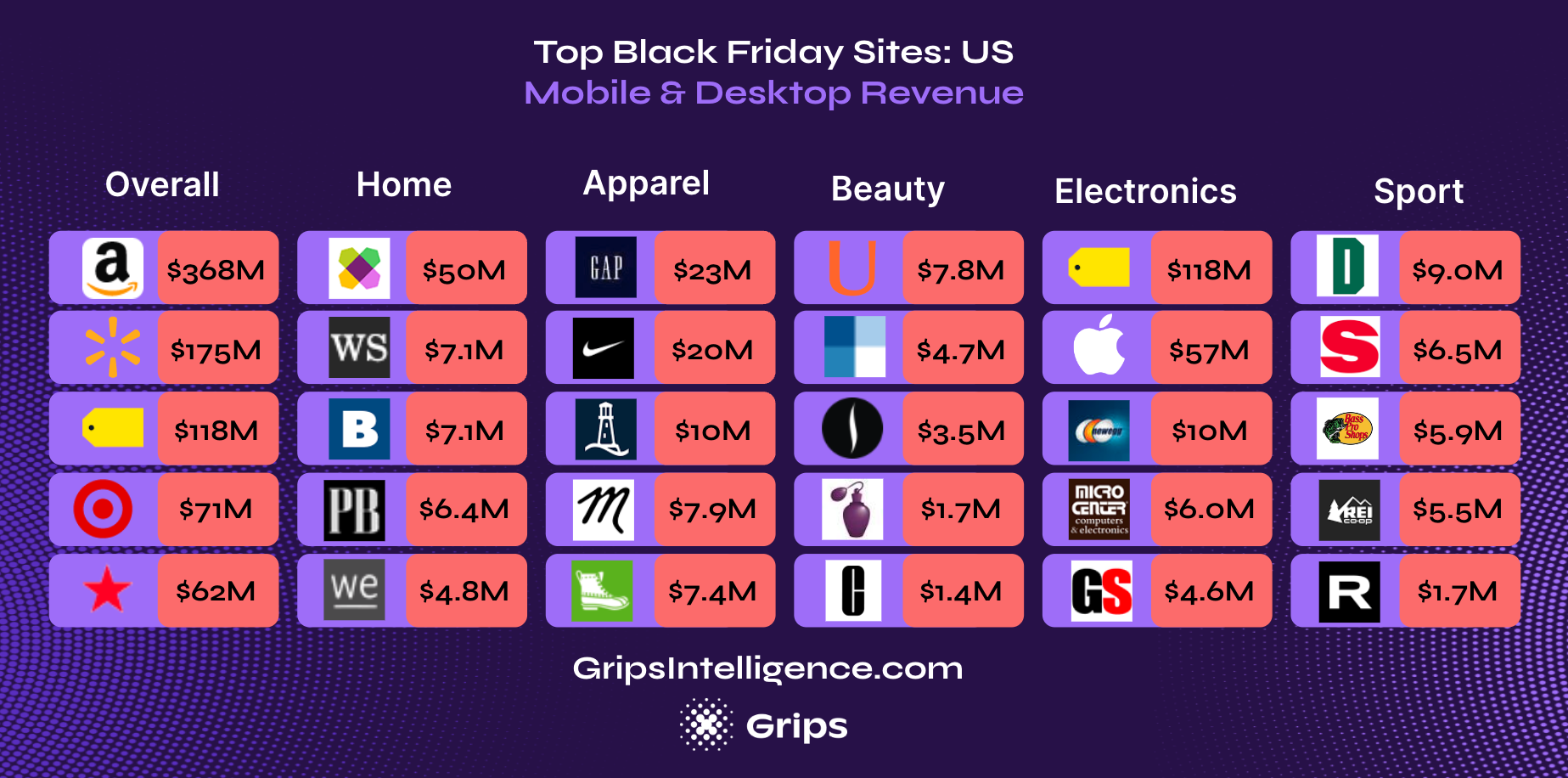 While the top five retailers accounted for a third of all US e-commerce spending on Black Friday, these retail and DTC sites were on fire with every single one more than doubling their revenues week-over-week. The fastest movers, by category, are listed below. Click on any site to get other key insights from Grips on its performance.
Home:
Apparel:
Beauty:
Electronics:
Sports: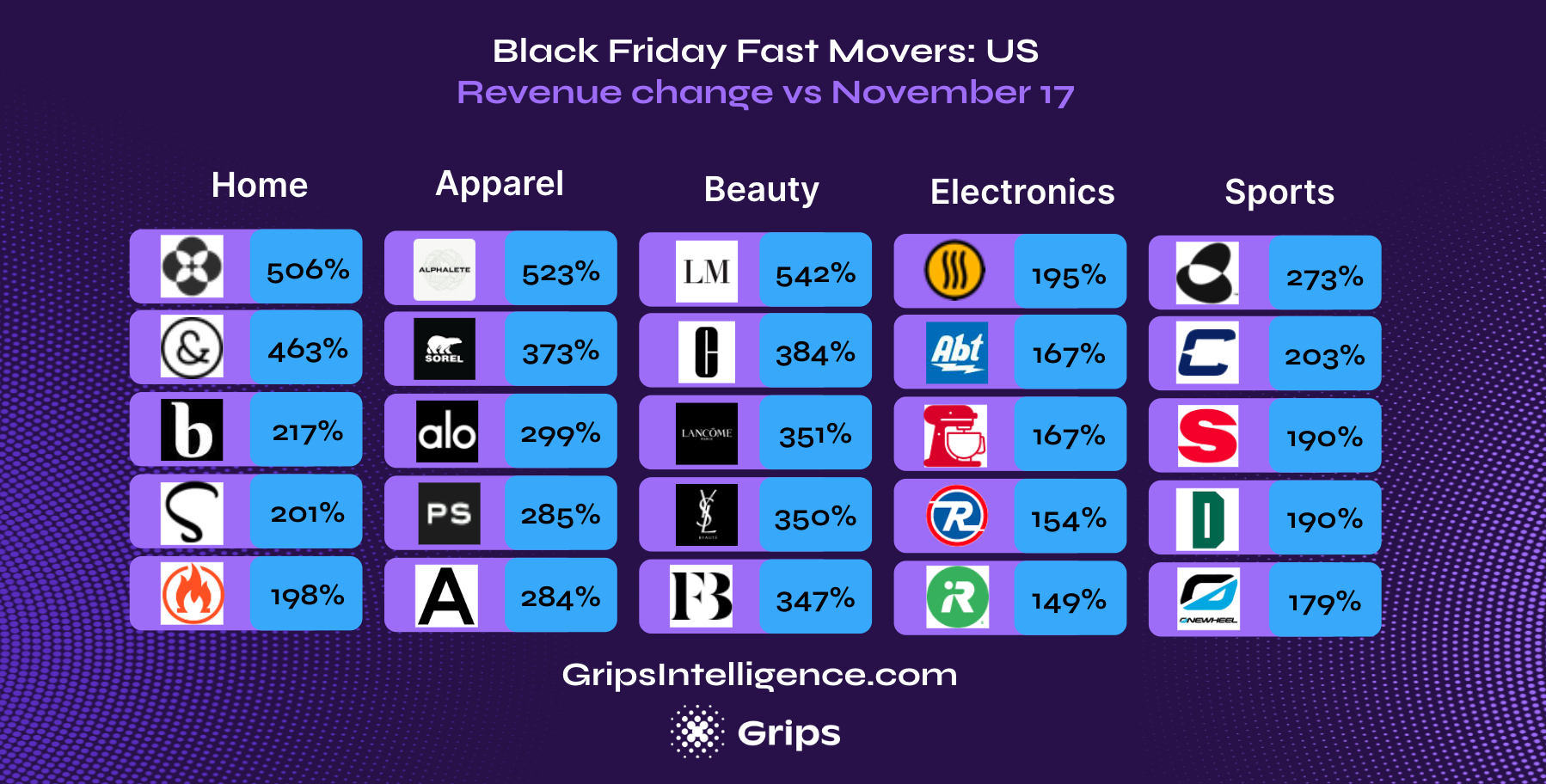 Update: Black Friday winners UK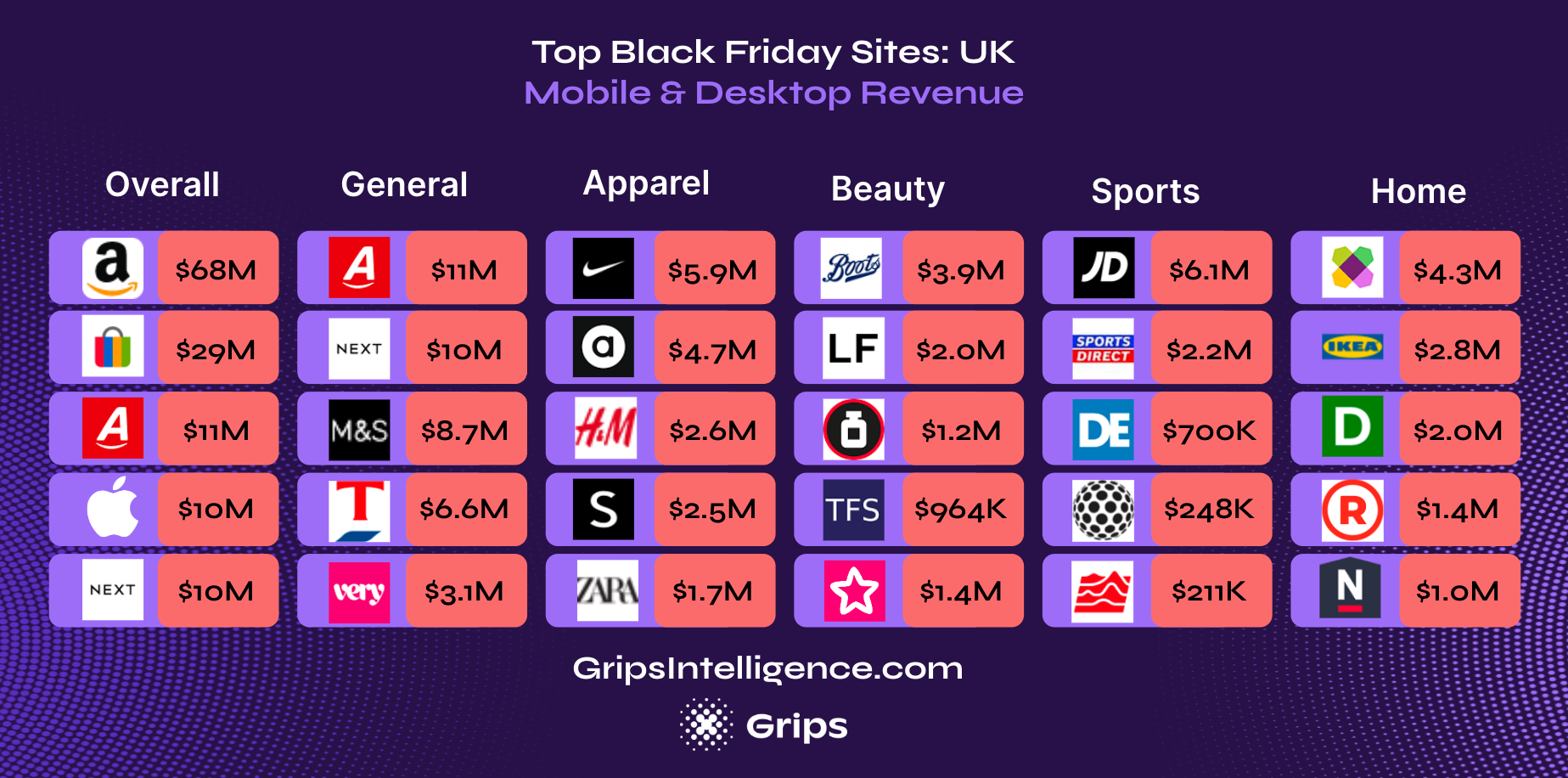 Update: Cyber Monday versus Black Friday
Cyber Monday generated $2.56 billion in revenue for e-commerce retailers and DTC brands in the United States beating Black Friday sales by $100 million.
With promotions varying day-by-day, Grips reveals which day performed best for the top brands:
Apparel brands and department stores tended to have a better Black Friday than Cyber Monday as did electronics retailers Best Buy and New Egg
Home goods tended to do better on Cyber Monday
Walmart, Target and wholesale clubs saw similar revenues on both days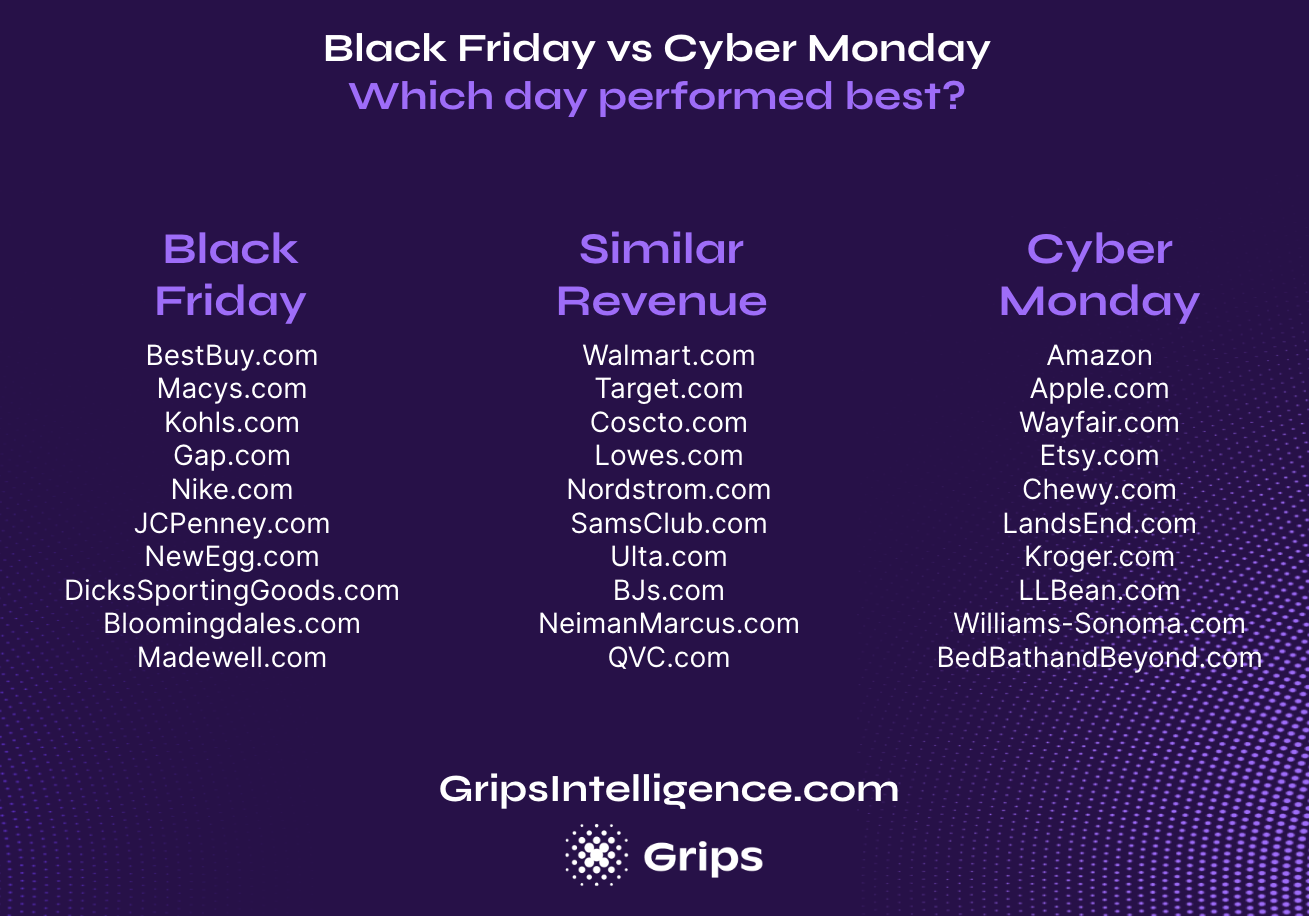 Update: 12 sites to keep an eye on
Keep an eye on these 12 US retailers and direct-to-consumer brands: All have surpassed their November 2022 e-commerce revenues by at least 50% and November isn't over.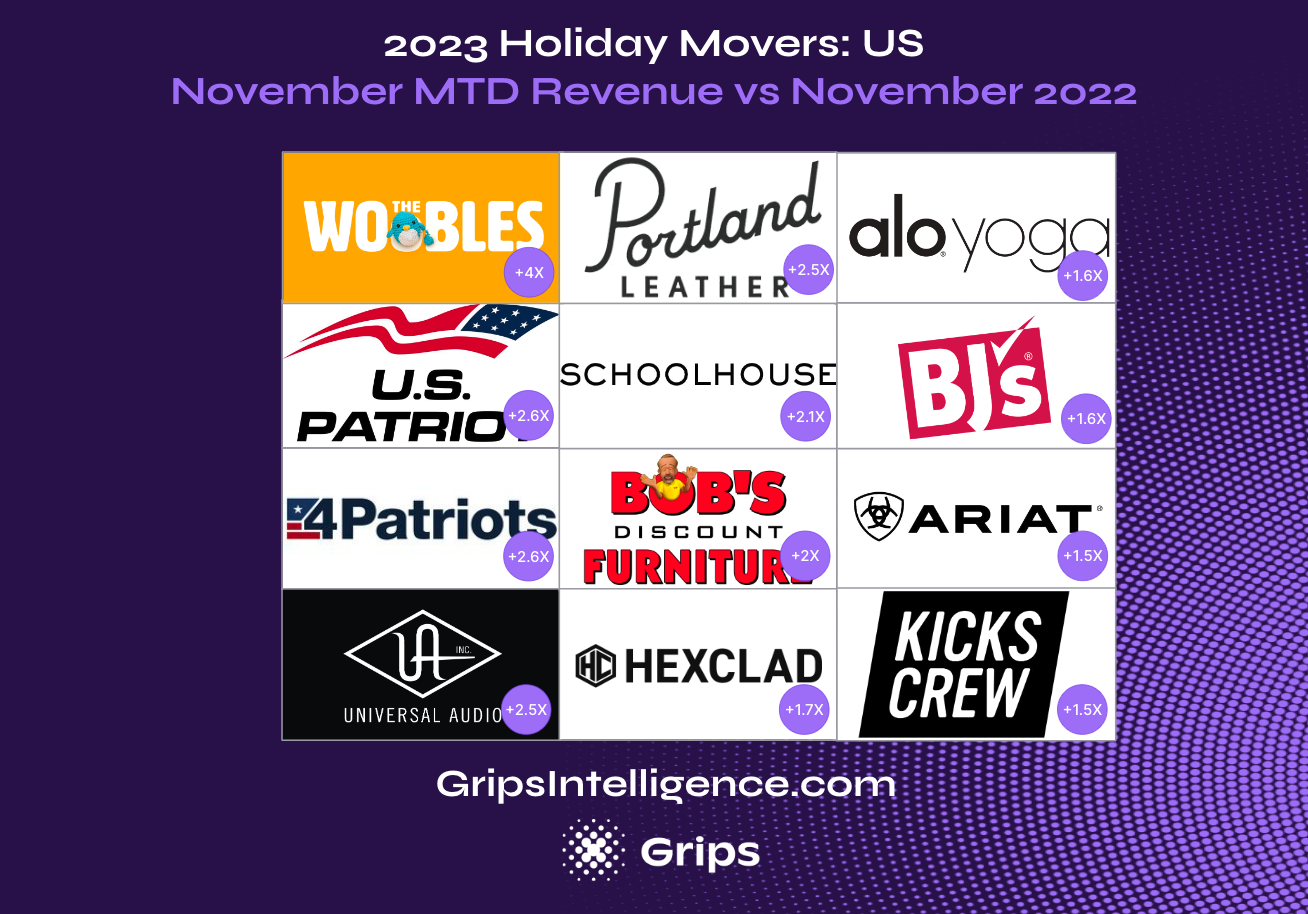 Cyber Week Winners & Losers: US
Cyber Week, the five days between Thanksgiving Day and Cyber Monday, accounted for more than a fifth of the month's total e-commerce sales, according to a new analysis by Grips. That's 29% more than these five days would be expected to generate if revenues were evenly distributed throughout the month. 
Cyber Week Winners
Baggage sites generated the greatest share of monthly revenue during Cyber Week with 31% of sales coming in between Thanksgiving and Cyber Monday. Beauty (28%), Footwear (27%), Department Stores (27%) and Apparel (26%) rounded out the top five categories that saw the highest share of revenue during Cyber Week. 
Within the top categories, the sites below were the best of the best, including Mielle Organics, Alphalete, Saxx, BÉIS and It Cosmetics, all of which accumulated more than 40% of their November revenues during just five days.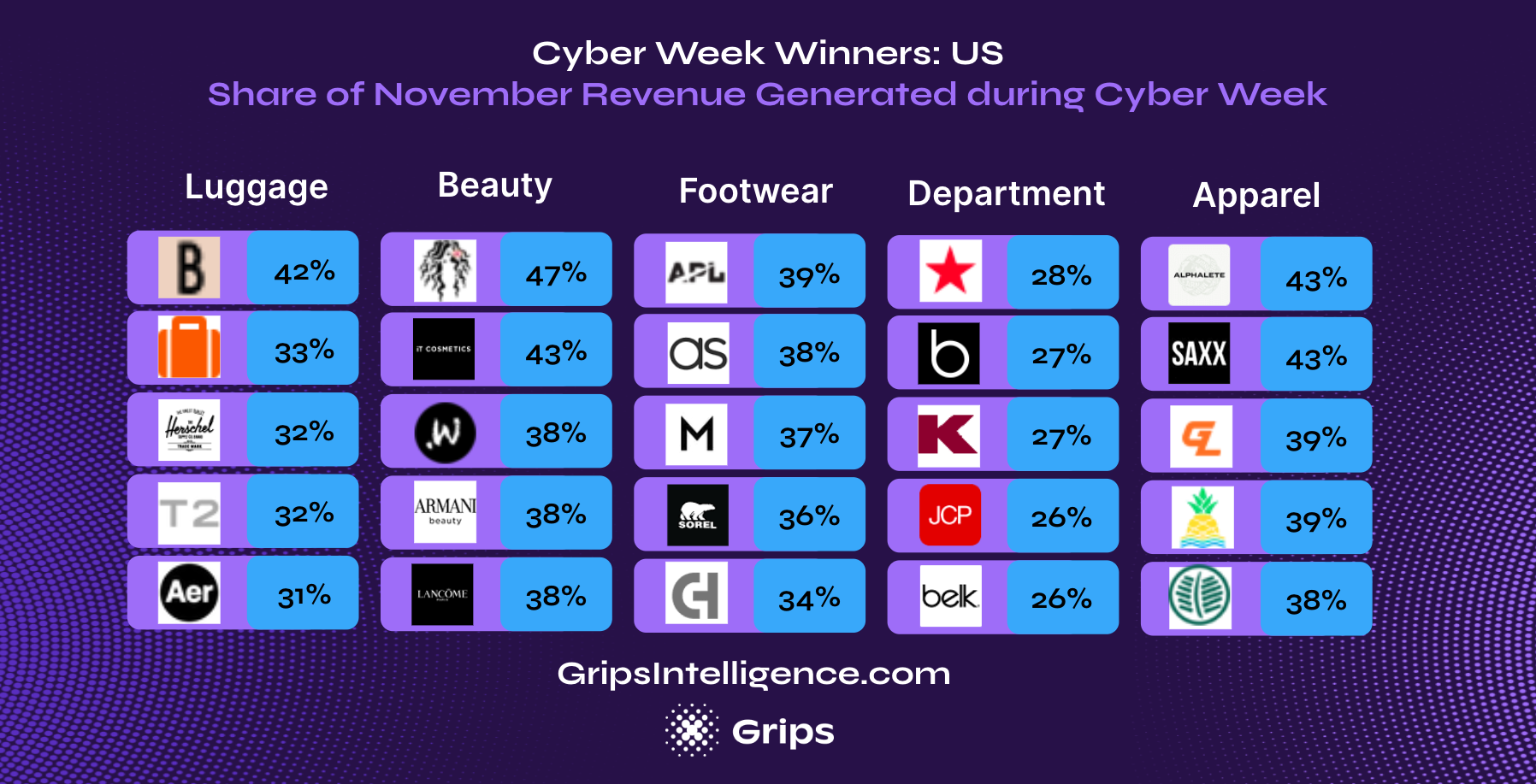 Cyber Week Losers

At the other end of the spectrum, Food & Beverage and Health & Wellness sites saw the lowest share of revenue come in during Cyber Week with just 14% and 16% of sales generated during the 5 days. These two categories were the only ones where Cyber Week had a negative impact on sales suppressing revenues below what would be expected. Auto (17%), Mass Merchants (19%), Pets (20%) and DIY (20%) were four other categories that saw the below average share of monthly revenue come from Cyber Week sales. (Note: B2B categories expectedly performed the worst during Cyber Week, but we excluded those from this analysis to focus primarily on B2C business.)
Exceptions
Of course there were exceptions in each category. For example, in the Food & Beverage category, nearly all grocery stores saw highly suppressed revenues with Cyber Week sales accounting for an average of just 13% of monthly sales. Meanwhile, gift site HarryandDavid.com generated 22% of sales during those five days and Wine.com and NakedWines.com generated 18% of November sales during Cyber Week.
Similarly, among leading Health & Wellness sites, CVS.com and Walgreens.com did the worst with just 12% and 15% of sales coming in during Cyber Week. However, shoppers were stocking up on vitamins, helping sites like Vitacost.com, GNC.com and Vitaminshoppe.com generate 21% or more of monthly sales during the peak shopping period. 
In the Auto category, WeatherTech.com stood out with 22% of sales coming in during Cyber Week. Similarly, Target.com did quite well among Mass Merchants and Litter-Robot.com among Pet sites with 23% of monthly sales coming in during the five days. Interestingly, among DIY sites, those catering to rural consumers, like FarmandFleet.com, RuralKing.com and TractorSupply.com outperformed others. In fact, these three sites generated 23% or more of their November sales during Cyber Week, much higher than the category average.
Google Ad Spend Peaks on Cyber Monday
US e-commerce retailer and DTC sites spent an estimated $12.6 billion in Google Paid Search Ads during the month of November with Cyber Week accounting for 20% of that. While Grips found that Black Friday was the biggest spending day for all online advertisers when it came to paid search, e-commerce brands spent the most on Cyber Monday. Specifically, they spent $622 on paid search that day which was 12% more than they spent on Black Friday.
With so much competition, it's no surprise that paid search CPC also peaked on Cyber Monday, crossing just North of $1 per click, the highest of the month and the year. Black Friday was a relative bargain with paid search CPC coming in at just $0.84 for e-commerce brands.
Grips Intelligence provides our clients with ongoing reporting on the Google Ad spend and CPC of their top competitors. With this information, brands can benchmark their paid search budget and CPC as well as see when competitors increase or decrease spend in order to inform their own ongoing strategies.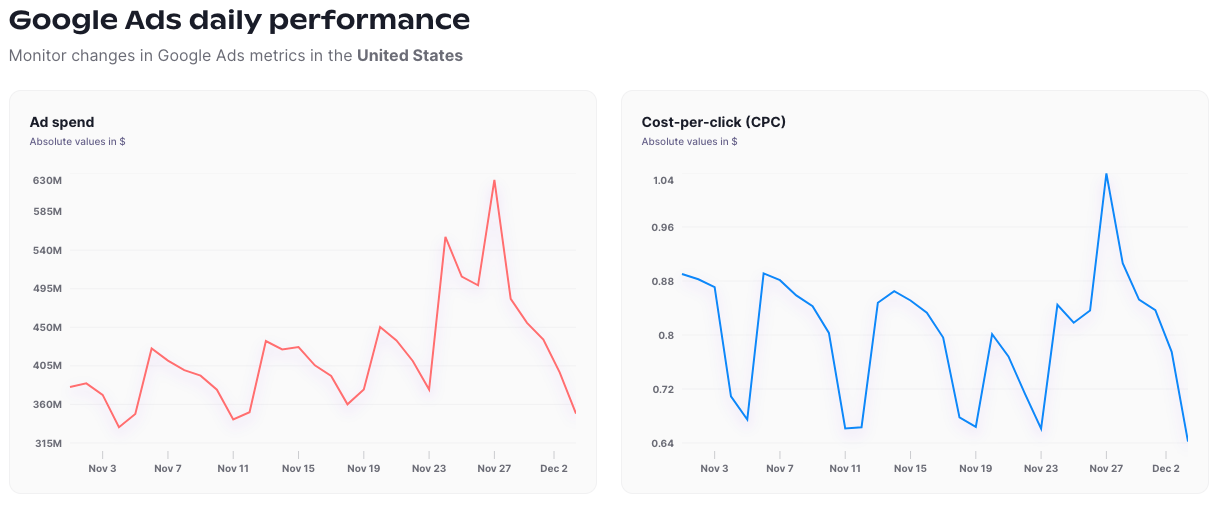 See the performance of your top competitors
There's still time to sign up for Grips to get daily updates on your competitor's performance before it's too late. Book a demo today.