You'll start your grips journey on the Grips Homepage.
From here you can search for a retailer or a category. This guide will walk you through how to access category data and how you can use the category features to drive e-commerce sales for your business.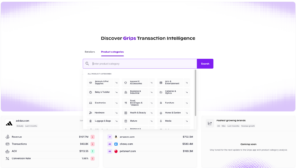 Start by searching for a category.
If you are unsure of which category to start off with, you can browse all product categories.
Our categories have 7 levels so you can begin at a parent level and drill down using the arrow to the level most suitable.
You'll then land on the category page.
In the top right corner, you'll find some report parameters that you can adjust to get the most relevant data for you.
Country picker
For product categories, Grips can provide data for the UK, US and Germany.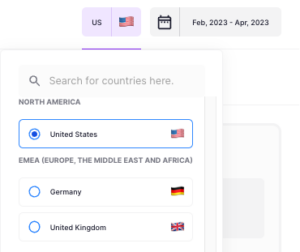 Date picker
We have category data beginning from August 2022.
The analysis will return 3 months as a default however you can select your preference in this date picker.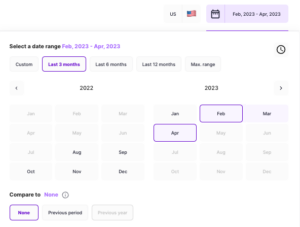 Should you wish to compare your selected period to another time frame, simply change the 'Compare to' option to either previous period or previous year.
Previous period – date period prior to selected time frame
Previous year – this option is not yet available as we don't have historical data to provide this information.
---
Overview
In this section, we provide you with a summary of the overall size of your selected category. Great for sizing up your market and understanding the categories overall performance.
Top performing sub-categories
If you look at a parent level, we'll show you the top performing child categories of this to help you understand more specifically which types of products are driving market share for this overall category.
Top performing retailers
If you are already looking at the most granular category, instead we'll show you the 10 retailers with the most market share of that category.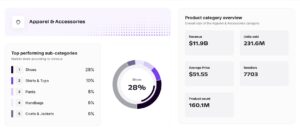 Click here to see the definition of these metrics here.
Performance over time
For your selected category, you can review how it has performed historically over your selected time period. Use this chart to understand seasonal performance for the category and pinpoint when this category sees growth.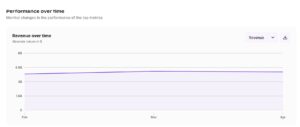 Use the dropdown to view performance over time for all the different metrics available within Grips.
Need the data behind this? Click on the download button to export this data out of the Grips Platform.
Market share
The market share section shows you the retailer breakdown of the selected category. See which retailers have the highest market share and the associated revenue and units sold.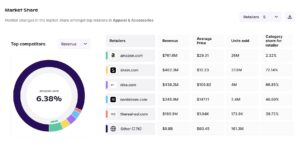 The table will show the top 5 retailers by default however should you wish to update retailers within this table, you can do so by clicking on the retailers dropdown button.
You are able to select a maximum of 5 retailers, unselect the preselected retailers and choose your selection and then hit 'Apply'.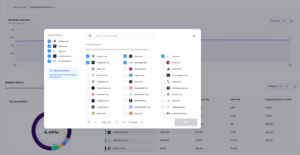 Need the data behind this? Click on the download button to export this data out of the Grips Platform.
Retailer price breakdown
The retailer price breakdown section shows the average price of retailers within the selected category. Again you can pick the 5 retailers you'd like to compare by clicking on the retailers dropdown button.
This section allows you to compare the pricing strategy of retailers.