Kohl's surprised investors this week announcing a rise in profit during the quarter ending April 29, 2023. In the quarterly results, Kohl's reported that despite posting a profit, overall net sales had still dropped year-over-year by 3.3 percent overall, and comparable sales, of which e-commerce is a part, declined 4.3 percent.
Grips Intelligence provides investors and e-commerce managers with monthly transactions, revenue, average order value, conversion rate and more for tens of thousands of e-commerce sites, including Kohls.com. In our data through April 2023, Grips US revenue estimates for Kols.com showed a strong positive correlation to Kohl's own financial reporting with a Pearson correlation coefficient of 0.95. The chart below tracks the quarter-over-quarter change of Grips e-commerce revenue estimates for Kohls.com alongside the quarter-over-quarter change of Kohl's net sales as reported in their 10-Q. The data confirms the ability of Grips to accurately predict net sales for Kohl's.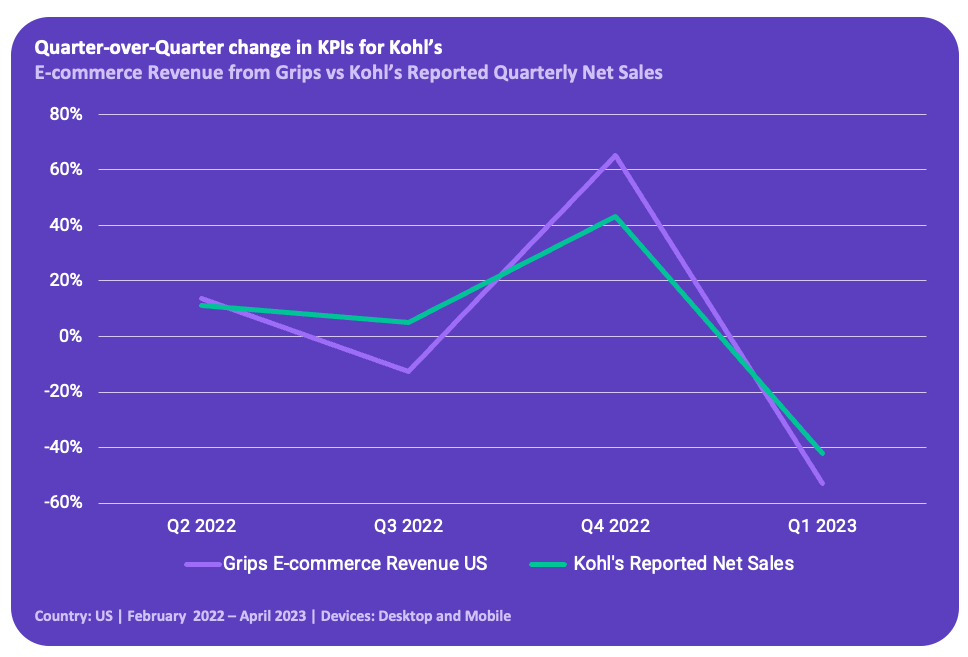 Digging a bit deeper into the quarter, we looked at the year-over-year change in our revenue estimates and other KPIs for Kohls.com month by month between February and April (the period correlating with Kohl's quarterly report). The data reveals that revenues were down the most year-over-year in March, but transactions were down the most in April. That's because average order value (AOV), while down year-over-year in February and March, was actually up slightly in April 2023 coming in at $189. This allowed revenue performance to improve slightly in April even though transactions continued to worsen.
Increasing AOV, however, can only do so much in the face of falling conversion rates. Kohls.com, like many e-commerce sites, is seeing conversion rates decline and Grips reports that the Kohls.com conversion rate continued to slide each month during the quarter compared to the same period last year. April was actually Kohls.com's worst month since February 2022 with the site converting just 2.3 percent of visits into sales.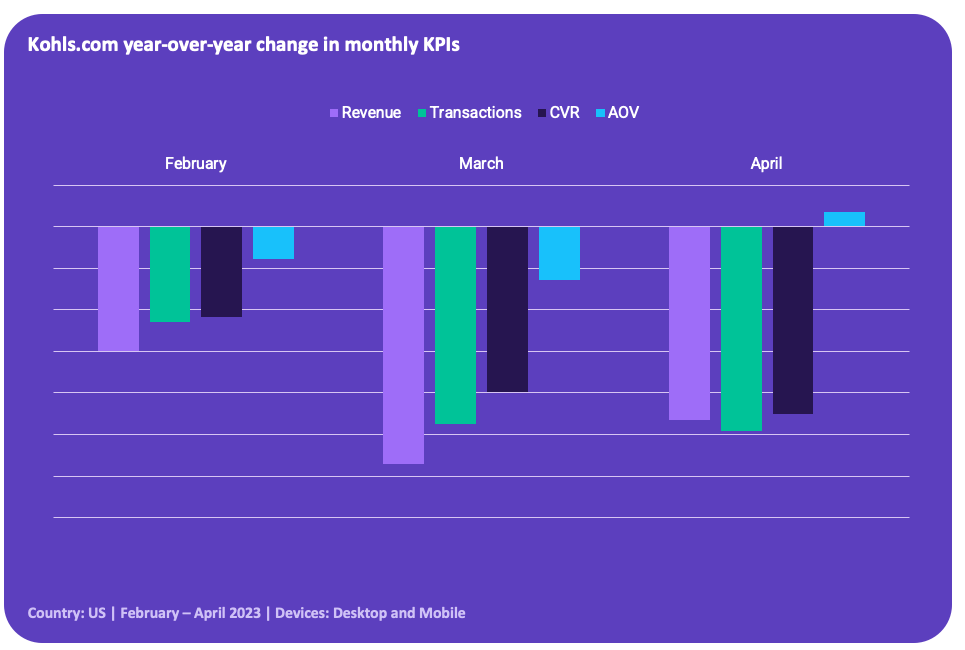 How can Kohl's optimize performance to improve sales
The growing dominance of mobile in driving e-commerce sessions is one of the contributing factors in declining conversion rates. During the three months ending April 2023, for instance, Kohls.com converted 3.5 percent of desktop visits into sales but just 1.8 percent of mobile visits resulted in a purchase. Improving mobile conversion is one way to help boost e-commerce revenue.
Marketing channels also play an important role. For example, Grips found that traffic to Kohls.com from Organic Search converted at an overall rate of 2.8 percent between February and April 2023 making it the best converting channel. By comparison, Paid Search posted a conversion rate of 2.2 percent and Social had the worst performance with only 1.4 percent of visits ending in a sale. Focusing on improving SEO may help Kohl's get more traffic from Organic Search which should help overall e-commerce sales. 
Finally, Grips can shed light on the products and even brands that are driving revenue on Kohls.com. During the most recent quarter, Grips found that Apparel & Accessories were responsible for just over half of Kohl's US e-commerce sales. This category also had one of the lowest average price points with the typical Apparel & Accessory item retailing for $34 on Kohls.com. Home & Garden products were responsible for a sixth of the retailer's online sales but had an average price of $65. Growing sales from categories with higher price points like Home & Garden and Sporting Goods (average price of $111) will further help Kohl's maximize online sales and reduce the predicted decline in sales during the remainder of the year.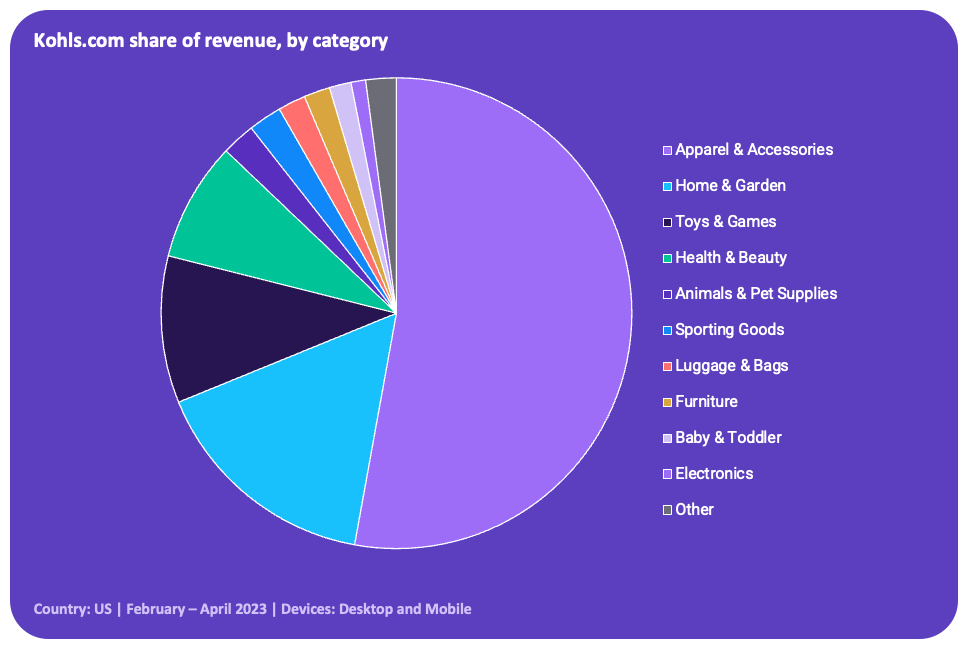 Stay informed and avoid surprises: Get a Grip