E-commerce is a highly competitive space where businesses are always looking for ways to gain an edge. One way to gain a competitive advantage is to increase your conversion rate – the percentage of visitors to your site who make a purchase.
According to data by Grips Intelligence sourced from our Competitive Intelligence tool, LandsEnd.com earns the title for the best converting apparel and sportswear site in the United States, with a conversion rate over two times higher than the category average. So, what's the secret behind Lands' End's success? 
The answer lies in the brand trust that Lands' End has built with its customers in the 60 years since its founding. Known for their high-quality products, stellar customer service and timeless style, LandsEnd.com has a notably high share of traffic coming from both Direct (meaning the consumer bookmarked or manually entered the domain into their browser) and branded search, compared to other retailers in the same category. This means that consumers know and trust the Lands' End brand, actively seek it out by name when shopping and are more likely to make a purchase on the site when they find an item they want. 
In addition, Lands' End receives a higher than average share of traffic from desktop devices, which further contributes to its best-in-class conversion rate. While mobile is gaining an increasing share of e-commerce revenue, consumers are still more likely to convert from a desktop.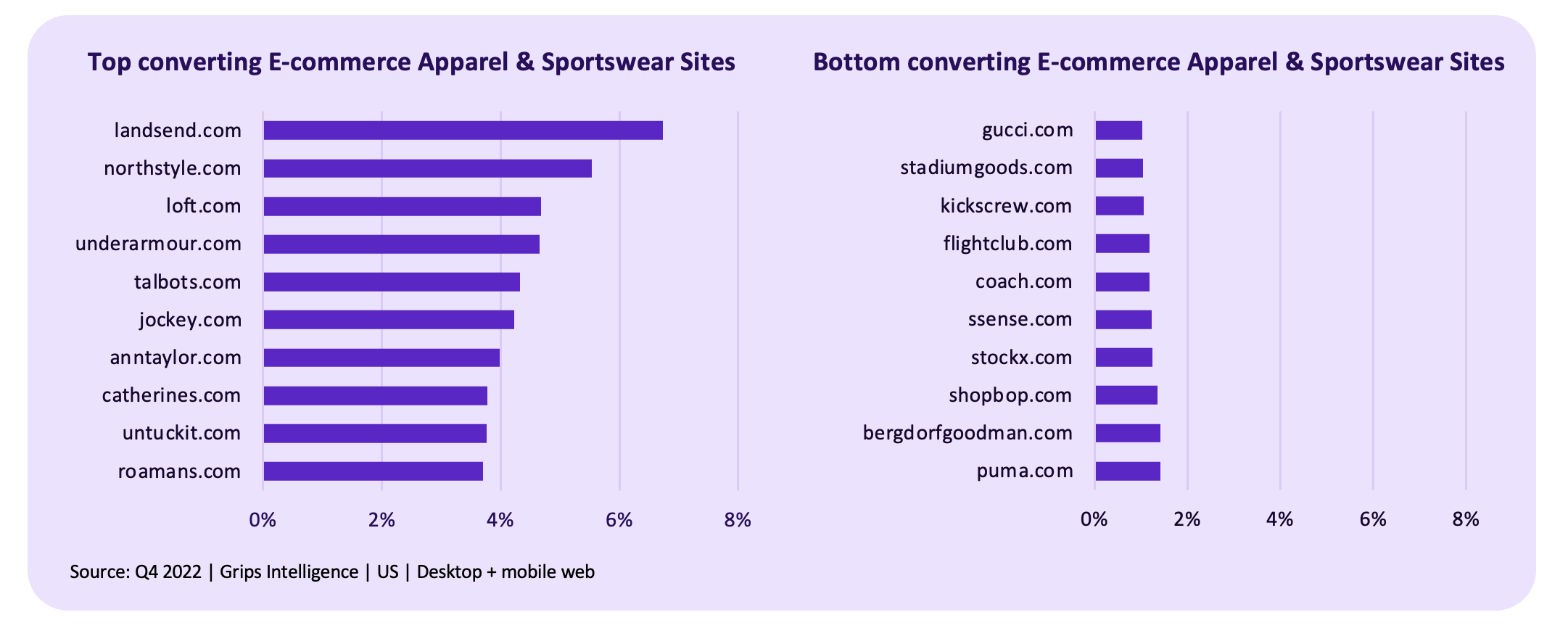 Other top converting brands in the Apparel & Sportswear category include: Underarmour.com, Loft.com, Talbots.com and AnnTaylor.com. Luxury sites with higher priced merchandise represent the lion's share of sites with the lowest conversion rates in the category and include Gucci.com, Stockx.com and Coach.com.
The Apparel and Sportswear category is just one of the categories covered in the e-commerce industry. To learn more about conversion rates across different categories as well as 10 factors that influence conversion success, download the free 2023 Conversion Rate Benchmark Report by Grips Intelligence.
Or jump straight into the data to see the conversion rate, revenue, average order value and more for the domain of your choice. Register for our free Competitive Intelligence tool today and dive right in.