In the latest report in our E-commerce Essentials series, Grips reports that the Sport category in the US saw transactions, revenue and conversion rates decline in 2022. The category generated $7.8 billion in e-commerce revenue across desktop and mobile web, converting 2.3 percent of sessions into transactions. Despite category revenues declining, average order values increased a relative eight percent year-over-year to $151.
These findings represent the activity of over 85 leading Sports e-commerce sites in the United States, with many more reported worldwide. 
Sporting Goods retailers online struggled in 2022 as consumers spent less on sporting goods and shifted their digital dollars to in-store sales. Grips reports that REI generated the highest e-commerce revenue within the Sporting Goods category bringing in an estimated $177 million per month, on average, during the peak holiday shopping months of November and December. Dick's came in second with about $50 million less in monthly revenue. No other retailers came close to REI or Dick's with the next closest competitor, Bass Pro, generating $59 million in average monthly revenue.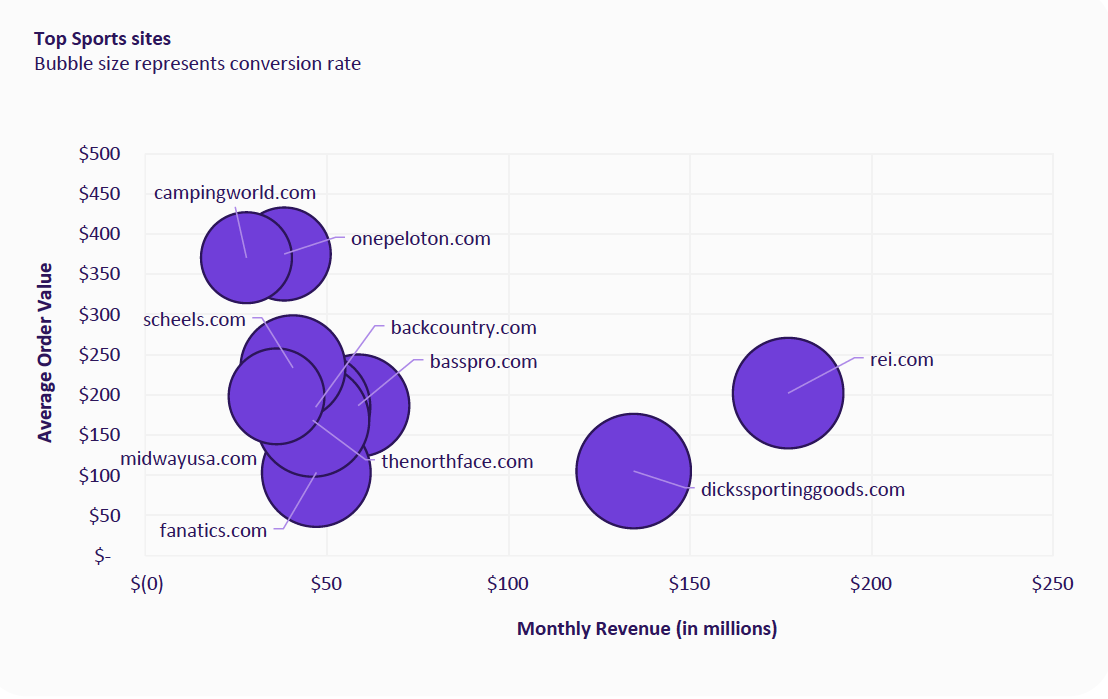 To increase revenue and transactions, Sporting Goods e-commerce sites need to understand where potential customers enter their site. Search channels (Organic and Paid) accounted for 39 percent of revenue, with Organic Search generating 50 percent higher AOV than Paid Search, which resulted in Organic Search driving more revenue. However, Paid Search had a 50 percent greater conversion rate, indicating it's better for awareness. Affiliates and Social channels saw revenue increase during the holidays, while Direct sales declined 14 percent.
For more in-depth insights, including seasonal patterns, return on ad spend and most profitable target demographics, download the free report today.