Mobile devices may be responsible for a majority of today's e-commerce sales, but if your insights partner is only sharing desktop data–and there's a good chance they are–you're missing out on a critical piece of the e-commerce equation. That's where Grips comes in. Our Competitive Intelligence platform delivers unique insights on desktop AND MOBILE transactions, including revenues, conversion rates, average order values and more on over 25,000 domains, giving you a more complete view of the e-commerce landscape and how you stack up relative to your competitors.
Here's an example of why it's necessary to get the full picture: Beauty & Cosmetics sites in the US get, on average, 53 percent of their e-commerce transactions and 47 percent of their revenue from mobile devices. So right away, if you're sizing the industry based solely on desktop sales, it means you're underestimating the market opportunity by over $4 billion. 
From a competitive intelligence perspective, it also lets serious competitors fly under the radar. For instance, SallyBeauty.com ranks as the 21st largest Beauty & Cosmetics site in the United States based on desktop revenue alone. However, Sally Beauty, which obtains an estimated 75 percent of its e-commerce revenue from mobile devices, actually, ranks sixth overall in the category when including both desktop and mobile revenue.
Is this the type of competitor you can afford to overlook?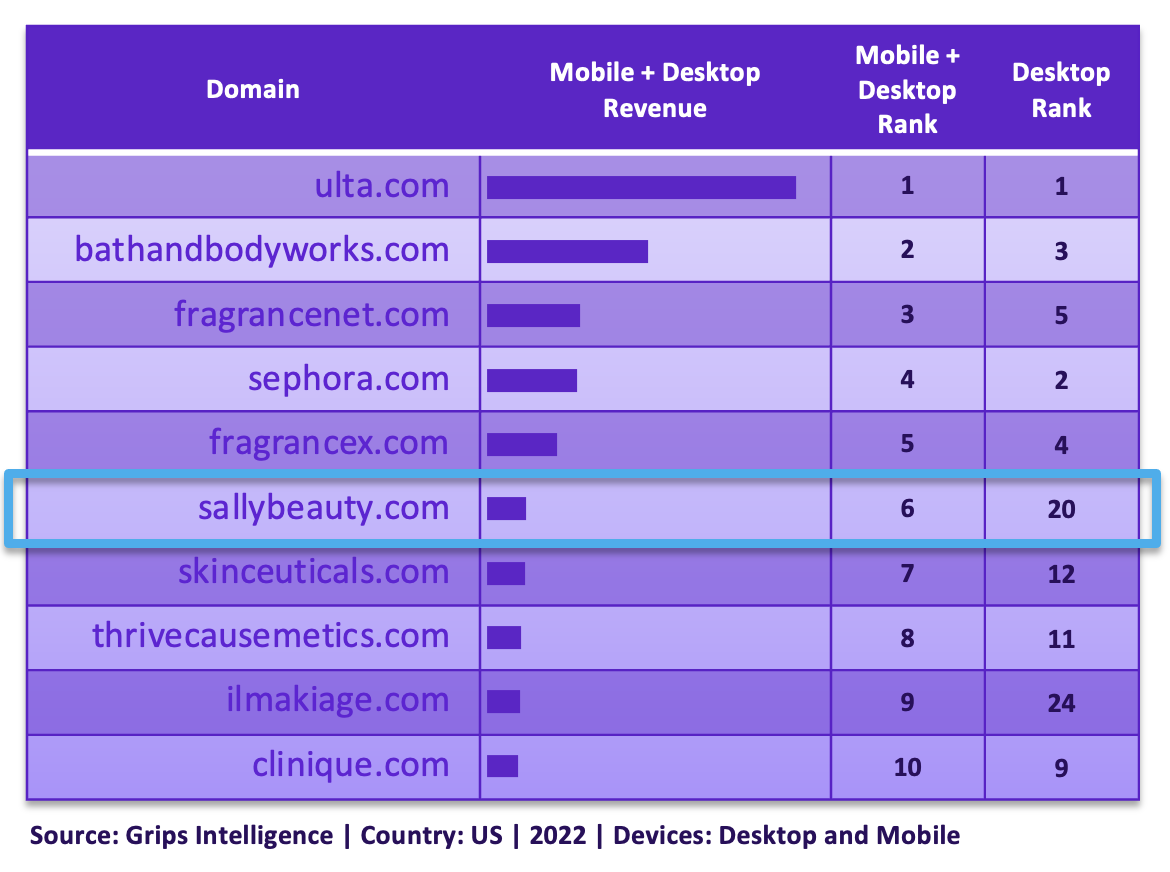 Additionally, an analysis by Grips found that a majority of the fastest growing Beauty & Cosmetics sites in 2022 received a greater share of revenue from mobile devices than the category average. Retailers and brands relying on desktop transactions alone have a serious blind spot as they lack an accurate view of the competition sneaking up behind them.
There's no need to settle for less when the full picture is just a click away. Book a free demo today and get a complete complete view of your e-commerce landscape, including mobile data, to stay ahead and gain a competitive edge.