In the latest report in our E-commerce Essentials series, Grips estimates that Home & Garden sites in the US saw revenue increase solidly in 2022 climbing to $27.5B, an increase of 12 percent year-over-year. Revenues were up more sharply over the year prior in the second half of 2022 with rising mortgage interest rates making many consumers think twice about a move. Grips' Competitive Intelligence platform reported these findings based on over 120 top Home & Garden e-commerce sites in the US. 
Online home goods retailer Wayfair, by far, had the highest e-commerce revenue of the Home & Garden category during the peak holiday shopping months of November and December bringing in an estimated $959 million in e-commerce revenue, on average, during each of the final two months of 2022. Ashley Furniture came in a distant second but just ahead of West Elm with $118 million in average monthly revenue.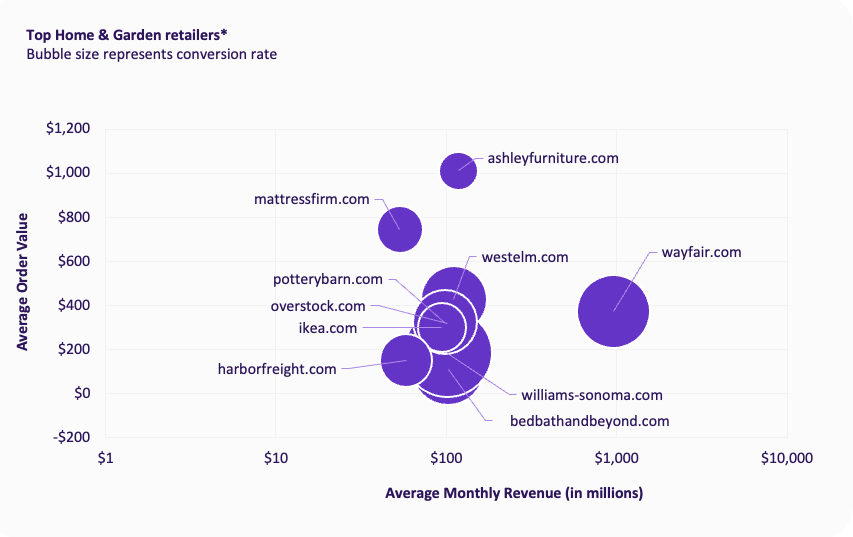 Organic Search drove the highest share of Home & Garden revenue (37 percent) for the category despite driving only 33 percent of sessions making it a more efficient channel. Paid Search drove more sessions, but with lower AOV ($202 vs. $264 for Organic Search). Referrals had the highest AOV ($317) and drove four percent of revenue from just two percent of sessions. Investing in promotions with key referral companies can help boost revenue. In fact, during the holiday season, Home & Garden sites saw an eight percent increase in revenue share from Referrals, Affiliates, and Email.
For more in-depth insights, including seasonal patterns, return on ad spend and most profitable target demographics, download the free report today.