Perhaps no e-commerce sector was impacted by the pandemic more than the Food & Beverage industry which exploded in the early days of the pandemic. Of course, as health concerns waned, in-store shopping is again the norm. That said, American still spent an estimated $15.1 billion on Food & Beverage sites last year and brands seeking to keep a competitive edge and grow their market share will need to stay on top of the latest trends.
Below are five of the top trends to watch in the Food & Beverage industry accompanied by a successful brand that embodies each trend. Data shown is taken directly from the Grips Competitive Intelligence platform. When you're ready to gain similar insights into the e-commerce performance of the competitors of your choice (and Grips reports on over 1,000 Food & Beverage sites in the United States alone), book a free demo so you can start gaining market share right away.

Health and wellness
Consumers are increasingly interested in health and wellness. This includes a focus on organic and natural foods, as well as functional foods and beverages that offer specific health benefits.
Kettle & Fire sells bone broth, a nutrient-rich and protein-packed beverage focusing heavily on the health benefits of their product, ranging from gut health to immune function to anti-inflammatory responses. They also promote the fact that they use high-quality bones from grass-fed animals and offer a variety of flavors. Consumers are clearly on board. Grips reports that KettleandFire.com saw e-commerce revenue in the United States more than double in the last year totalling $600 million across desktop and mobile in Q1 2023.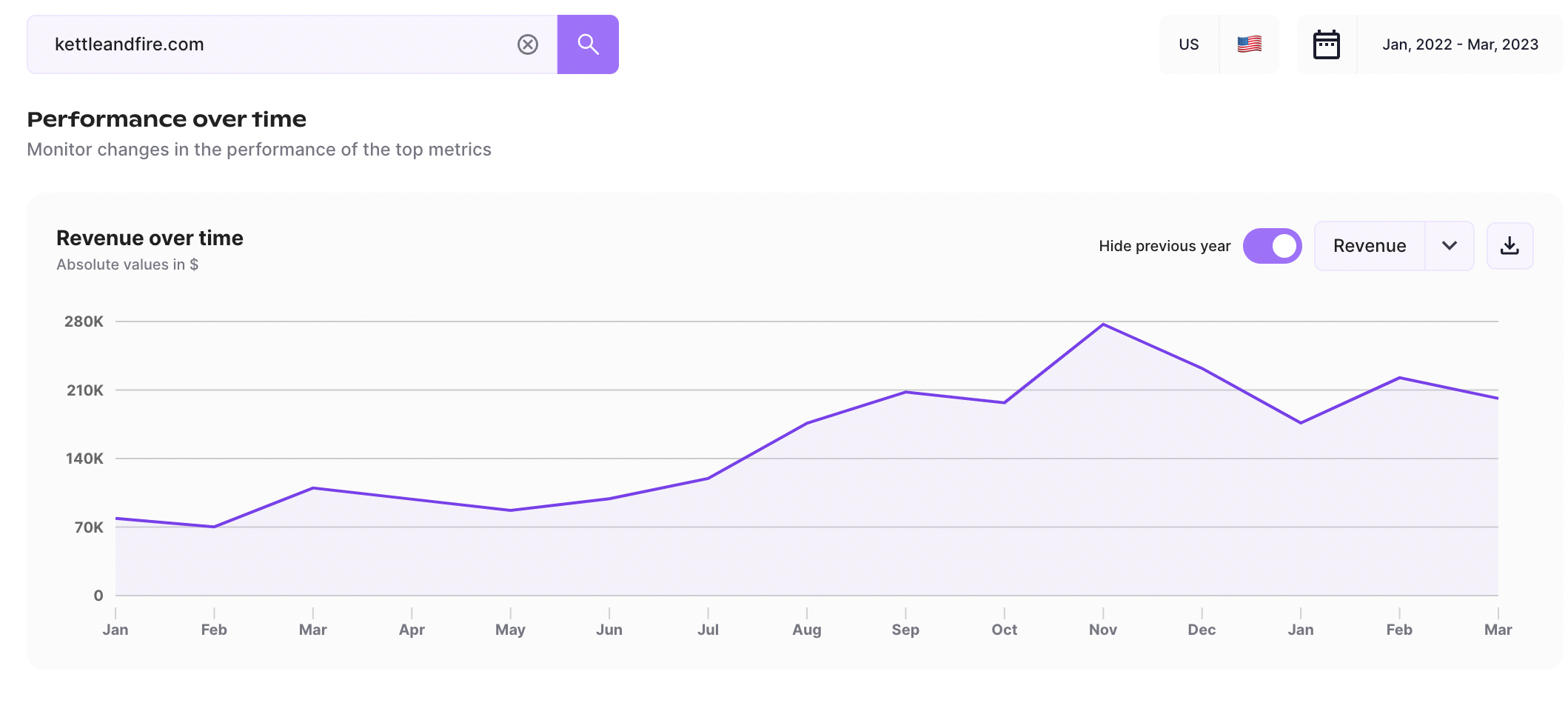 Sustainability
Consumers are becoming more conscious of their impact on the environment and are looking for sustainable options when it comes to food and beverage products. This includes a focus on eco-friendly packaging, locally-sourced ingredients and reduced food waste. The rise of package-free stores is an example of this trend that retailers should consider incorporating where possible.
Thrive Market is an online grocery store that specializes in organic, non-GMO and sustainable products. They prioritize sourcing from local and regenerative farms, use compostable packaging, and have a zero-waste warehouse. Grips estimates that ThriveMarket.com generated $33.2 million in revenue in Q1 2023, up 7.7 percent over the previous quarter.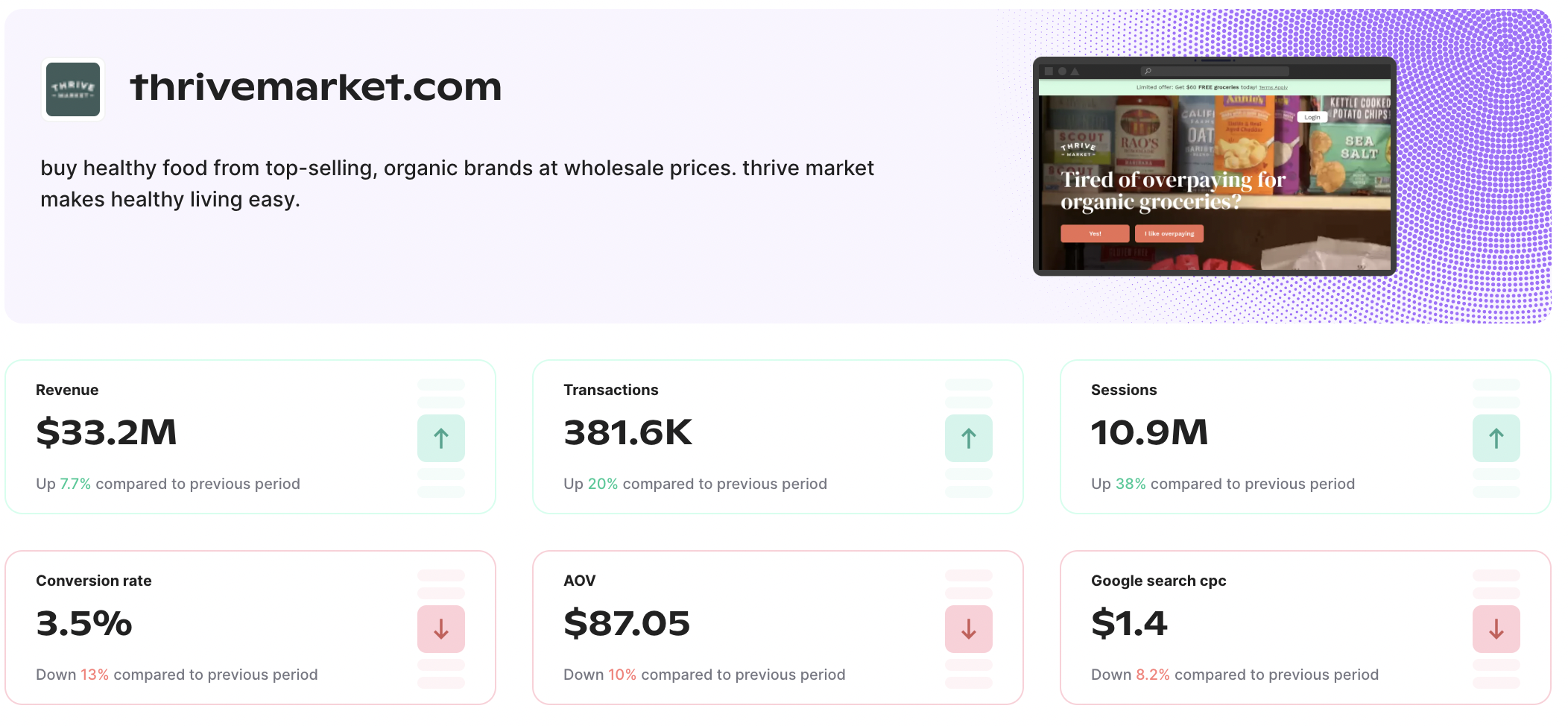 Convenience
Convenience remains a key factor for consumers, and this is especially true in the food and beverage category. With busy lifestyles and the rise of on-demand services, consumers are looking for fast, easy and convenient options when it comes to meal planning and preparation.
Bulletproof.com, founded by Dave Asprey, who is known for popularizing the concept of "bulletproof coffee," is a food and supplement company that focuses on providing high-quality products for health and wellness. One of the things that sets Bulletproof apart from competitors is its focus on convenience. Many of Bulletproof's products are designed to be portable and easy to consume on-the-go. The company also offers a subscription service.
Grips reports that competitors to Bulletproof include Vital Proteins, HVMN, Perfect Keto and others. In Q1 2023, Bulletproof generated an estimated $6.6 million in e-commerce revenue in the United States, almost $3 million more than the next closest competitor Vital Protein which brought in $3.8 million.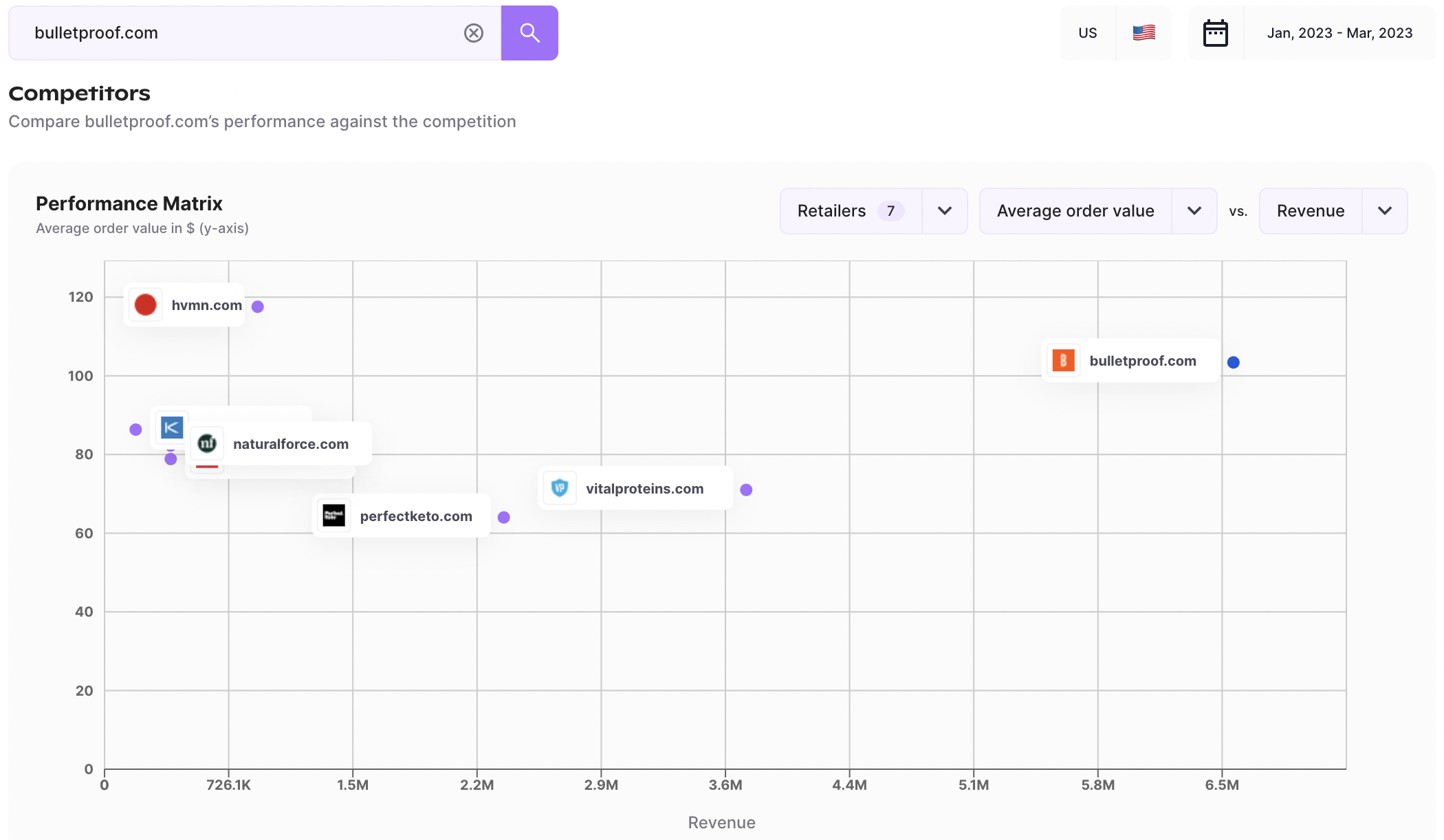 Digital Engagement
With the pandemic driving more consumers online, we're seeing a shift towards digital engagement in the food and beverage industry, which had trailed other categories in engaging consumers outside of the grocery store or mealtime. This commonly includes the use of blogs and social media to share lifestyle or recipe ideas, online reviews to make purchasing decisions, as well as the rise of online grocery shopping and meal kit delivery services.
Clif Bar & Company devotes a significant portion of their website, clifbar.com, to their blog that shares information about its products, sustainability efforts and social and environmental initiatives. They have also built a digital community of customers who share their values and passion for outdoor recreation and adventure and they regularly feature stories and photos from customers who use their products to fuel their active lifestyles.
Grips data shows that despite hosting an extensive content section on their site, it hasn't hurt site performance. In Q1 2023, the site generated $2.7 million in e-commerce revenue in the United States (up 2.2 percent year-over-year) and converted 4.1 percent of visits into purchases.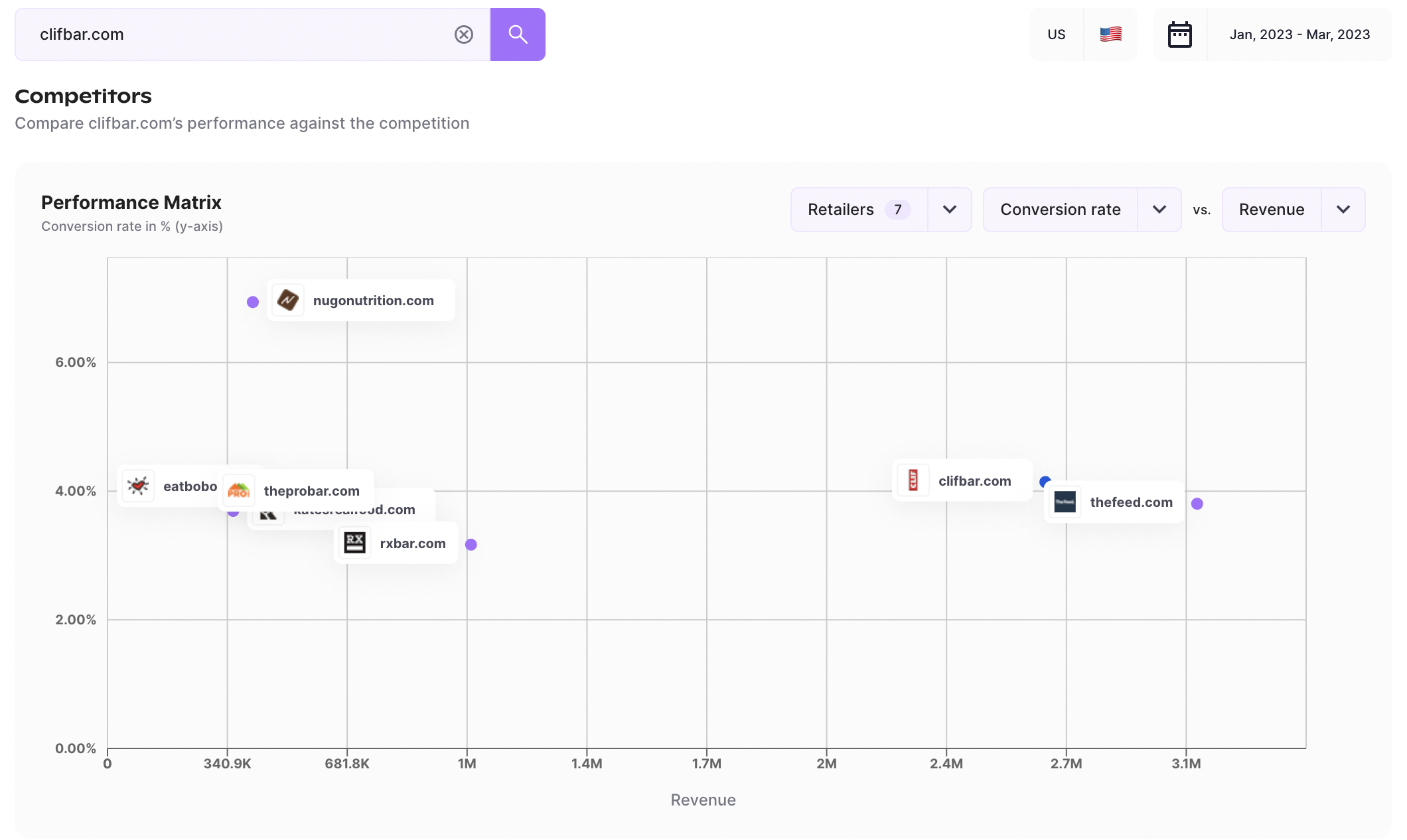 Authenticity and personalization
Consumers are increasingly looking for authentic and personalized experiences, and this trend is likely to continue in 2023. This includes a focus on local and regional cuisine, as well as the ability to customize meals to individual preferences.
The Spice House specializes in providing high-quality spices and blends, sourced from around the world. The company offers a wide variety of seasonings and spices, as well as custom blends that customers can create to suit their individual tastes. And consumers are here for it as evidenced by the $2 million in US e-commerce revenue the company generated in Q1 2023 with an average order value of $56.
According to Grips, general Herbs & Spices accounted for 77 percent of the company's online sales in Q1 with an average price of $12.49. Pepper accounted for almost 7 times as much revenue as Salt even thought both had a similar price. Baking Flavors & Extracts accounted for just 0.2 percent of revenue despite having the highest price and the fact that those products accounted for 2 percent of inventory indicating a possible area to focus on improving.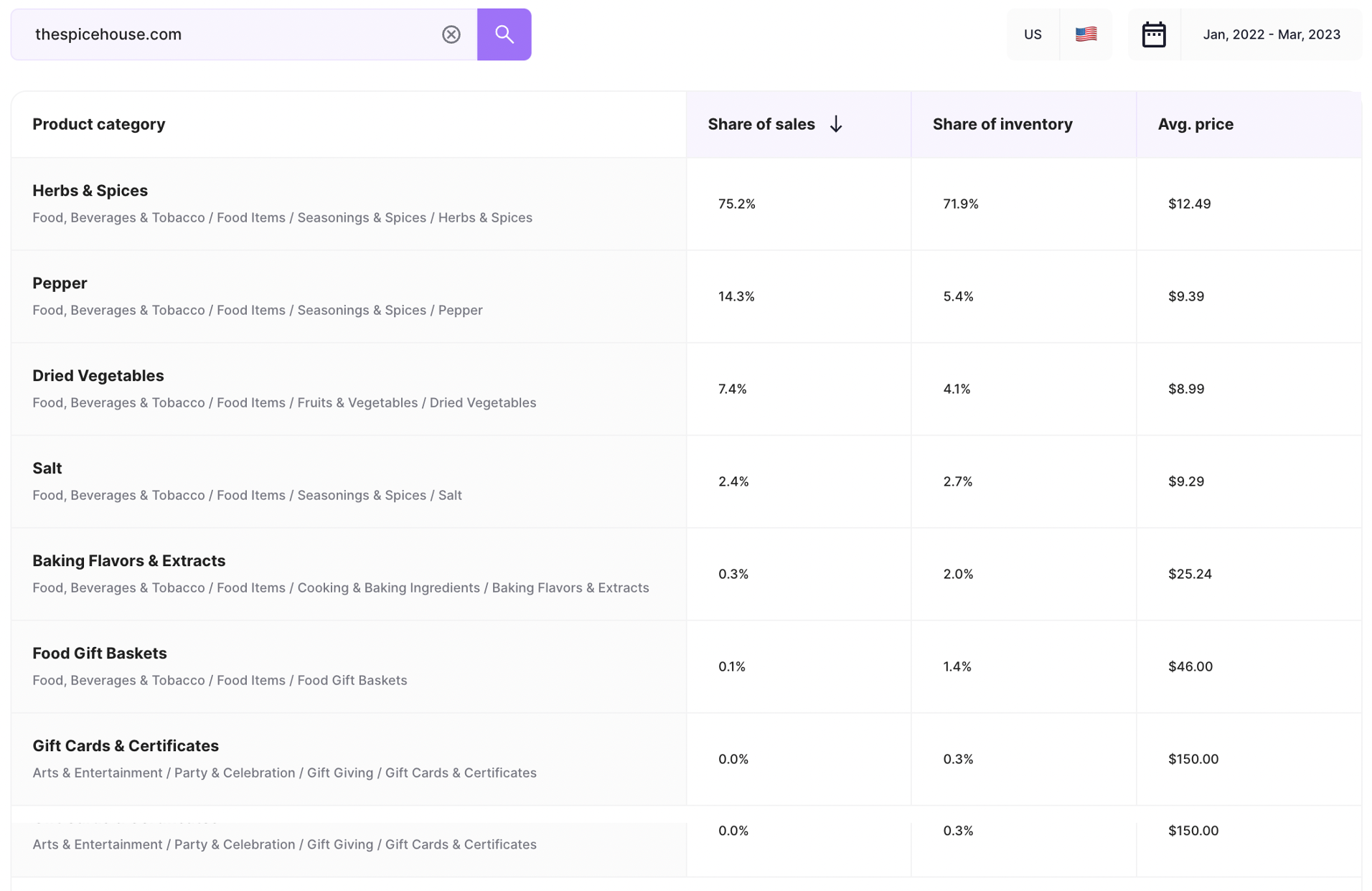 Want to learn more about the Food & Beverage category in the United States, the best way is to book a free demo of our Competitive Intelligence platform. But you can also download our recent Food & Beverage benchmarking report which provide insights into the overall category performance in the United States, top brand–as well as fast movers–and the role that mobile plays in their e-commerce performance.