Holiday shopping is the staple of retailers' calendars. As eCommerce has grown in size and reach, it has become a make or break period.
Heading into the 2022 holiday season, what do we know?
For starters, consumers have been spending less this year on eCommerce compared to 2021. In the five categories we monitored, the average order value and the revenue for retailers per transaction have both decreased substantially in nearly all verticals.
To a degree, this was expected. But, we can't attribute the entire eCommerce decline to a post-pandemic normalization.
Traditionally, the holiday spending period for consumers is concentrated in November and December with plenty of prep work taking place in the preceding months.
2022 is different…
Retailers have been anticipating decreased consumer spending power for some time. This has resulted in retailers offering cut-price products throughout the summer and into fall, potentially marking the end or evolution of the importance of Black Friday and Cyber Week. Amazon, for example, for the first time in history held two Prime Days in one year. This is having an unexpected impact on pricing and marketing strategies, with retailers extending the duration of their sales events far beyond a single day or weekend, to weeks and even months.
Yet, there is no guarantee that this approach will revive the fortunes of eCommerce retailers and stimulate consumer spending. With spending predicted to only increase marginally in the US, or decrease in the UK and Germany.
So, what do retailers need to be aware of this year?
Holiday shoppers are buying earlier this year
With key eCommerce metrics being down in 2022 so far, this holiday season will prove to be a challenging time for retailers, but spending is already underway as data from Grips shows consumers this year are looking to buy their holiday gifts early, as seen in the charts below.
Looking at the conversion rate and transactions across each of the five categories for this report, Grips found the trendlines increasing earlier compared to the previous two years. Faced with a cost of living crisis, price fluctuations and continued supply chain issues, consumers are looking to eCommerce earlier to see what they need and pushing the buy button if the products are at the right price. For retailers, it is imperative to grab those early shopping dollars with pre-sales and use  data to see what's most in demand.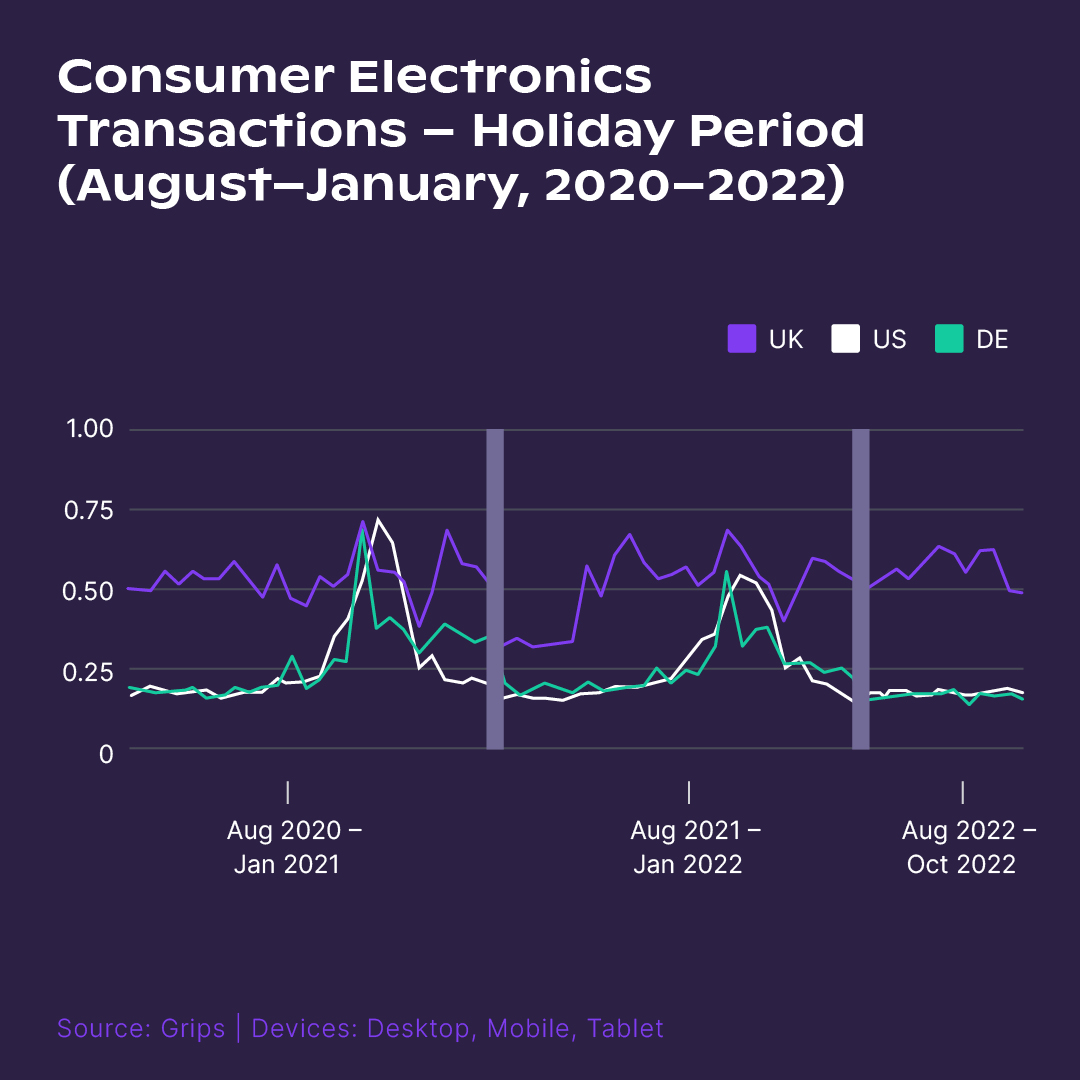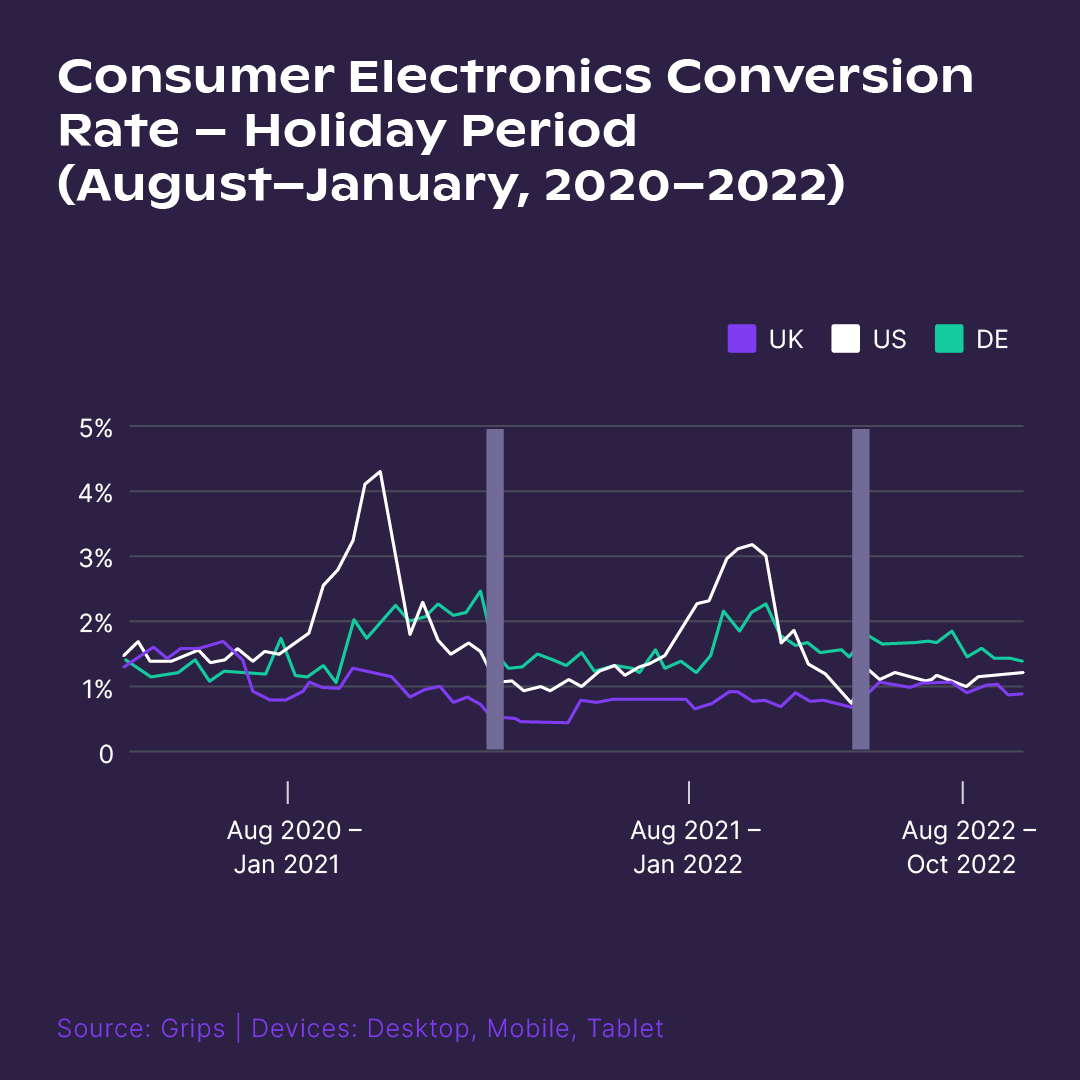 People now shop across more channels than ever before
For holiday shoppers, inspiration is everywhere. Retailers need to take notice by understanding where their target demographic are coming from, what channels they use most and what they are searching for. Last year, 54% of shoppers used five or more channels to shop during Cyber Week. Retailers need to use data to maximize their omnichannel strategy, as consumers start to shop earlier and marketing budgets are put under increased pressure.
In the categories that we have monitored for this report, we saw an array of different channels across each of the three markets that drove transactions in 2022.
The pronounced difference between channels can be particularly seen in the Beauty & Cosmetics and Consumer Electronics categories, as seen below. This underscores the importance of having an omnichannel strategy that is driven by transaction and buyer data, to ensure ROI is maximized in every market, in light of budget freezes or cuts.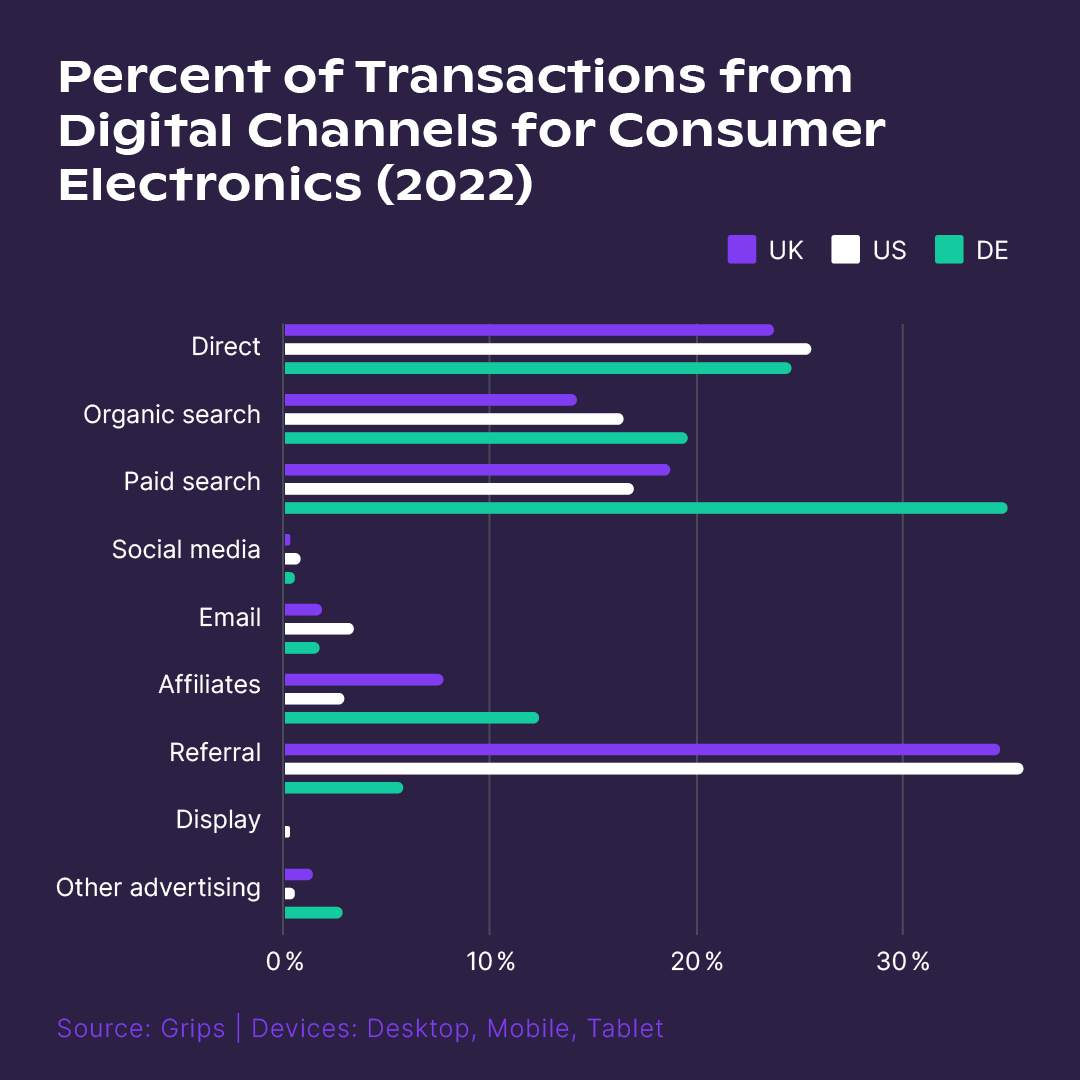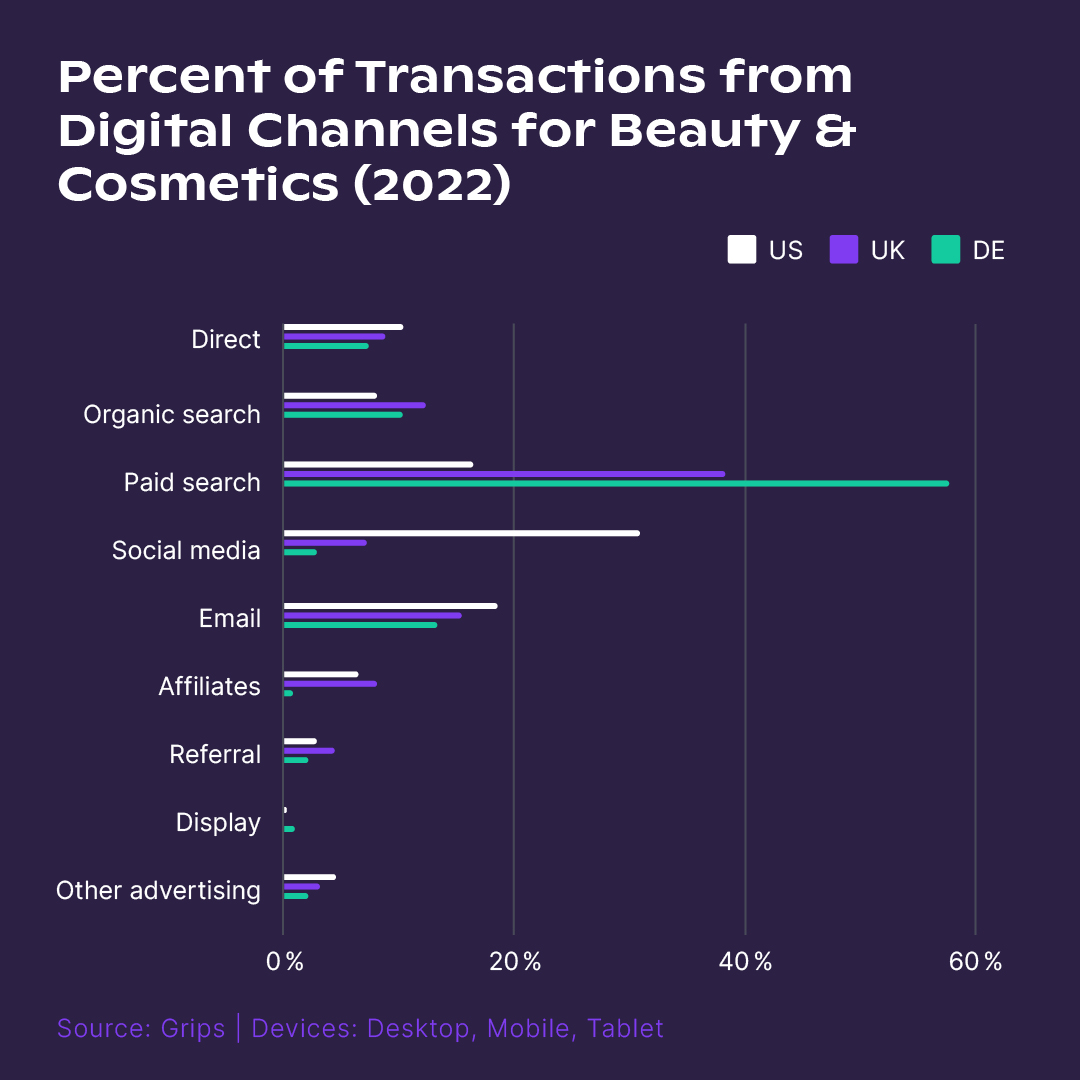 Use data to inform what products to discount
With so many mitigating factors affecting consumers' decisions on what to buy and how much to spend, e-commerce retailers are likely to struggle this holiday shopping period.
In each of the five categories Grips is monitoring for this report, we saw a decline in some or all key eCommerce metrics throughout 2022: Average Order Value, Revenue per Transaction and number of Transactions.
Consumers will be looking for the biggest savings in the coming weeks, as retailers seek to sell excess inventory.
Pricing strategies should be informed by a mix of first-party data, such as historical purchase behavior, stock levels and profit margins, and third-party data. For example, macroeconomic trends, what types of products or keywords consumers have been searching for in the run-up to the holidays, such as in the example below, and industry-level eCommerce metrics will be informative.
With the help of this data, retailers can offer the right product and discounting mix as well as set prices to maximize conversions. This holiday period more than ever will be a delicate balance for retailers faced with smaller profit margins on popular products and potentially making a loss on excess inventory.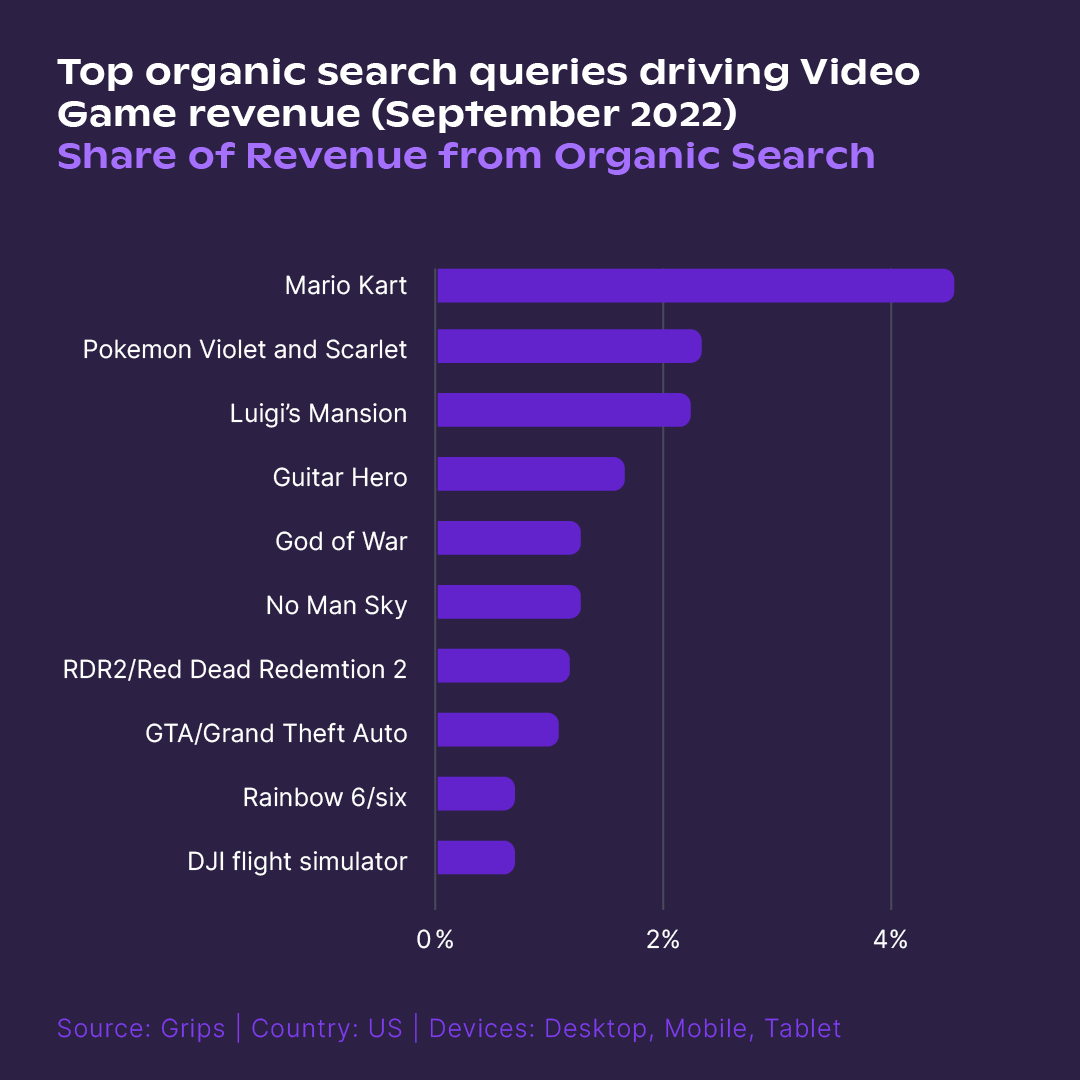 2022 has been a difficult year for e-commerce brands and retailers, but there has not been a complete collapse in demand or consumer spending just yet, despite the challenging economic circumstances. There are still levers that brands and retailers can pull to increase their share of demand this holiday season.
We have already seen retailers offer discounts for months now, and this will likely be the case in the coming weeks – Cyber Week has already expanded to Cyber Month and may one day be Cyber Quarter.
E-commerce retailers need to be savvy and nimble. Many have excess inventory that they need to move and are competing with offline retailers for the first time properly in two years, not to mention the number of economic factors facing consumers. So discounts will likely be bigger and more spread out to help retailers absorb some of the costs.
Yes, shopping budgets will be tight this year, but consumers will still shop. To be successful, e-commerce retailers need to understand what consumers are looking for and adapt marketing and pricing strategies accordingly.