2022 was a challenging year for e-commerce. We saw declining consumer confidence affecting revenues, prolonged sales from retailers and job cuts across the industry, leading to global e-commerce performance dropping for the first time.
But, it was not all bad news. There were glimmers of hope in some categories and across certain countries that we highlight and expand on in our recent Grips State of E-Commerce 2023 report. Here are some of the top areas to focus on in the year ahead:
Developing countries offer greater growth opportunities:
One of the biggest takeaways that we saw monitoring e-commerce transactions in 2022 across more than 100 countries was the poor performance of developed economies. In the economic club of the G7, featuring the US, UK, France, Germany, Canada, Italy and Japan, we saw e-commerce revenues drop across all countries between the range of seven and 22 percent.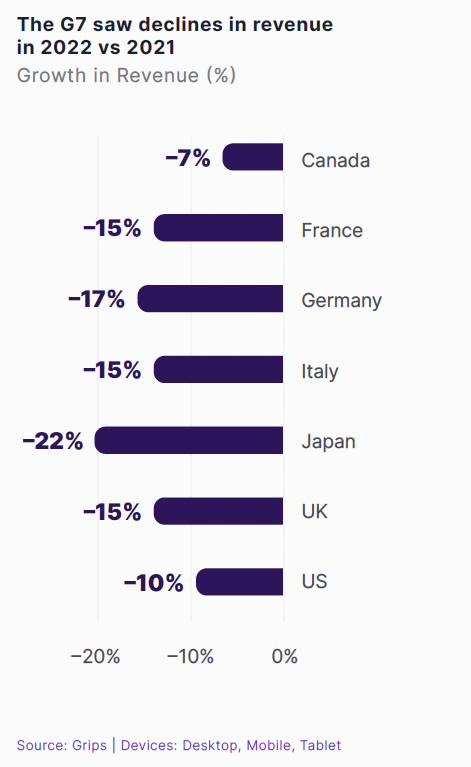 Such large declines lead to the question being asked whether e-commerce in developed countries have reached their peak during the pandemic, and are now normalizing. 
The e-commerce decline did not happen everywhere though. In 25 countries, Grips saw transactions actually grew in 2022, marking potential growth opportunities for businesses. 
Asia was the place with the best investment potential, with 13 of the 25 countries seeing transaction growth in 2022, including South Korea, Indonesia, Pakistan and the UAE. The East of Europe also performed well with eight countries seeing increased year-over-year transactions, including Croatia, Albania and Romania. 
With many developed countries suffering drops in e-commerce, businesses should look elsewhere to invest in 2023, in order to diversify.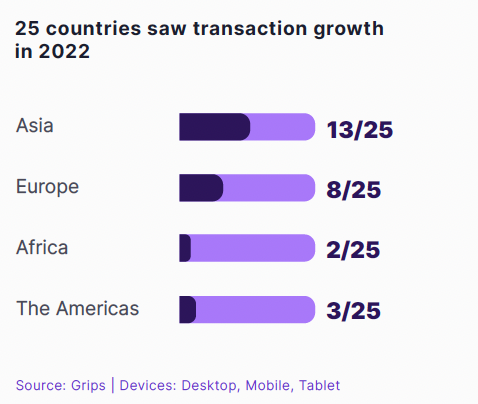 Closing the generational gap:
Perhaps the biggest missed opportunity for e-commerce businesses post-pandemic has been the failure to engage older shoppers. In our data, Grips found that there was a further decline in e-commerce activity from shoppers aged 55 or over in 2022. This was on top of already low revenues coming from this cohort. In the 65 and older category, for instance, we saw a year-over-year drop in transactions of more than 10 percent.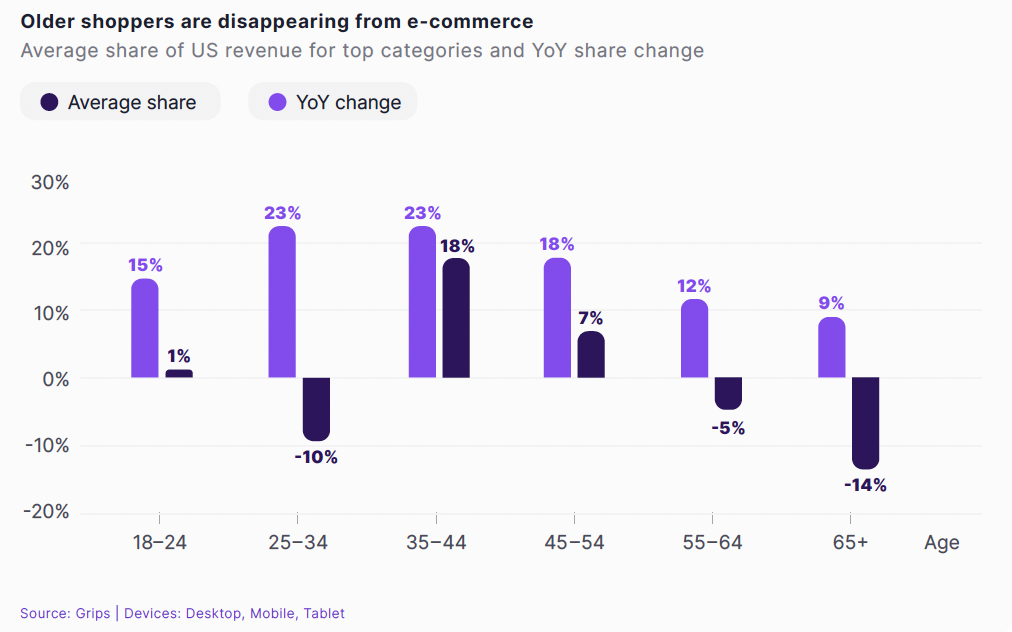 As the global economy worsened in 2022 and consumers were more selective about what they were spending on, e-commerce brands and retailers should not neglect older generations who may be in a better financial position. Retailers and brands should make their websites as accessible and user-friendly as possible. From UX design and navigation to flexible delivery options and more targeted marketing, there are many ways in which e-commerce retailers can make their websites more accessible, and with e-commerce revenues falling in 2022, it could be an easy-win. 
There are still pockets of growth in countries with overall declining e-commerce revenue
Whilst developed countries suffered as a result of the events of 2022, there were still glimmers of hope in some categories. If we have a look at the US as an example, we could see that most categories suffered a drop in transactions or revenues. But three categories stood out by seeing growth in both metrics: Video Games, Pets and Home & Garden. These categories are likely to continue growing in 2023 assuming no additional market disruptions present new challenges.