Expectations for e-commerce performance this holiday shopping season were lukewarm at best. Increased inflation and interest rates, low wage growth and supply chain issues stemming from the pandemic and political unrest have impacted the performance of e-commerce throughout 2022. 
As a result, retailers have had to resort to heavy discounting and prolonged sales period in the build-up to the holiday season, including Amazon, which for the first time in their history introduced a second Prime Day to stimulate e-commerce demand. 
With Black Friday and Cyber Monday now in the rear-view mirror, has e-commerce performance outstripped expectations? Or are retailers going to cap their years off with decreased revenues?
Let's take a look. 
Is offline thriving at e-commerce's expense?
For the first time in two holiday seasons, shoppers returned in droves to in-person shopping, according to Mastercard, which saw in-store sales increase by 12 percent this Black Friday compared to last year. 
With Grips data, we compared this year's US Cyber Week e-commerce numbers to last year, and, in good news for retailers, the return to offline did not have as much of a negative impact as potentially feared. 
We can see that whilst overall transactions were down from last year, revenue and average order value (AOV) increased by a total of 10 percent and 12.8 percent, respectively.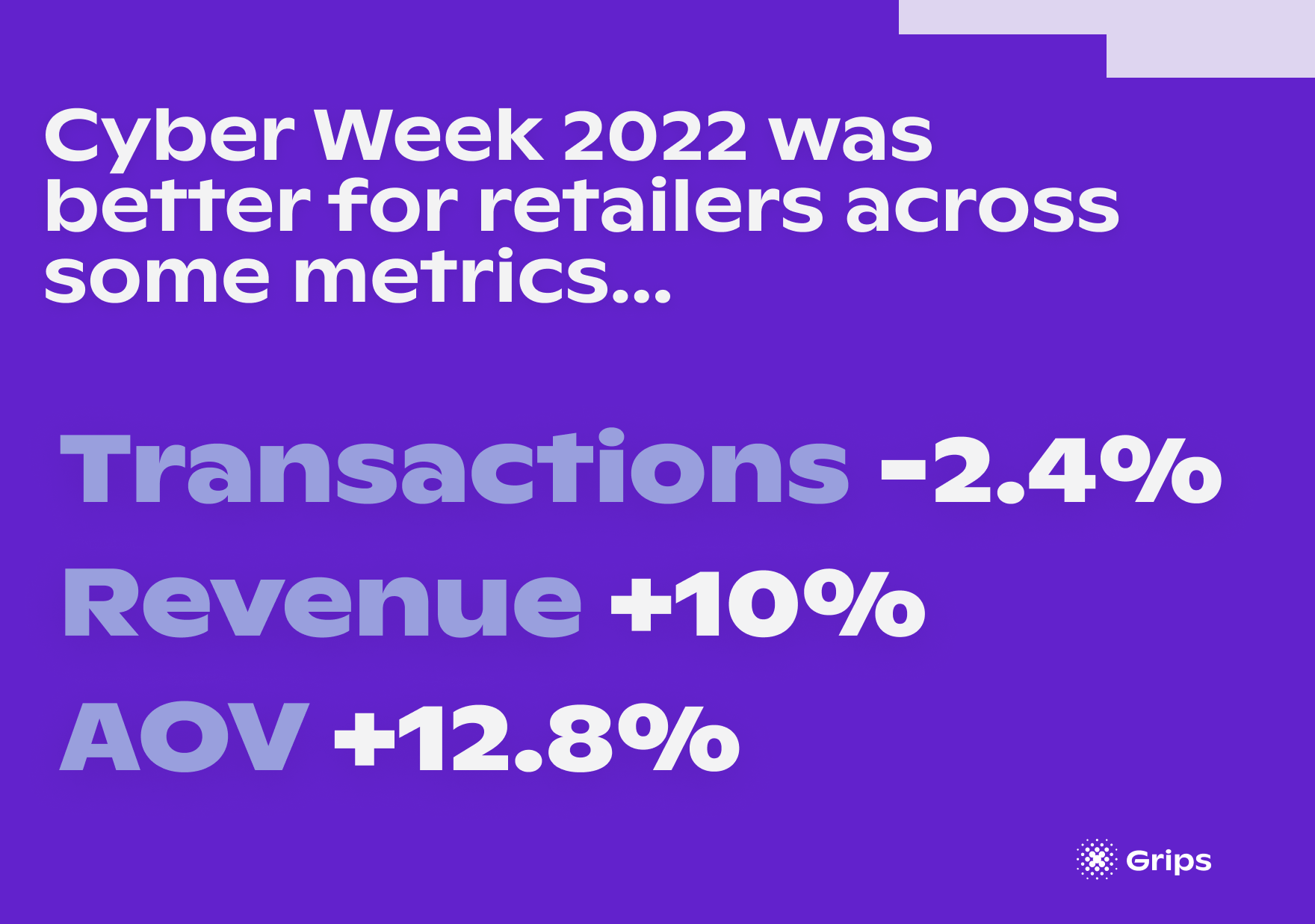 Interestingly, as the 5-day Cyber Week went on, we saw slight dips across the three e-commerce metrics, culminating in a nine percent year-over-year drop in transactions on Cyber Monday even though revenues were up slightly at 1.8 percent. This will prove worrying reading for retailers, but it is not the full picture.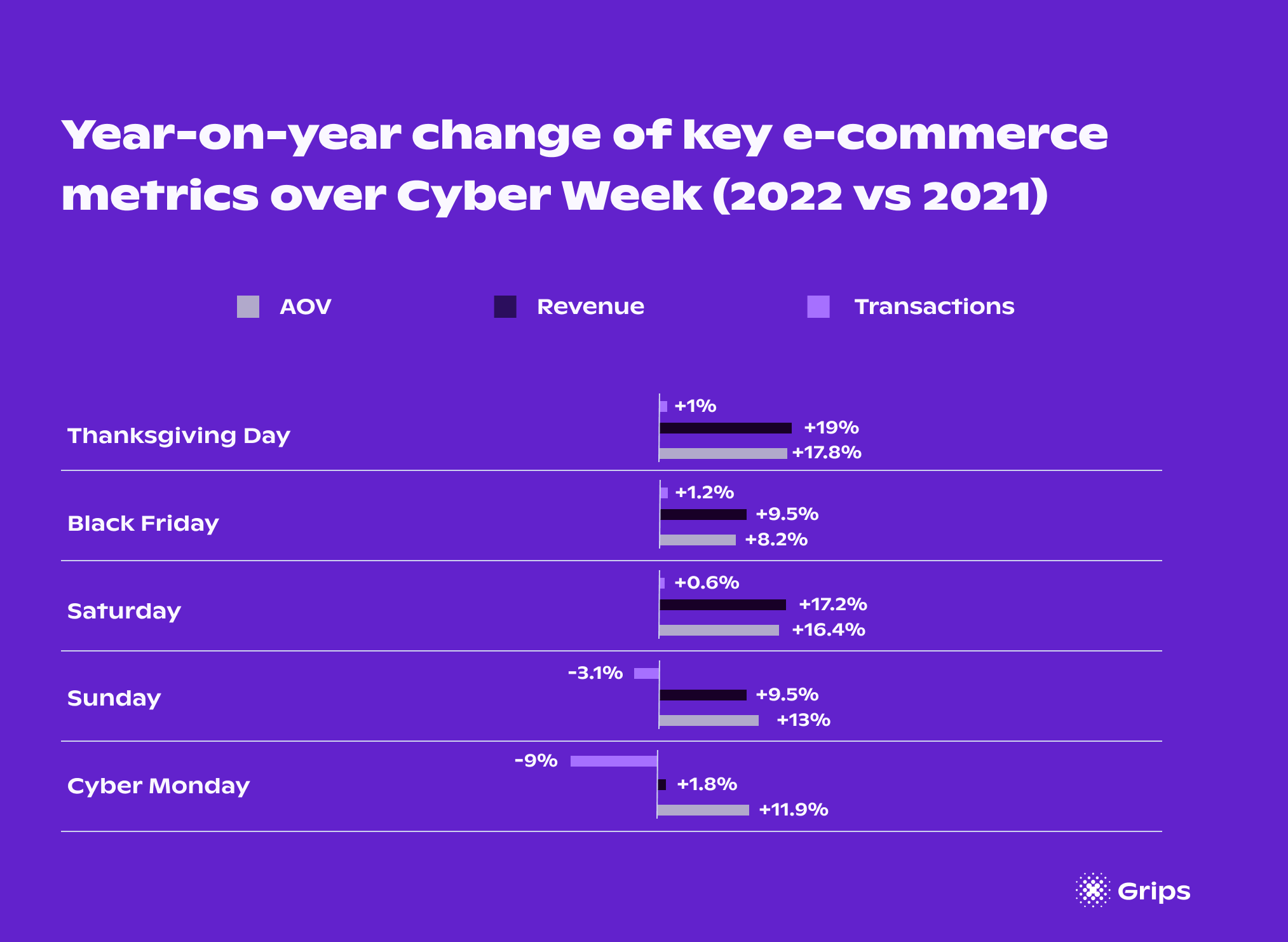 Grips data showed that the week-on-week boost in transactions during Cyber Week remained stable between 2021 and 2022, despite the early launch of Black Friday sales. Perhaps more encouraging for e-commerce retailers is that revenues were up this year, compared with last year, outstripping the inflation rate. This could mean that consumers were buying bigger ticket items this year, compared to last year.
Buyer fatigue has already seeped in
In addition to Cyber Week, we also took a look at the five days following Cyber Monday and it contains more worrying signs for retailers that buyer fatigue is stronger this year.
Of course, a drop in buying activity is expected after the heavily discounted period, with transactions and revenues dropping this year by 49 percent.
By comparison, in 2021 during the same timeframe, transactions were down 41 percent and revenues were only down by 38 percent. If buyers don't rally, the remaining weeks between now and Christmas may erase any gains made over Black Friday and Cyber Monday. 
Black Friday for others, Cyber Monday for ourselves
When we dive deeper into the popular categories for the long Cyber Week, we can see a clear difference in buying behaviors for consumers. 
This year, we saw that Black Friday was when consumers were buying gifts for others with revenue for categories such as Toys & Games, Jewelry & Luxury Products and Fashion & Apparel exceeding their take on Cyber Monday.
Cyber Monday, on the other hand, revealed a trend of consumers buying products more for themselves, with Home & Garden, Food & Drinks, Health and Pet Food & Supplies categories seeing sales between 5 and and 65 percent higher than on Black Friday, depending on the category.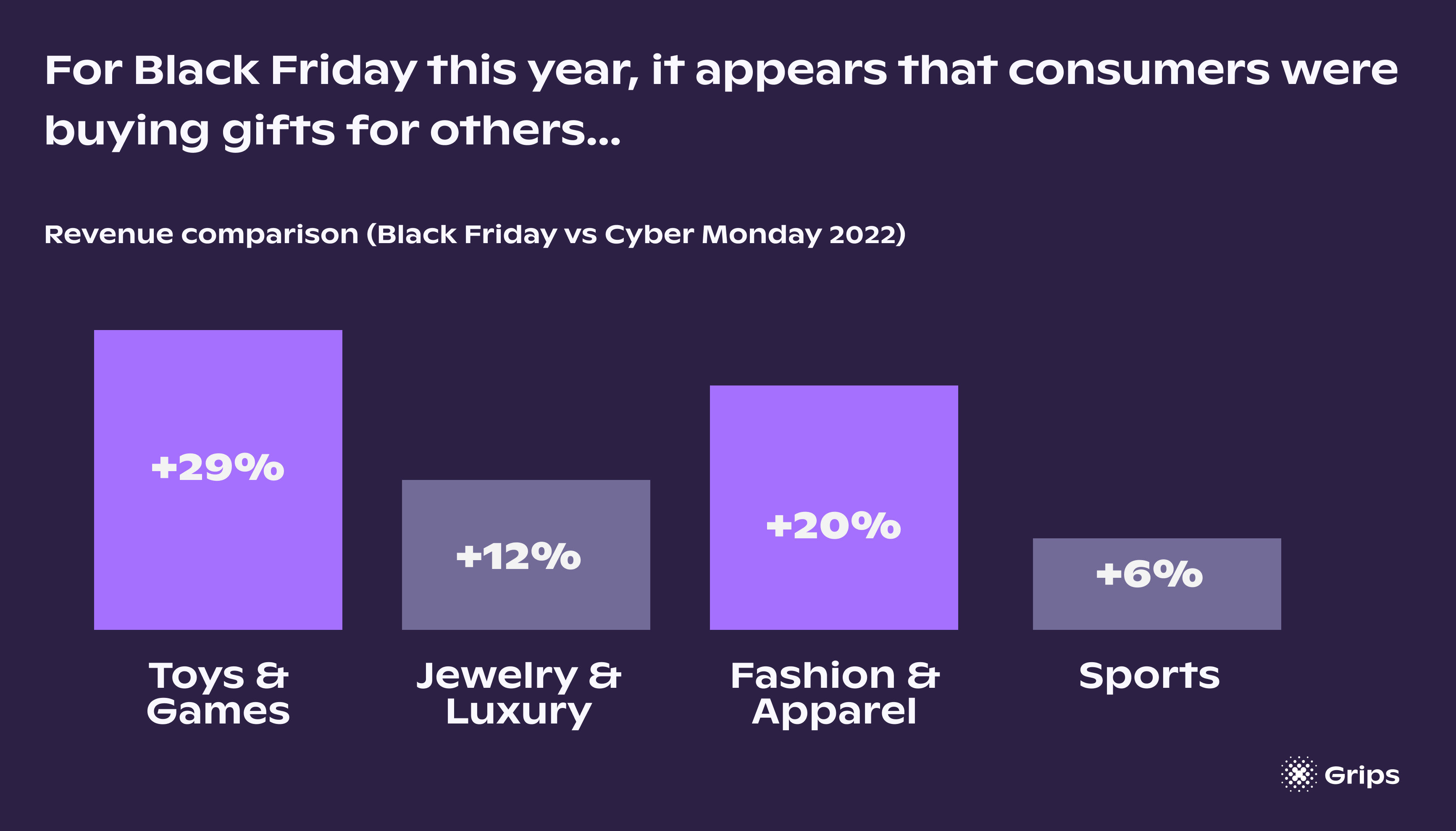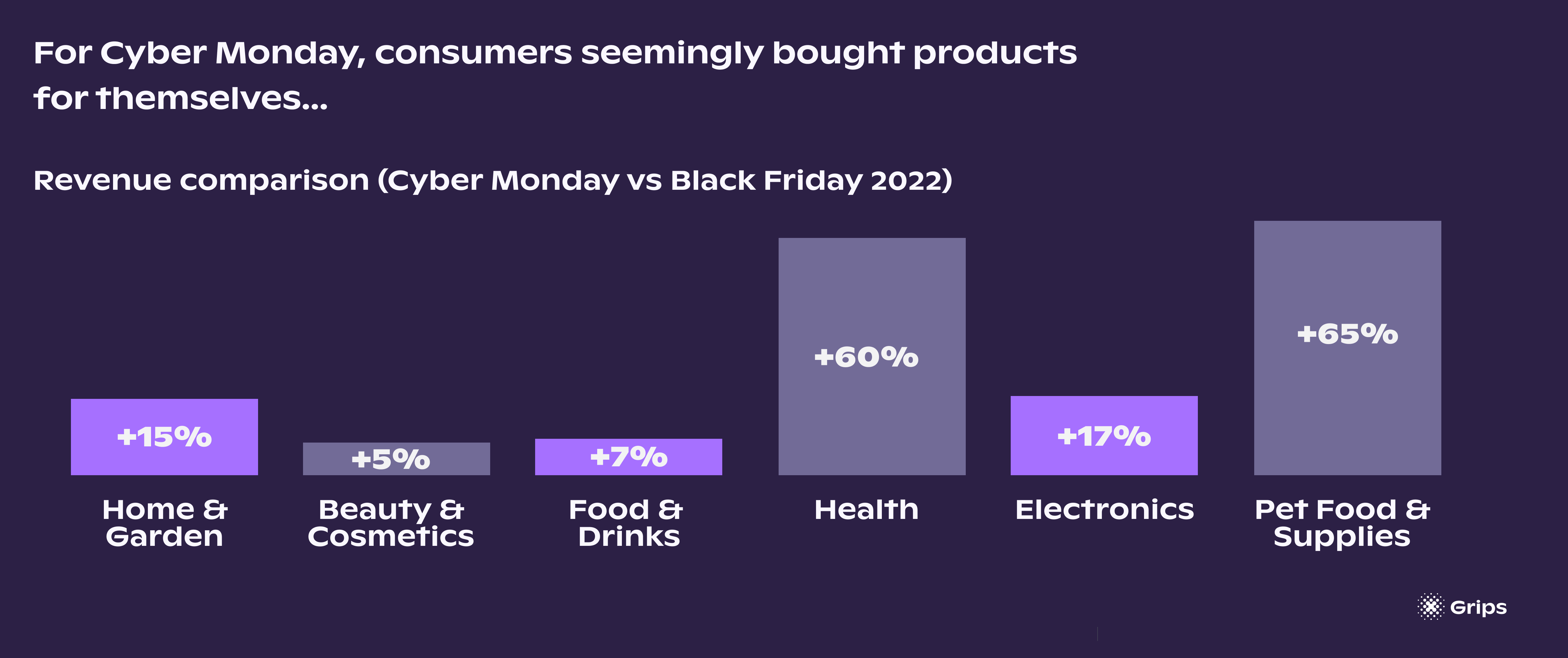 The heat is on
Looking at data from our recently launched heatmaps report, Grips tracks the YoY change in revenue and transaction across 10 key e-commerce categories. In the quad map below, we can see that four of the 10 categories saw both higher transactions and higher revenue during the four weeks ending December 3, 2022 than in the comparable period a year ago. Leading this group is the Beauty & Cosmetics category followed by Home & Garden. Pet Food & Supplies and Fashion & Apparel are also both growing YoY on both metrics. 
Five categories saw transactions and revenue decline YoY with Toys & Games showing the biggest declines on both metrics. Also found in this quadrant are: Electronics, Food & Drinks, Sports and Jewelry and Luxury Products.
Health was the only category that showed a growth in the number of transactions but a decline in revenue indicating that consumers in this category are spending less per transaction than they did in 2021.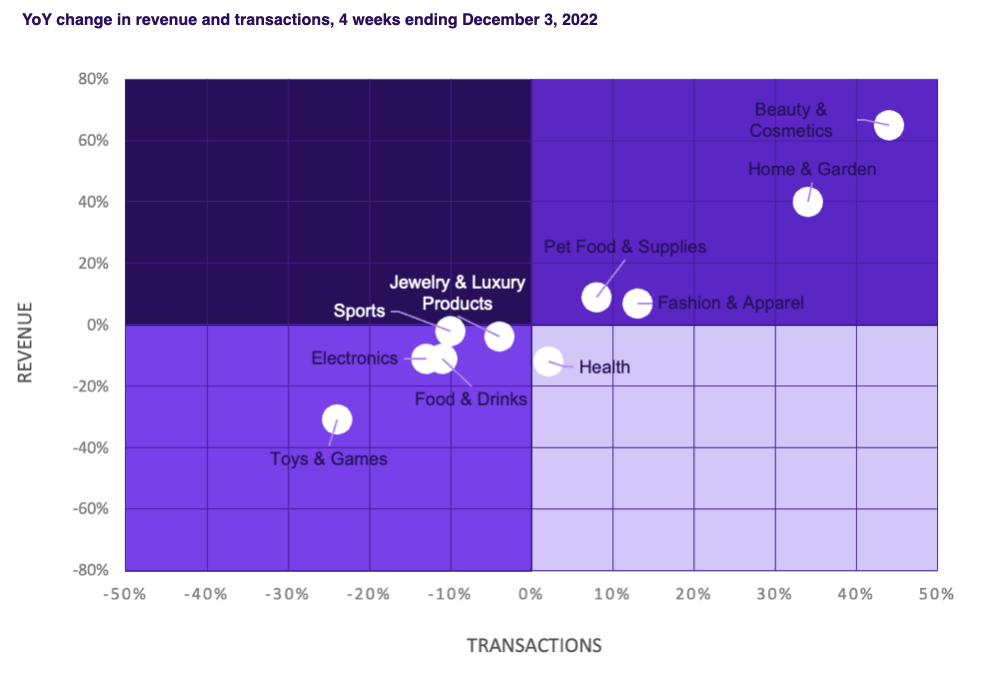 Stay tuned
2022 has been a mixed year for e-commerce, particularly during the holiday shopping season. Whether this year will be a blip due to circumstances out of the control of retailers or e-commerce is peaking remains to be seen. 
But, you can keep up-to-date with changing consumer trends with our new e-commerce heatmaps report, which will be updated monthly to help e-commerce managers and manufacturers understand the constantly changing consumer landscape. 
Click below to download your free copy of the inaugural report.