Grips reports that Shein.com brought in an estimated $618 million in revenue in the US in Q1 2023. That's an increase of 35 percent over Q4 2022. During the same time, e-commerce sales for the overall Apparel & Accessories category (a category which represents nearly two-thirds of Shein.com's overall sales) fell by a not-unexpected 14 percent, as reflection of normal seasonal patterns.
Shein's growth as the category declined resulted in the ultra fast fashion retailer expanding its share of US Apparel & Accessories sales by a relative 45 percent quarter-over-quarter propelling Shein past Gap.com to become America's second top-ranking e-commerce Apparel & Accessories site, after Amazon. Furthermore, Grips found that Shein.com expanded its category share even more in April and May pointing to a strong year for the soon-to-be public company.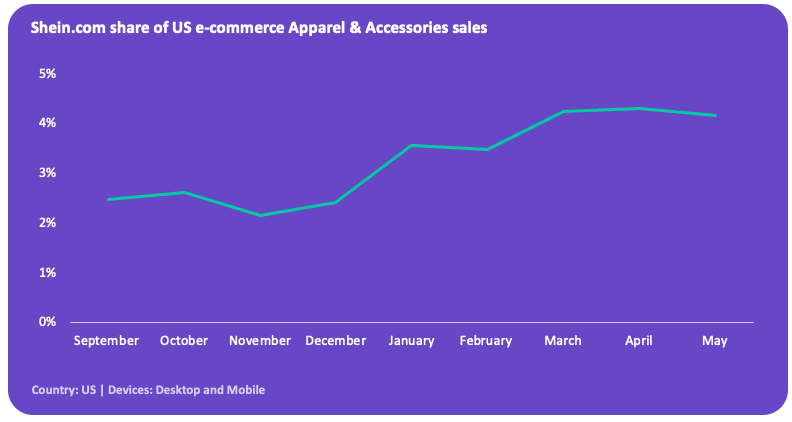 Shein.com top selling categories
In addition to Shein's ability to deliver trending fashions to the market in weeks, Shein's prices are perhaps even more alluring to its core Gen Z base. In the United States, average prices on Shein.com in Q1 for its top selling categories were at least 65 percent below the category average and at least 30 percent cheaper than the same category on Gap.com.
For instance, the average US selling price for a pair of shoes across over 2,100 e-commerce retailers tracked by Grips was $76. But on Shein.com, shoes sell for an average of just $19. Shein needs to make up for that difference in volume, and in Q1 Grips estimates that Shein.com sold more shoes than any US retailer with an estimated 9.7 million units sold. By comparison, second place Nike.com moved just 2.6 million pairs of shoes during the same time but at a price of $116 each.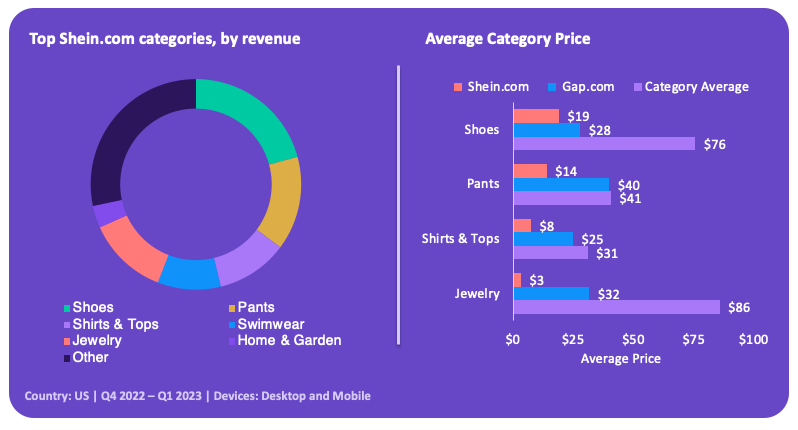 Make informed decisions
With all signs pointing to Shein going through an IPO later this year, investors need insights like these to make informed decisions and competitors need to see where Shein's biggest strengths lie in order to stay competitive.
Grips can provide investors and e-commerce managers with unrivalled competitive insights to allow them to build and refine a data-driven strategy. Ready to learn more? Sign up for a 7 day all-access trial today and get insights into your competition like you've never seen before.