In the latest report in our E-commerce Essentials series, Grips estimates that Electronics sites in the US saw revenue decline slightly in 2022 falling to $20.9B, a decrease of three percent year-over-year. This decline could have been expected given that the pandemic drove Americans to invest more heavily than usual on electronic devices which are still serving their intended purpose and not yet in need of replacement/upgrade. Grips' Competitive Intelligence platform reported these findings based on 95 top Electronics e-commerce sites in the US. 
During the peak holiday shopping period of November and December, Best Buy generated, by far, the most e-commerce revenue. Specifically, Bestbuy.com brought in an estimated $1.4 billion in e-commerce revenue, on average, during each of the final two months of 2022. Apple finished second with a respectable $709 million in average monthly revenue followed by Newegg with $167 million.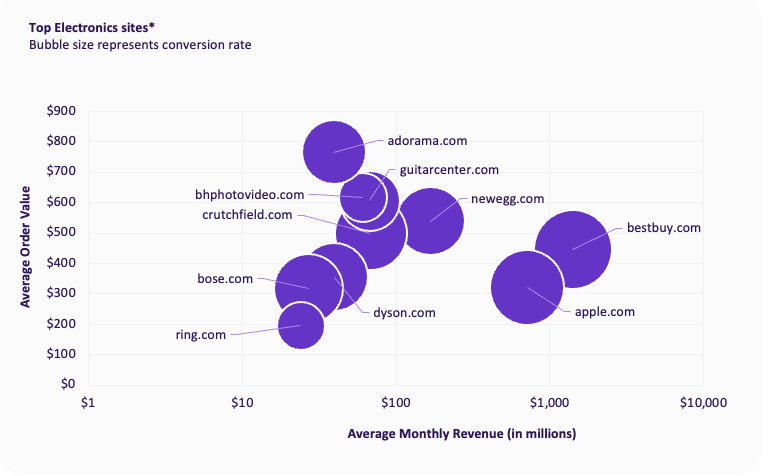 Nearly half of all sessions for the Electronics category are driven by Direct traffic, meaning a consumer typed or bookmarked the domain into their browser omni bar. However, this channel does a poor job of converting traffic into purchases with Direct responsible for just 25 percent of category transactions and 28 percent of revenue. By comparison, Paid Search, Affiliates and Referrals are more efficient channels of converting sessions into sales.
For more in-depth insights, including seasonal patterns, return on ad spend and most profitable target demographics, download the free report today.