A little over two years ago, grocery eCommerce experienced an unprecedented surge. Between 2019 and 2022, monthly spending on online grocery shopping grew from $2 billion to $7.1 billion in the US.
Yet, 2022 has been a very challenging year for the online grocery sector, as well as consumers. Global supply chain disruptions as a result of COVID and the war in Ukraine are causing record levels of inflation. Food prices are hitting levels never before seen, meaning consumers are having to adapt and change their shopping behavior.
But, what does that mean for the grocery eCommerce market? Has the grocery eCommerce bubble burst or can the industry protect itself from the worst effects of an economic downturn?
We looked at the performance of the grocery eCommerce market, excluding on-demand delivery services like Gorillas. Our transaction data in France, Germany, the UK and the US between January 1st and June 30th 2022 was compared to the same period last year (January 1st 2021 to June 30th 2021) to identify trends within the industry. Here is what we found.
The return of offline retail is impacting grocery eCommerce
Consumers are returning to brick-and-mortar stores, as concerns around coronavirus start to lessen. And, this is evident in some countries more than others.
We saw major drops in demand for shopping groceries online. Our data showed Sessions dropping across all four countries, most notably in Germany and the UK where demand dropped by around a quarter, compared to the same period last year. The numbers make troubling reading for online grocery retailers on how to maintain the same level of demand, post pandemic. France, however, saw a fractional change in Sessions, which might be explained by their different approach to grocery eCommerce, one that relies more on a click and collect service than home delivery.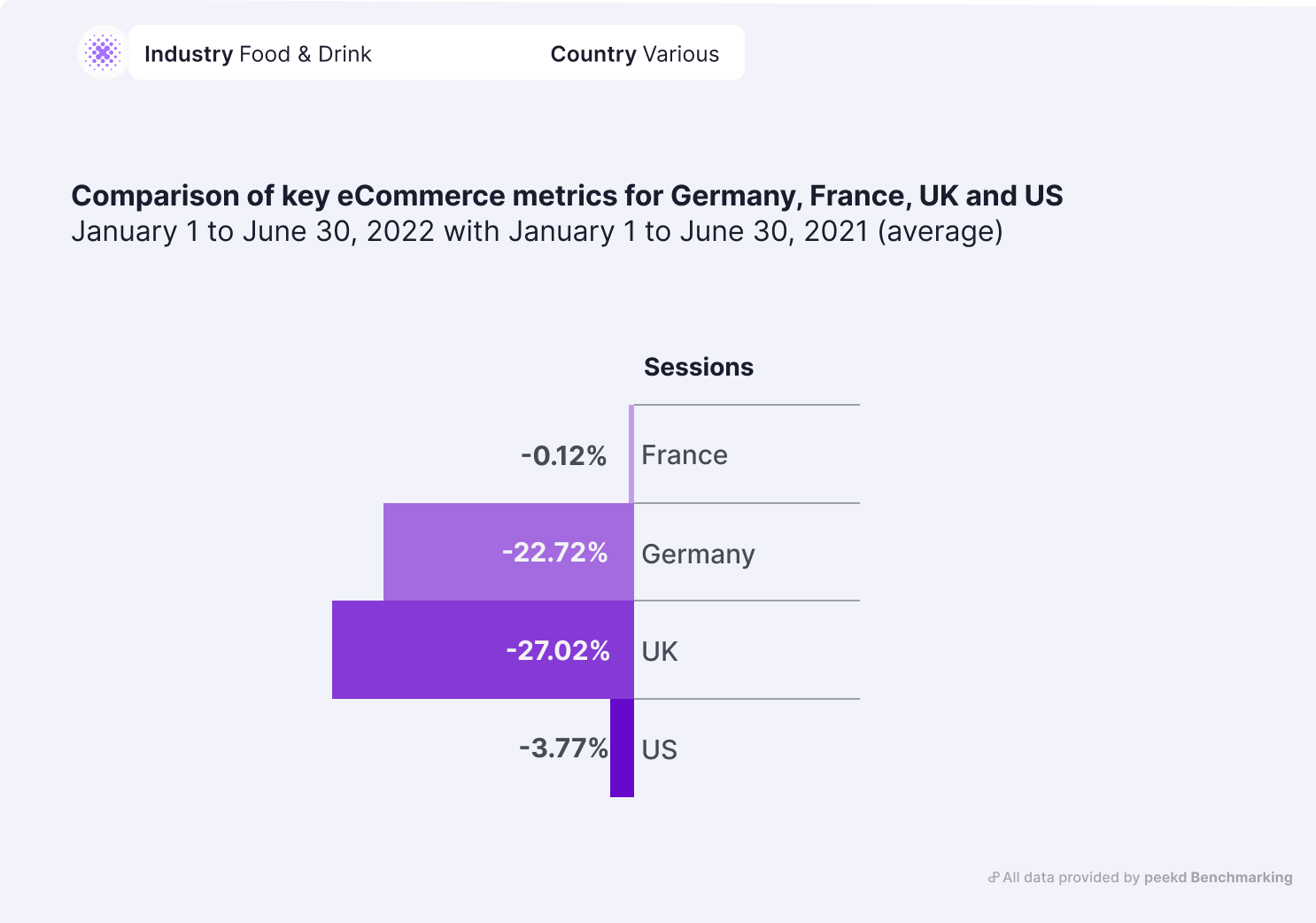 But, to understand how sales were impacted as demand declined, we looked at patterns in purchasing behavior.
Across each of the four countries we monitored, we saw a decline in the number of grocery eCommerce Transactions.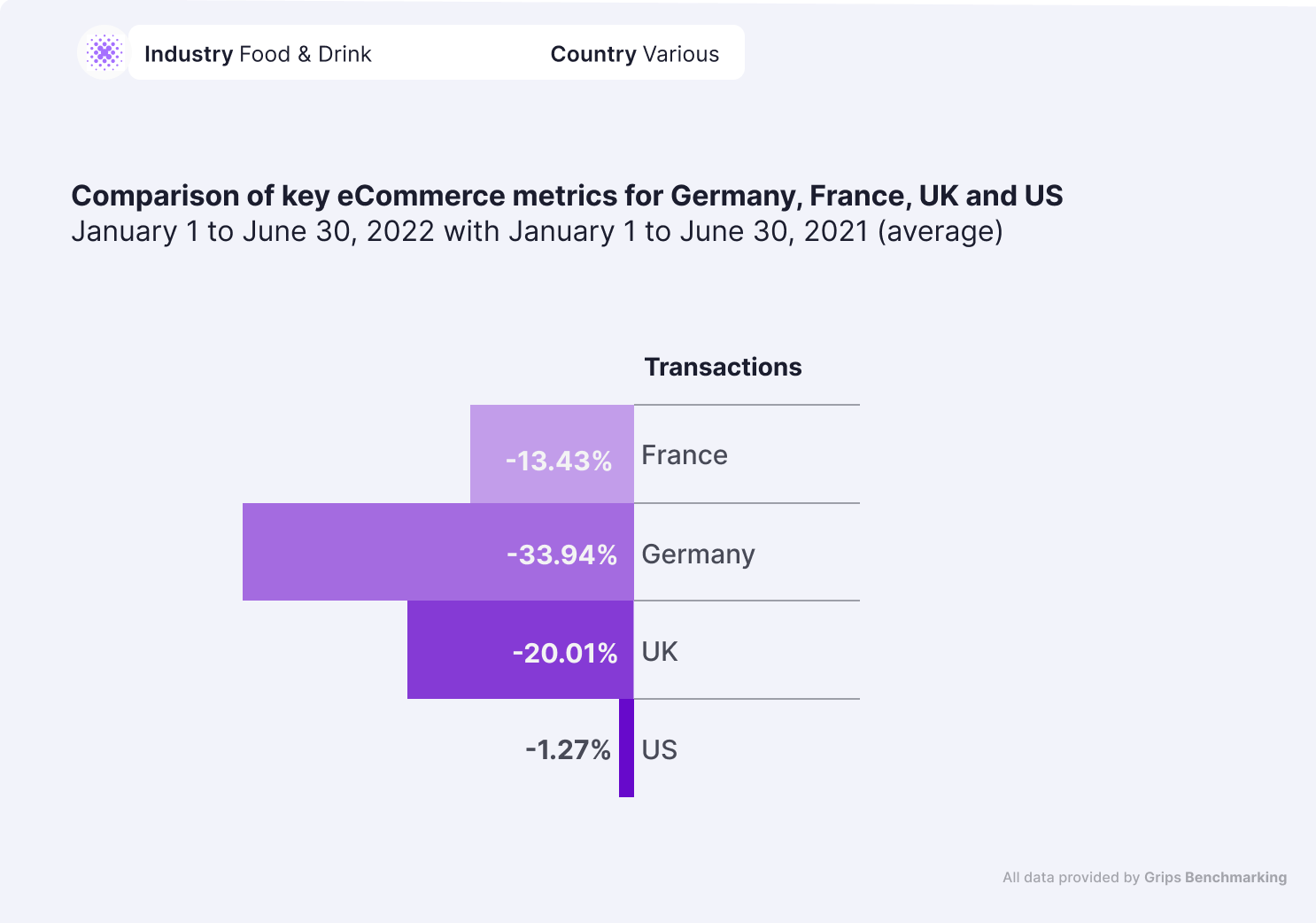 Most notable were the UK with a 20% drop in Transactions & Germany with a 34% reduction. We need to look deeper into consumer behavior to understand the decline.
Despite being the 5th biggest eCommerce market in the world, a study in 2019 found that 65% of German retailers did not have an online presence. This includes two of the country's biggest supermarkets, Aldi and Lidl, who do not offer a grocery eCommerce function.
In 2021, the revenue from the German grocery eCommerce market was only around €4bn, dwarfed by the size of the UK market, which was close to reaching €30bn.
Despite the sub-par grocery delivery network and infrastructure that Germany has, online grocery shopping Transactions hit a peak level during the pandemic. But, as vaccines began to rollout and consumers felt safer about in-store shopping, there was a drop in Transactions.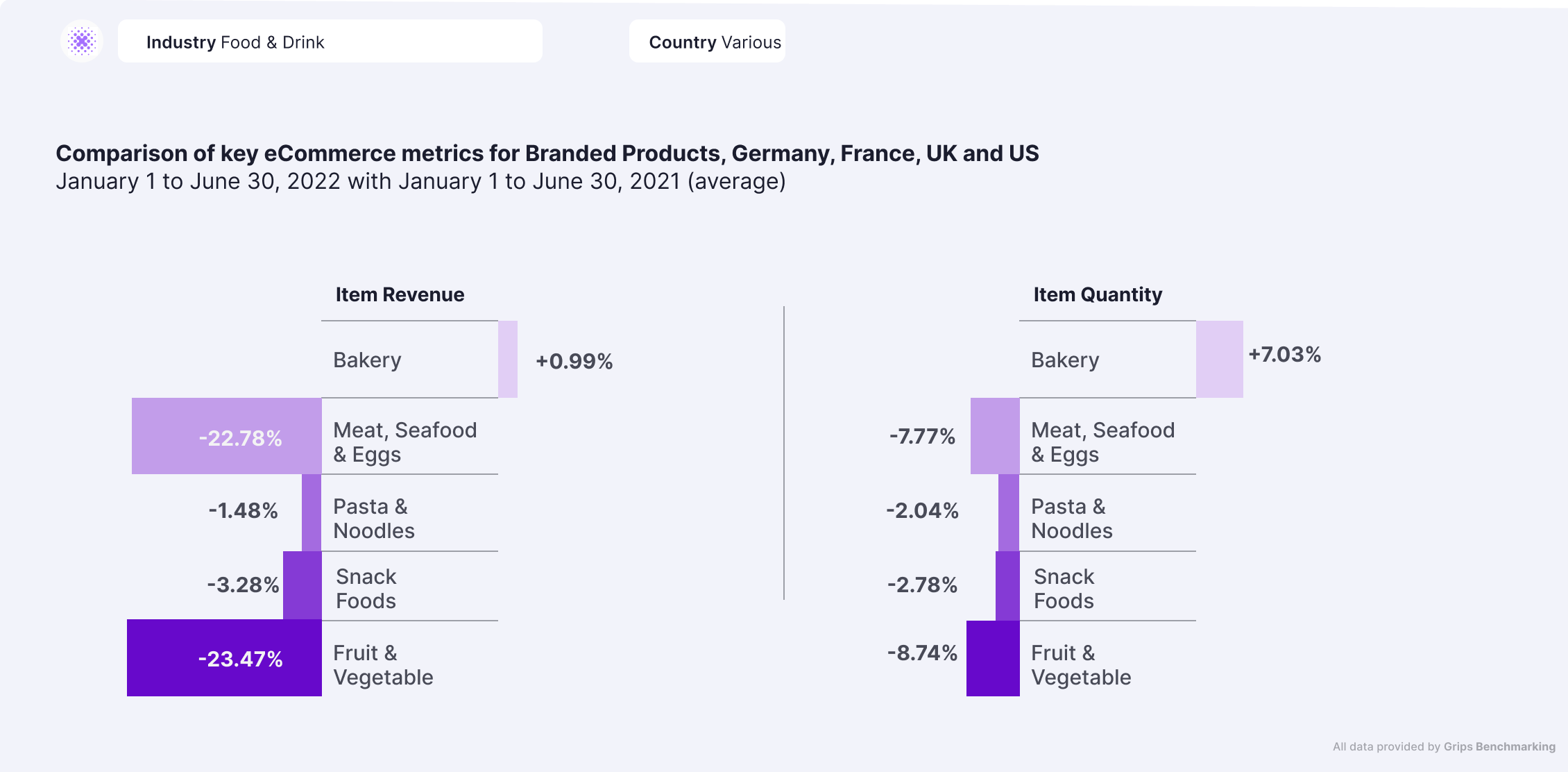 With the exception of Bakery, we saw drops in Item Quantity and Revenue in each category.
Two categories that are more susceptible to the current costing pressures, due to the limited shelf life of their products are the Fruits & Vegetables and Meat, Seafood & Eggs categories. In both categories, we saw drops in the Item Revenue metric of 23.47% and 22.78% respectively.
Increased costs and lower sales have severely impacted revenue – despite the items sold being around one-third the Revenue drop. This can be partially explained by consumers changing their purchasing behavior – a recent ONS study found that 28% of consumers are actively cutting down on meat consumption.
This will make alarming reading for the food production sector that is facing record cost rises. Between May and June 2022, the decline in consumers buying branded products in the UK cost companies £43m.
Consumers reducing additional costs
With consumers reassessing their spending habits due to inflation and a drop in sales of premium brand products, grocery eCommerce retailers face a problem. How can they offset costs for consumers, whilst remaining profitable in a notoriously tight-margined business model?
Nearly all online grocery retailers adopt a delivery fee and minimum fee model. Ocado in the UK has a minimum order of £40, with an extra £2.99-£6.99 fee per order in delivery fees. Whole Foods in the US offers delivery for $9.95 on their orders.
In the UK and the US, we have seen a trend where Average Order Value increased, but transactions decreased.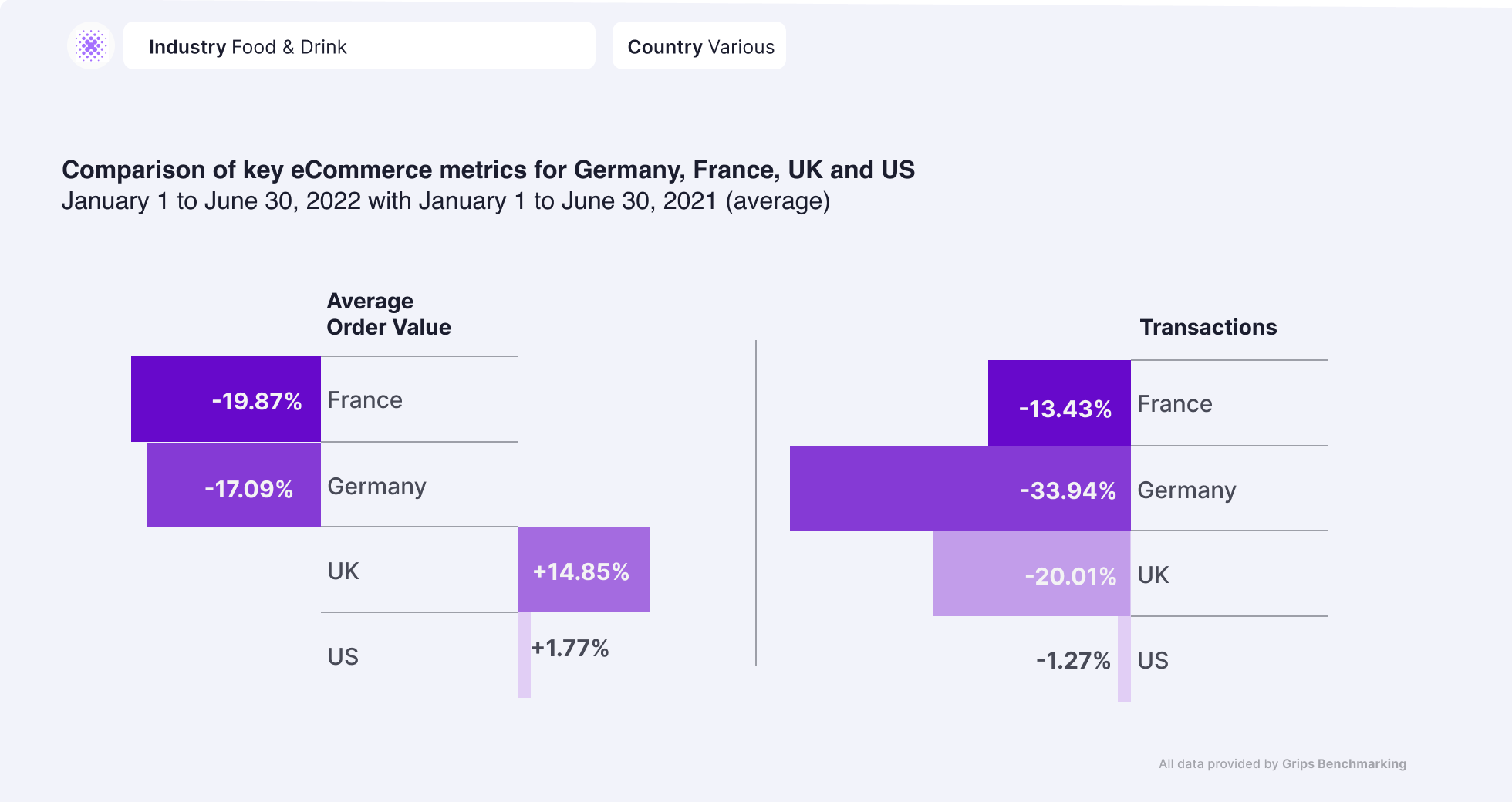 As inflation continues to hit in both countries, consumers are feeling their incomes squeezed, more than ever and are looking to save on additional fees that come with online shopping.
Beyond fees, there may be other cost-saving purposes to cut down on online grocery shopping. Being able to visit multiple stores in-person, consumers are able to compare prices and take advantage of promotions across different brands and retailers, without having to worry about minimum orders.
Even if retailers removed fees, consumers may feel like they can get better deals and availability of products in-person.
Outlook
The coming year will be very difficult for the grocery e-commerce sector. Continued economic uncertainty threatens their business model, as consumers look to cut costs across the board.
On one hand, the slowdown in demand for grocery eCommerce shopping can be seen as a good thing for retailers. During the pandemic they struggled to hire staff and fulfill orders in a timely manner, and it may provide them with a much-needed reset.
On the other hand, running an online grocery business has high overheads, and requires a lot of investment. During the current economic downturn, retailers may struggle to engage with consumers who are looking for the best prices online.
Retailers will need to react by minimizing costs and reducing minimum order values as a start to re-engage the types of demand they experienced during the pandemic. Whether they can and remain profitable is a calculation they will have to make.