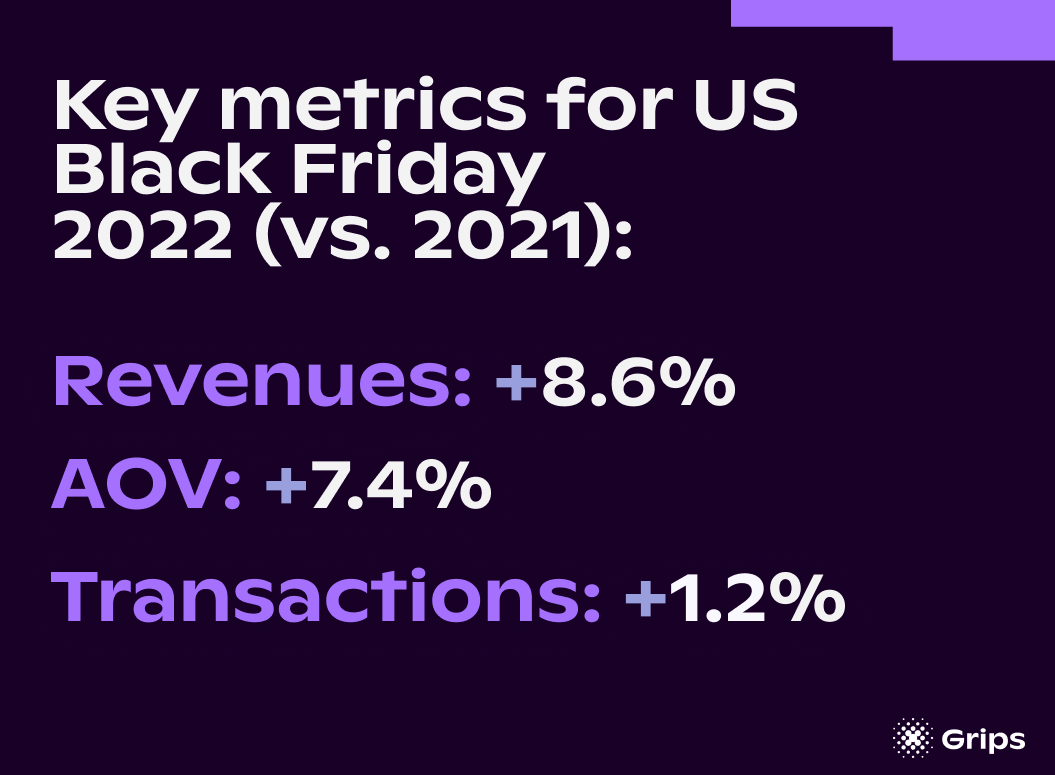 Whilst transactions increased modestly on Black Friday 2022, we can see the impact on consumers of retailers offering sales earlier and the rise of inflation and interest rates, leading to more selective spending. 
Revenues and the average order value (AOV) of e-commerce transactions were largely in line with US inflation rates. Black Friday revenues increased 8.6 percent year-over-year and the average order value of e-commerce transactions hit $96.76, a 7.4 percent increase over 2021. If inflation rates had not been as high, revenue and average order value growth would have likely been more in line with the transaction growth of 1.2 percent. 
Black Friday is dying. Long live Cyber Week. 
But, it is not all doom and gloom. Despite Black Friday growth being marginal, the week including Black Friday (Sunday November 20 through Saturday November 26), benefitted to some extent from retailers' early discounting. Grips found that transactions were up just 0.5 percent YoY, but revenues were up 10.2 percent. Interestingly, overall AOV for the week was $102.24 and AOV was the lowest on Black Friday itself. 
The highest AOV of the week was observed on Thanksgiving Day when consumers spent an average of $106.15, a 17.8 percent increase over Thanksgiving Day 2021, an indication that consumers were seeing more items on sale and purchased them before the clocks struck midnight. The day after Black Friday, sometimes known as Small Business Saturday, saw AOV grow 16.4 percent YoY reaching $104.94.
The fact that we saw more modest growth on Black Friday than other days of the week means that in terms of revenue share, Black Friday actually accounted for a lower share of the week's revenue than it did in 2021. Specifically, e-commerce retailers earned 22.3 percent of the weekly revenue on Black Friday itself, which was down a relative 1.5 percent YoY. Meanwhile, Thanksgiving Day and the day after Black Friday saw their share of revenue increase 8 percent and 6.3 percent YoY, respectively, pointing to the increasing importance of these days.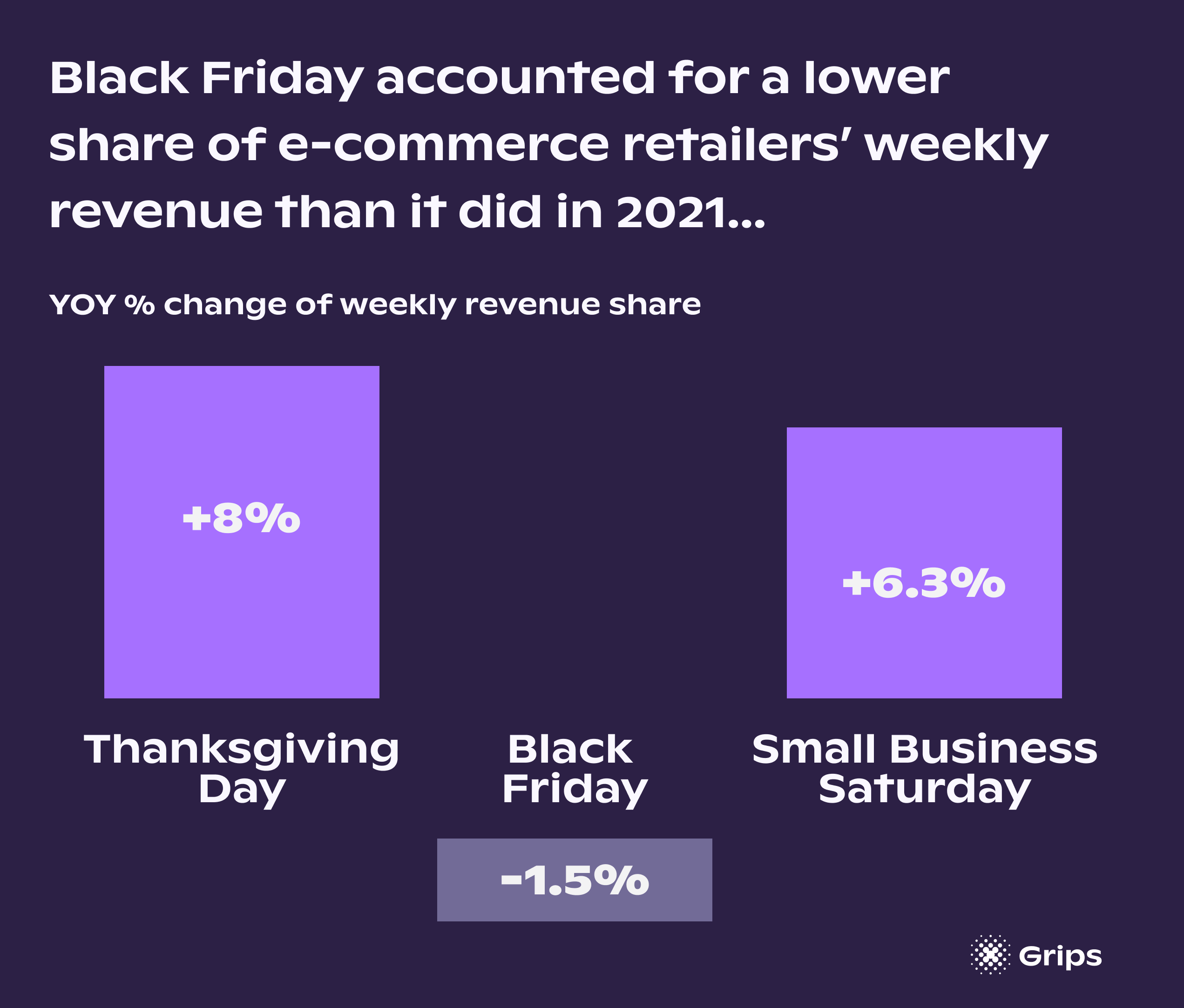 How did key categories perform?
Digging into key consumer categories, we saw more of a mixed bag with categories like Home & Garden and Beauty posting strong gains YoY while other mainstays were either flat or slightly down. 
More specifically, during the week covering Black Friday, Grips reports that e-commerce transactions in the US were up 45 percent on Beauty sites, up 39 percent on Home & Garden sites and up 21 percent on Video Game sites. Meanwhile, transactions on Consumer Electronics sites were down 6 percent and transactions on Toys & Games sites were down 33 percent YoY.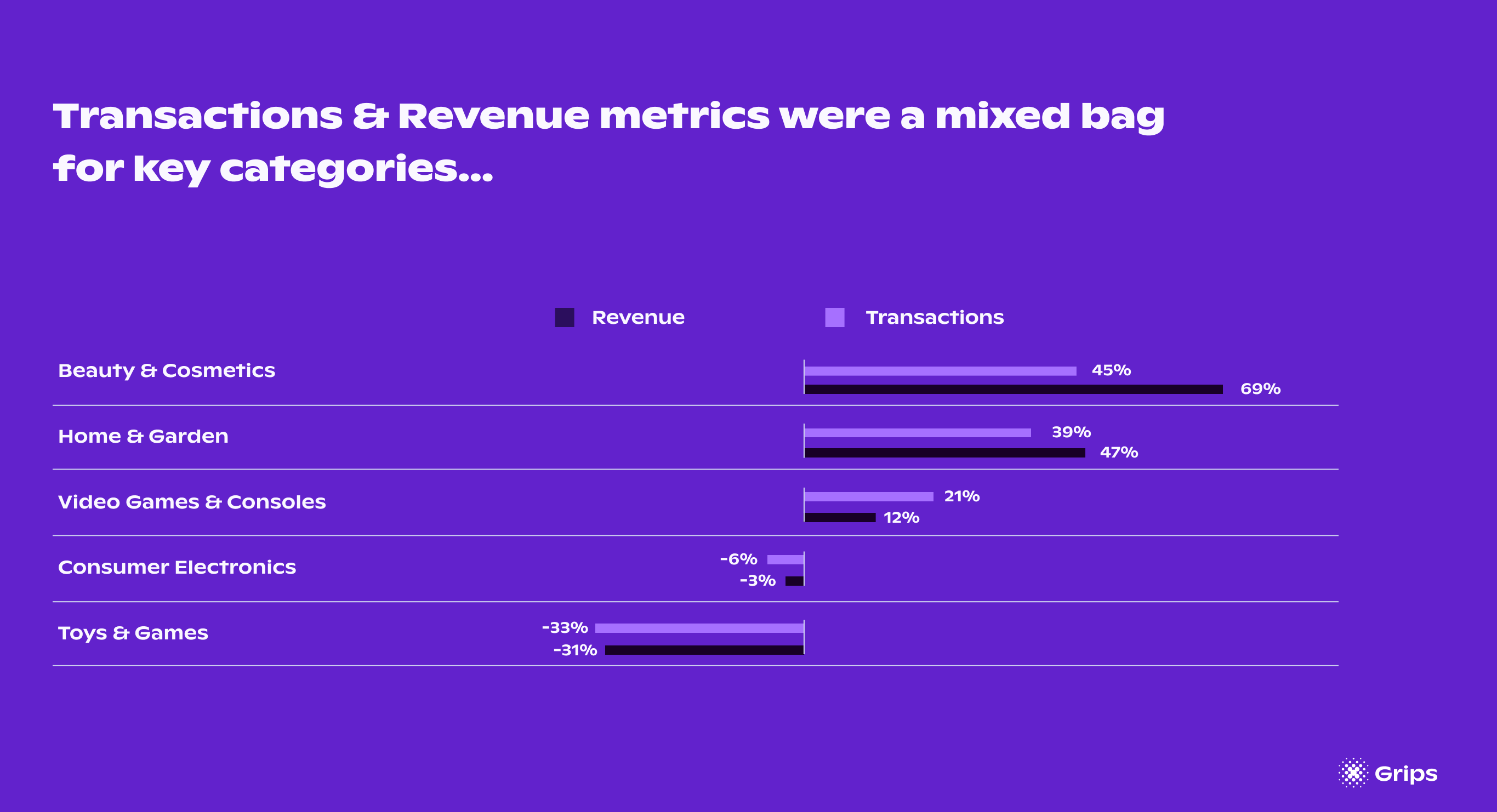 Revenue followed a similar trend to transactions with Beauty (+69 percent), Home & Garden (+47 percent) and Video Games (+12 percent). Consumer Electronics retailers saw revenue decline slightly YoY (down 3 percent) while Toys & Games retailers were down 31 percent.
Average order value growth was strongest for Beauty retailers with AOV up 17 percent reaching $78.16. Growth was more modest for Home & Garden (up 6 percent to $278.43) and Consumer Electronics retailers (up 6 percent to $137.47). AOV was down just 1 percent for transactions made on Toys & Games sites ($36.35). Video Game retailers, despite seeing positive growth in transactions and revenue saw AOV fall 7 percent YoY to $58.41 possibly due to a greater reliance on game sales than consoles this year. 
Looking at individual days during the week of Black Friday, Grips showed that Consumer Electronics, Home & Garden and Toys & Games saw higher AOVs on Black Friday itself ($183.93, $293.95 and $42.45, respectively), an indication that shoppers  held off buying bigger ticket items in these categories to make sure they were getting the best deal. For Beauty and Video Games, AOV on Black Friday was on the lower end possibly because shoppers found acceptable deals earlier in the week and didn't feel the need to hold off on clicking the buy button. 
The daily data yielded some additional interesting findings. In the Consumer Electronics category, for instance, revenues were actually up YoY from Sunday through Thursday indicating that consumers were, in fact, taking advantage of offers that went live prior to Black Friday. They did not, however, spend enough during those lead-in days to make up for the larger drop in sales on Black Friday to post an overall gain for the week. 
Stay tuned as Grips analysts will be monitoring holiday shopping behaviors and reporting back throughout the season. 
For now, retailers in the US can breathe a (brief) sigh of relief as it appears the gamble to prolong their sales periods this holiday season has paid off. 
To get even more insights into how consumer trends will impact the 2022 holiday shopping season, download our free report.