While the origin of athleisure can be traced back to the 70s, the trend took off in earnest in the early 2010s and received another boost in popularity with the arrival of the pandemic. And interest continues to rise. Google Trends shows that since March of 2019, interest in athleisure in the United States has grown notably with interest hitting a three year high in February of this year.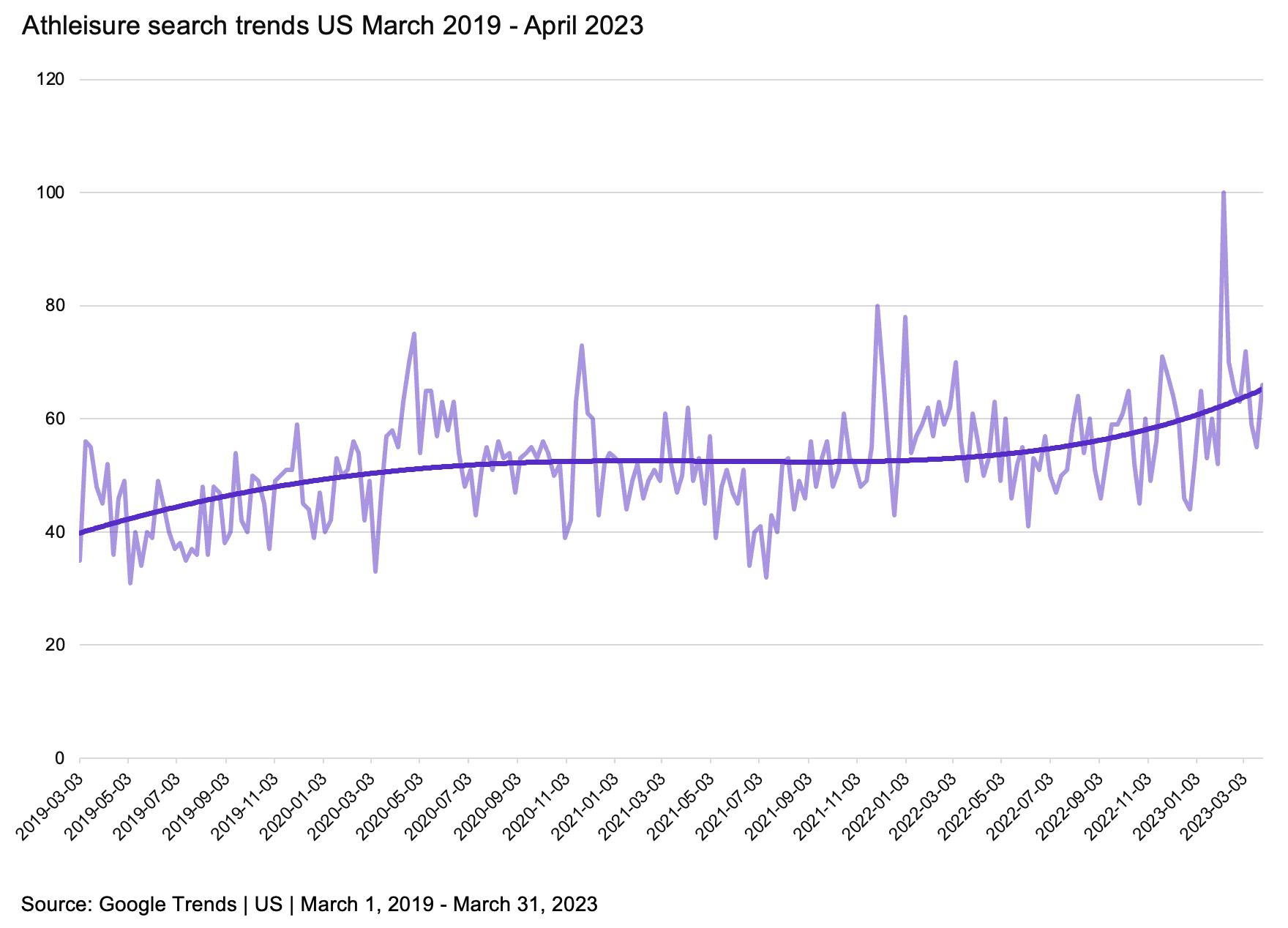 Items like yoga pants and leggings, hoodies, joggers and similar athletic clothing are a core part of today's athleisure wardrobe and high profile brands like Lululemon, GymShark, Fabletics, Alo Yoga, Sweaty Betty and Beyond Yoga capture a significant share of the US market. 
According to Grips Intelligence, Lululemon is the category leader by a comfortable margin, bringing in nearly $50 million a month in e-commerce revenue each month between August 2022 and February 2023. Fabletics follows with an average of $20 million a month in revenue while Alo Yoga and Gymshark were neck and neck with just over $15 million in e-commerce revenue during a typical month.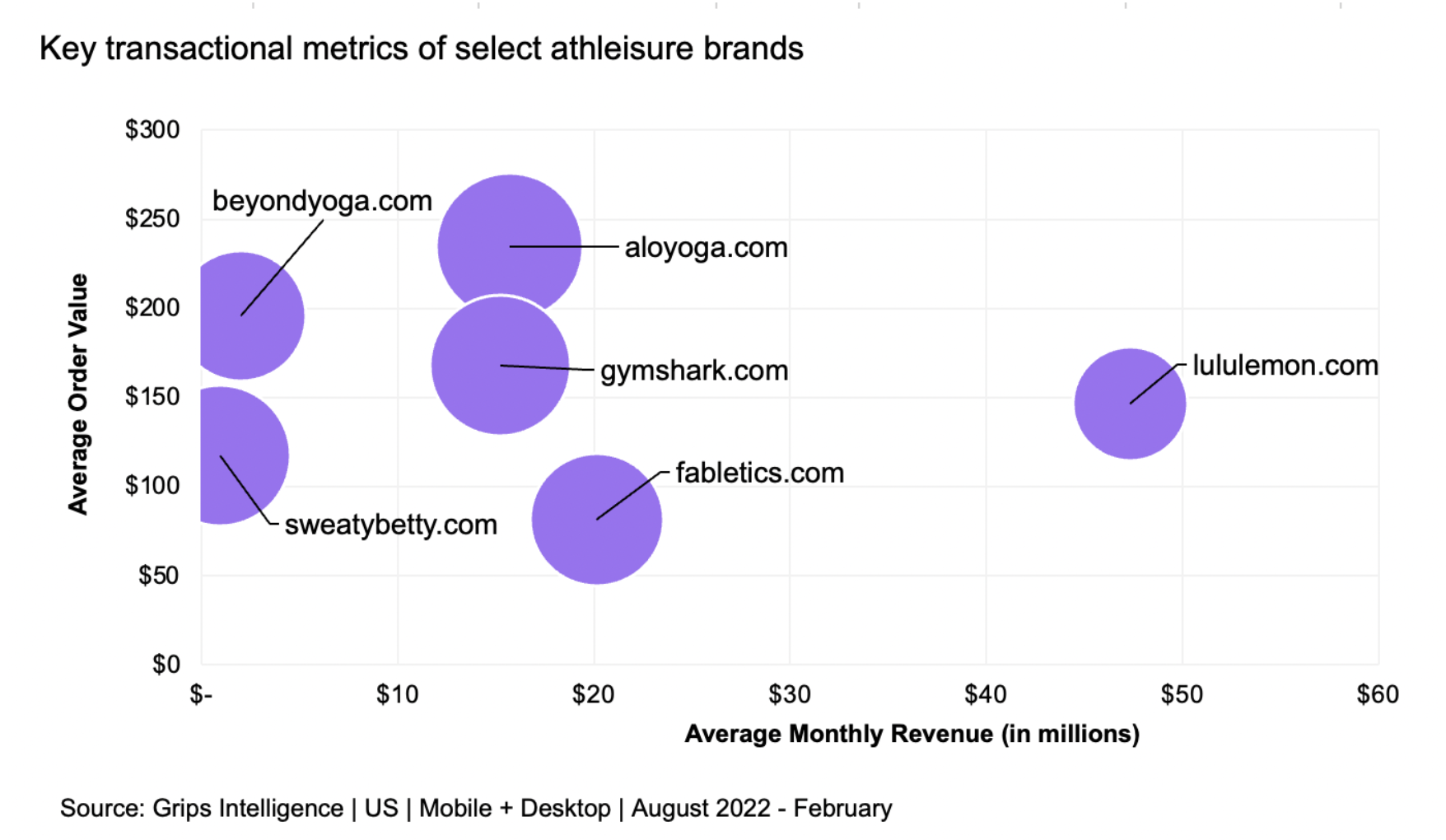 Using Paid Search to Drive Revenue
Paid search is a major source of revenue for these brands. Between August 2022 and February 2023, Grips estimates that they spent a combined $2.3 million on Google paid search in the United States. Lululemon spent more than other brands most months, but they outspent the competition by the highest margin after the holidays. 
Fabletics, Lululemon, Gymshark, Alo Yoga and Beyond Yoga saw ad spend peak in the month of November, as these brands looked to capitalize on consumers looking for Cyber Week deals. Sweaty Betty, on the other hand, spent the most in December, possibly seeking to capture consumers motivated by New Year's resolutions. Despite January being a time when consumers recommit to exercise, most athleisure brands throttled ad spend in the new year.  Gymshark and Fabletics were the exceptions.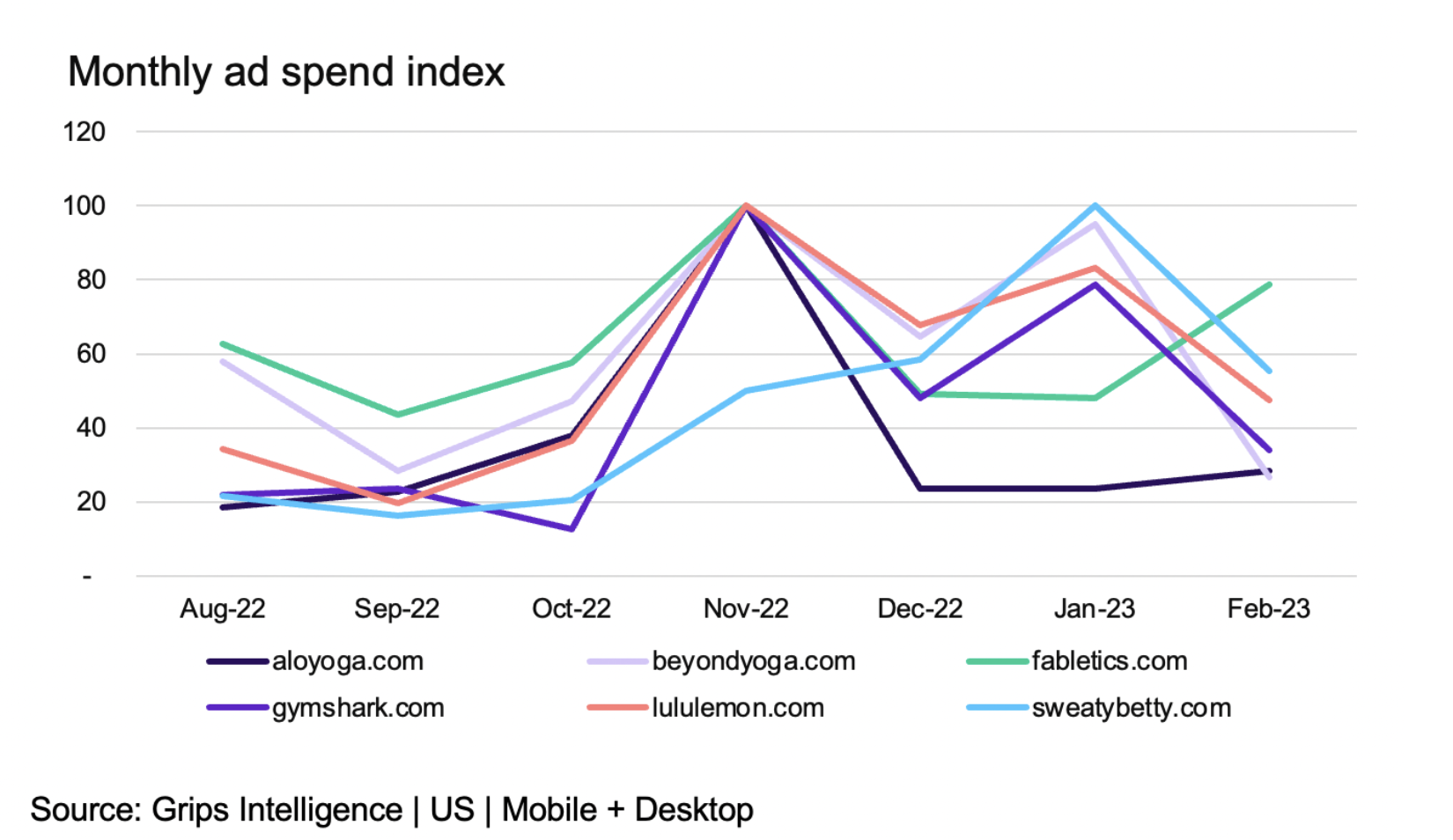 So did the ad spend of these high-profile athleisure brands convert into revenue? Grips data can shed some light here. At first glance, it looks as though ad spend and revenue are correlated. Most brands, after all, saw their highest revenue and highest ad spend during the month of November. Overall, Sweaty Betty and Fabletics had the highest correlation between ad spend and revenue. Sweaty Betty steadily increased ad spend from September through January and generally saw even higher month-over-month increases in revenue with the exception of January when ad spend increased and revenue fell.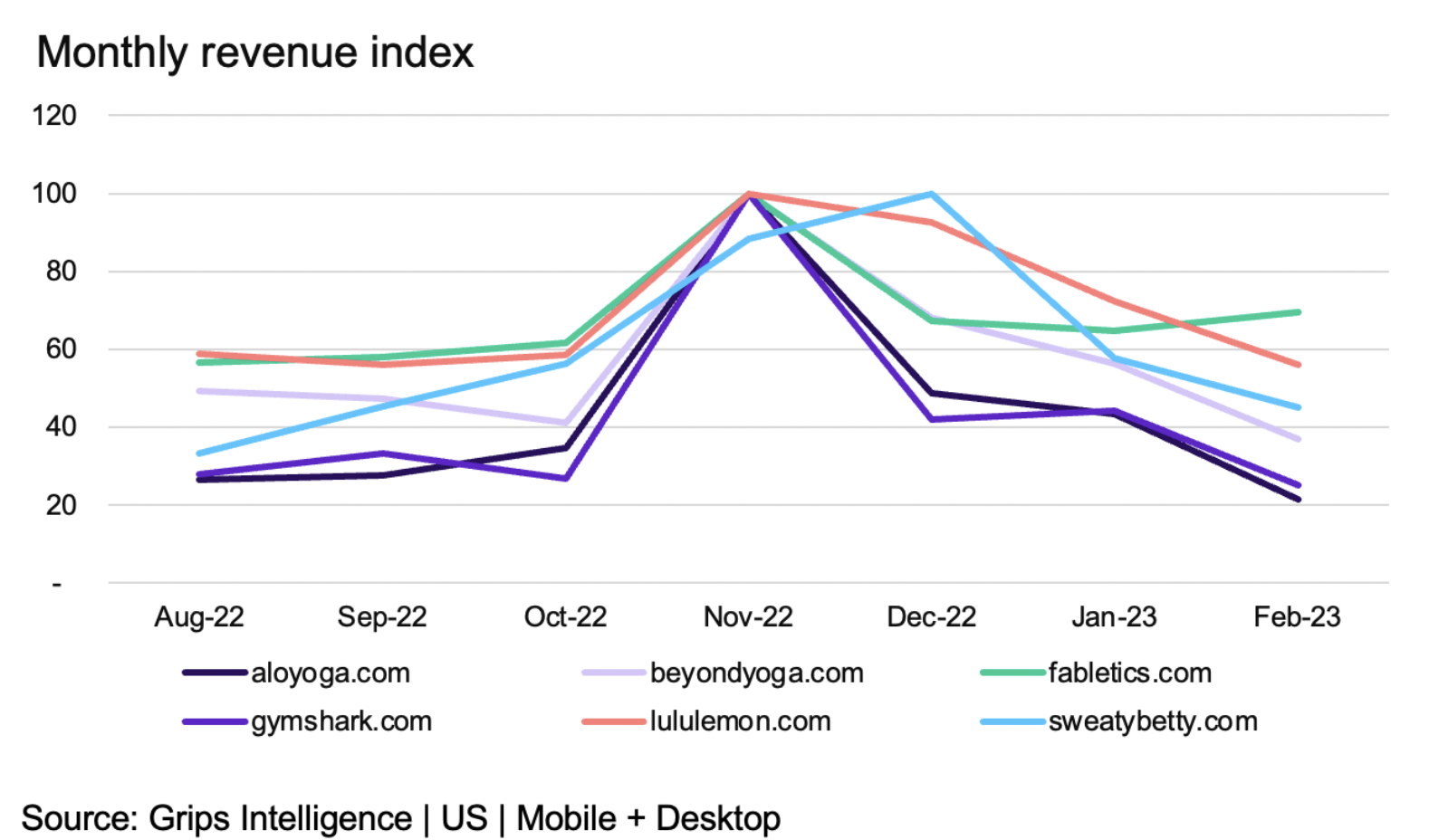 Beyond Yoga, while still showing a positive correlation, had a rather weak relationship between ad spend and revenue. Beyond Yoga saw ad spend increase between September and November but only saw revenues increase in November. Beyond Yoga also spent big in January but saw revenue decline.
In fact, despite most brands increasing paid search spend in January, only Gymshark saw revenues increase. This provides insights for competitors going into planning for the 2023 holiday season. If brands seek to increase spend again in January, the Grips data suggests that they should manage expectations in terms of their ability to turn that into a surge in revenue. Instead, rather raising awareness and increasing engagement may be better strategies for new year's resolutions campaigns. 
Grips transactional data can help you exercise your curiosity in revealing the digital market share of the athleisure industry or specific athleisure brands and keeping an eye on your competitors' ad spend. 
Book a free demo today and start gaining market share tomorrow!