By the end of 2023, ecommerce spend in the US is expected to reach more than $1 trillion, with our online spending set to almost treble from 2017 levels.
The ecommerce landscape has never been so competitive, as our shopping habits have become increasingly more digital. Online retailers are tasked with having to find new, innovative ways of drawing potential customers to their website, whilst simultaneously convincing them to convert.
That is why even if retailers manage to attract visitors, are they making the most of the opportunity to convert them into customers? The key to understanding whether a visitor will convert is to follow specific metrics to understand their experience on your site, and if it influenced whether they bought from you or not.
One such metric is the Average Order Value (AOV), which we calculate by adding the total revenue from each sale and dividing it by the number of sales. It is a clear measurement of how much customers spend on each order, their buying behaviors and allows for more accurate revenue prediction, but it is also a clear indicator of customer engagement and experience.
What is a good Average Order Value?
Average Order Value differs by industry, but the data gathered by Grips and showcased below, analyzed shopping behavior in the US across the entirety of 2021 for a number of industries, which provides a good indicator of what to aim for.

5 key enablers to improving Average Order Value
1. A simple purchasing process for your customers
No matter how flashy or easy to navigate your website is, if the checkout process is cumbersome, sales, revenue and customers will be lost. Creating a smooth checkout process that enables the customer to successfully complete the transaction is fundamental. Long purchase forms and multiple page check-out is likely to lead to basket abandonment.
Transparent additional fees or shipping costs. When your customer reaches the final page to pay for their products, and they are faced with additional costs they were not expecting, it is likely that it will be a conversion killer. Make additional costs clear as soon as the customer puts the product in the basket or on the product page.
Offer a guest checkout option. If a website requires multiple pages to complete a purchase, the last thing users want is additional pages to register. Focus on completing the transaction first, and once that process is complete, ask the customer to create an account.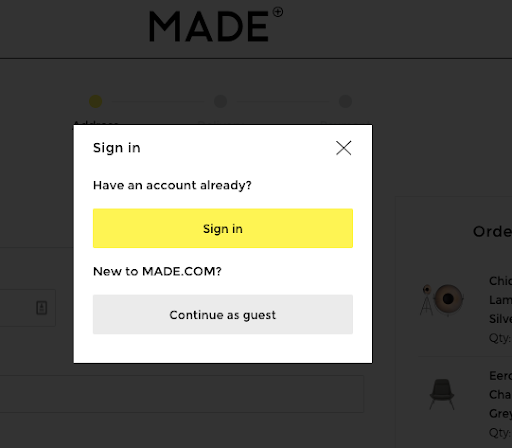 The more payment options, the better. Whilst we want the checkout process as simplified and minimal as possible, offering more payment options will likely increase conversions. Look at offering instalment plans as well, for those bigger item purchases.
2. Personalize the customer experience
31% of consumers want their shopping experience to be more personalized than it currently is. Providing personalized recommendations improves the average value of an order. Amazon's AI-powered product recommendation engine for example, is responsible for 35% of the company's revenue.
Shopping online can be a thoroughly impersonal experience, but providing a personalized experience for your customers is a highly effective method to increasing the Average Order Value.
Offer live chat. A live chat feature provides customers the opportunity to speak to a human, who are then able to offer recommendations, and potentially upsell. It is a significant opportunity to increase sales and improve customer satisfaction.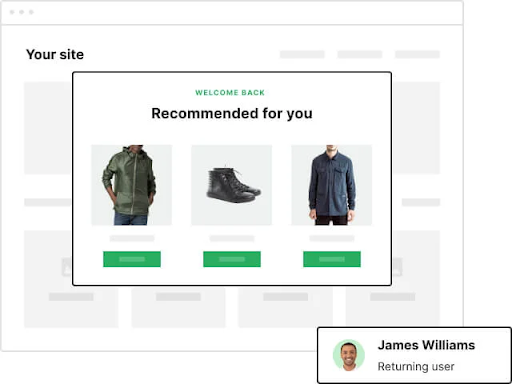 Personalize offers based on user behavior. If a customer is browsing for a new game console, they are likely to be on the lookout for controllers and games. Utilize previous customer purchases to provide relevant recommendations when they visit your ecommerce store and through other promotional channels, such as email.
3. Offer bundles and reduce prices when bought together
When you enter a grocery store, there is a logical flow to the layout and order of aisles, such as the milk fridges are next to the other dairy products. Merchandisers meticulously plan and understand the importance of placing complimentary items together to maximize revenue. The same logic should apply with an eCommerce website, to improve the AOV.
By bundling relevant products, you are also increasing the perceived value of a customer's purchase. It is also a good opportunity to bundle together high selling products with slower selling complimentary lines for a lower combined value. Thus, increasing Average Order Value and clearing smaller volume products. However, make sure that the products make sense together.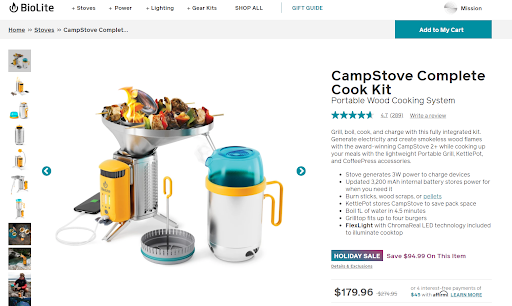 For instance, BioLite bundles together their CampStove with related accessories to create a complete camping meal kit. This lets customers easily get everything they need in one purchase, eliminating the need for further product research.
4. Showcase time sensitive deals
Time sensitive offers are a simple method to improve Average Order Value during off season or slower sales periods. Here are some ways to utilize time sensitive deals:
Place the free shipping threshold higher than the Average Order Value. If a shopper has to pay $5 for delivery on a $50 order, but can get free shipping at $60 – they are more likely to add one or two more items to the basket.
Use price anchoring (see Peacocks' example below). By showing customers how much they are saving, they will realize the true value of the offer. Bundle sales with a limited time voucher, such as '10% extra off' to increase the Average Order Value.

Be sure to promote offers through social media, email newsletters and banners prominently in the eCommerce store on high traffic pages.
5. Launch a customer loyalty program
A powerful way to not just boost the Average Order Values but also achieve customer retention is to create a loyalty program that incentivizes customers to buy more.
With a loyalty program, you essentially reward customers (with exclusive discounts, freebies, etc.) who make repeat purchases and stay loyal to brands.
Repeat customers are more likely to buy more than prospects who are relatively unfamiliar with a brand. Compared to new customers, loyal customers spend 15% more per order and 120% over the course of a year.
There are various types of loyalty programs to launch. For example, most eCommerce brands employ a simple points-based loyalty program, as it's a familiar format for customers.

As you can see above, it is simple — $1 spent equals one point earned.
By rewarding customers with redeemable points, revenue can be boosted and there is a higher likelihood for repeat visits.
Understanding your customers and anticipating their needs is key to improved Average Order Value
As eCommerce becomes a trillion dollar industry, competition will continue to intensify. Improving customer experience is key to improving the average value of orders, but also to stand out from the competition.